There are so many different grilling methods for cooking food on the barbecue. These past few months, we have posted about the direct and indirect cooking method, the rotisserie method and the smoking method. To complete the list, we want to tell you about the planking grilling method. If you want to know everything about grilling on a plank and the best tips for perfect planking, keep reading till the end!
When you start planking, you will love not only this but all the methods and grilling tools you have to get the most out of your outdoor kitchen and impress your guests with your grilling skills and delicious juicy steaks. 🏆
First, know that the method you use is determined by the cut of the meat or the type of food you are cooking.
It is also possible to cook a variety of foods at the same time using different grilling methods. In this sense, after you learn how to grill on a plank, you will be able to smoke ribs on a plank while grilling meat or zucchini on the cooking grids of your barbecue in Algarve.
So, what is planking?
The way wood plank grilling works is simple. Planking is cooking food directly on a piece of hardwood. In a nutshell, the plank goes on the grill, then the food goes on the plank.
The food of your choice is cooked via indirect heat since the plank protects it from the fire. When cooking this way, the surface of the food touching the wood picks up some of the plank's natural flavours.
🌟One advantage of grilling on a plank is that you don't have to flip the food when you're cooking it. That's why we recommend this grilling method for cooking delicate foods like fish that can fall apart when turning them.
Although there's some debate on the origins of planking, it's been documented that Native Americans in the Pacific Northwest pinned their salmon to large wood boards, then slow cooked them: planking.
Since then, the method has been modified for home cooking, with the grill being primary means of planking. However, it has been also adapted for cooking in the oven.
Planks for the oven are usually thicker, larger, and more expensive than the ones made for the grill.
Why grilling on a plank?
Now you know that planking is a versatile cooking method where food is placed on top of a fragrant plank to cook over a heat source.
The plank has a characteristic flavour and aroma that infuses into the food as heat is applied. Using a wooden plank is a uniquely delicious way to grill your foods. It is a great choice to wow your guests this summer and get the most delicious results.
The smoke created from the plank sitting directly above a heat source infuses the meat with unsurpassed grilled flavour.
Note that almost any food type can have flavour enhanced by the use of planks. However, one of the most popular recipes is fresh salmon. Our recipe has the classic sweetness of maple syrup and Asian flavours that you will learn to grill by the end of this post.
You can also use planks to grill pizza at home. The result is a juicy and moist flavour-filled and aroma-rich food.😍
How to grill on a plank: best tips for perfect planking
Using a plank is simple. Follow these tips from our Broil King friends to get the best results when grilling on a plank:
1️⃣ Soak your plank in water for at least an hour and pat it dry.
2️⃣ Preheat your grill on HIGH for 10 minutes.
3️⃣ Coat both sides of the plank with olive oil then place the seasoned meat on it.
4️⃣ Place the plank on the grill directly over the lit burner and reduce the heat to MEDIUM-LOW.
5️⃣ Cook the meat to its desired doneness.
✅ Planks are ideal for salmon but don't be afraid to try other meats with it. Pork ribs go great on a maple plank and lamb is delicious on alder.
✅ Note: Make sure to be careful while handling the plank after grilling. Also, wait until the plank is fully extinguished before discarding.
#BBQTip: Soak your plank before grilling
As we mentioned above, part of the goal with grilling on a plank is to impart wood smoke flavour to your foods.
However, there is also the possibility that the plank gets engulfed in flame. To avoid this from happening, it's crucial that you soak the plank before using it.
To soak your plank you just need to simply submerge it on a large container while keeping it weighted down with a heavy object so that it stays submerged. After 45 minutes to an hour, you can take it out of the water and pat it try with a paper towel.
If you are grilling on a plank for the first time, soak as many planks as you will need.
❗ Add either wine, beer, apple or berry juice; citrus fruits, onion or garlic to your plank soaking water to accent subtle flavours.
The idea of soaking is to add moisture to the wood to slow down the burning of the plank on the grill. Soaking helps to 'smoulder-smoke' the plank as food is cook and infused in wood and other flavours.
Reusing planks
As long as there's still wood left, and the plank hasn't been charred through, there's no problem reusing your plank. In order to clean it, start by scrubbing it down with water and a scouring pad without soap. You don't want soap soaking into the plank and staying there.
If there's some excess charcoal or food that just don't dislodge from your plank, then it's time to bust out a piece of fine sandpaper and gently scrub it until the plank is clean.
❗ Once you wash the plank it's important to let it completely dry out before storing it away to prevent mould.
You'll enjoy playing with the new flavours from planking. Just light a fire, grab a plank, and get grilling!
Check out these grill accessories
Soy Maple Plank Salmon recipe
This plank salmon is a great choice for serving a crowd as it is simple to prepare and needs very little tending.
It is such a delicious recipe from award-winning writer, cookbook author and chef presenter, Richard Fox for you to try out at your outdoor dining area in Algarve. We are sure you will love it!
What you need
1 cedar, apple or maple plank (soaked overnight or at least for 1 hour).
2 ½ -1 salmon fillet, skin on.
1 cup pure maple syrup.
2 tablespoon grated fresh ginger (could use lazy ginger)
½ cup fresh lemon juice
3 teaspoon soy sauce.
2 cloves garlic, finely minced (could use lazy garlic)
Kosher salt and freshly ground pepper.
1 bunch of finely sliced spring onions (sliced red onions are also fine).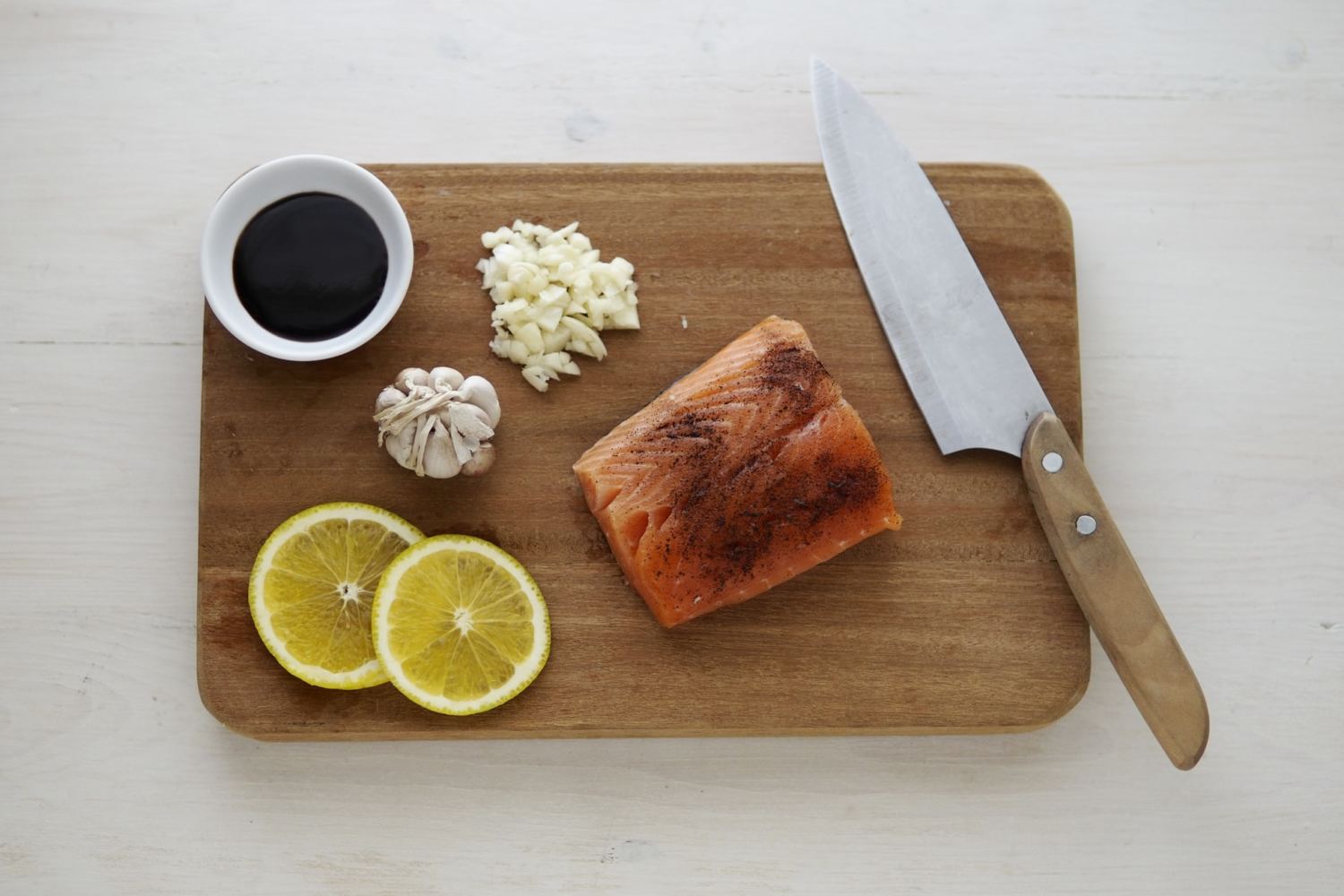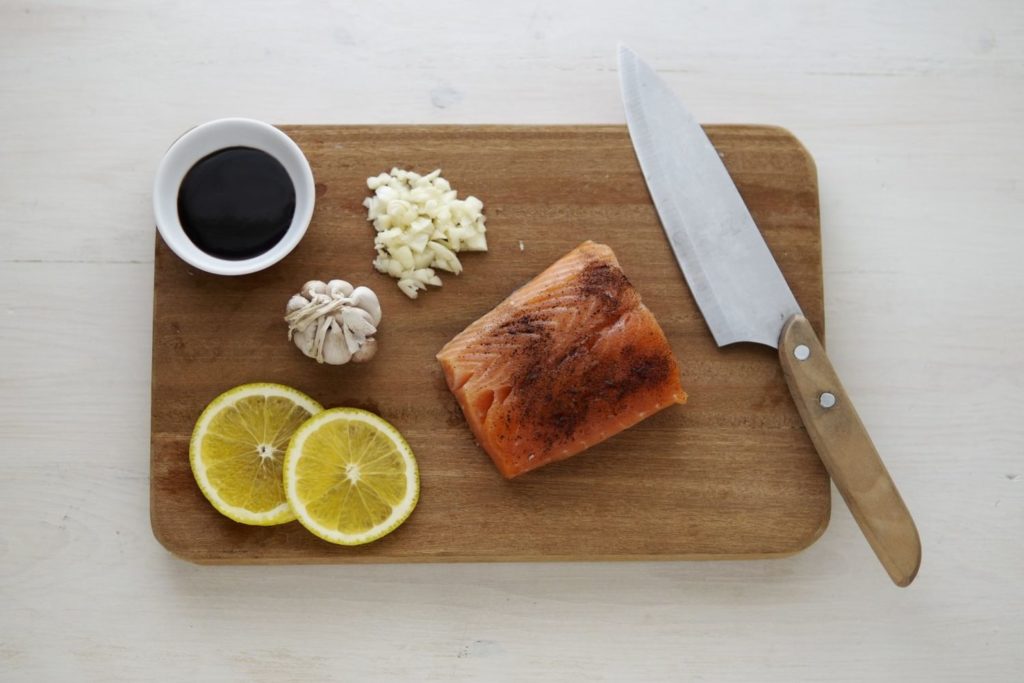 Instructions
1️⃣ In a small pot, combine the maple syrup, ginger, soy sauce, garlic, salt & pepper and lemon juice.
2️⃣ Cook at a simmer until reduced to 1 cup/250ml approx 15 minutes. Let it cool.
3️⃣ Preheat the barbecue on MEDIUM-HIGH for 5-10 minutes.
4️⃣ Rinse the plank and pat dry with kitchen paper towel.
5️⃣ Smear olive oil both sides of the plank.
6️⃣ Layer the plank with a thin coating of the onions and put the salmon fillets on top. Season with salt and ground pepper.
7️⃣ "Paint" the salmon liberally with some of the sauce.
8️⃣ Place the plank on the grill and cook for 20-30 minutes or until the flesh is just firm and flakey. Brush with more of the sauce to serve. Enjoy it!
❗ During cooking watch for flare-ups depending on the thickness of the salmon.
❗ Sometimes the plank can catch fire towards the end so have some spray water handy just in case.
#BBQTip: If you prefer to remove the salmon skin, first place the fillets skin side down on the grill for 2 minutes. The skin will stick to the grids, and you can slide a spatula between the flesh and the skin and place it on the plank for the rest of the cooking time. After this, you may also want to learn how to properly clean your clean.
---
To stay green, save used up planks and use it as flavour wood chips for your next grilling session or as firewood. You can also spread the wood chips over a charcoal grill or in your smoker box.
🐟 If you want to learn more fish recipes, you should try the Portuguese grilled codfish and the amazing Portuguese-style sardines recipe.
Learn more grilling tips for your outdoor kitchen in Algarve or get yourself a high-quality BBQ from the world top manufacturers!🥇
Check for available monthly offers in our shop and have yourself a happy planking weekend!