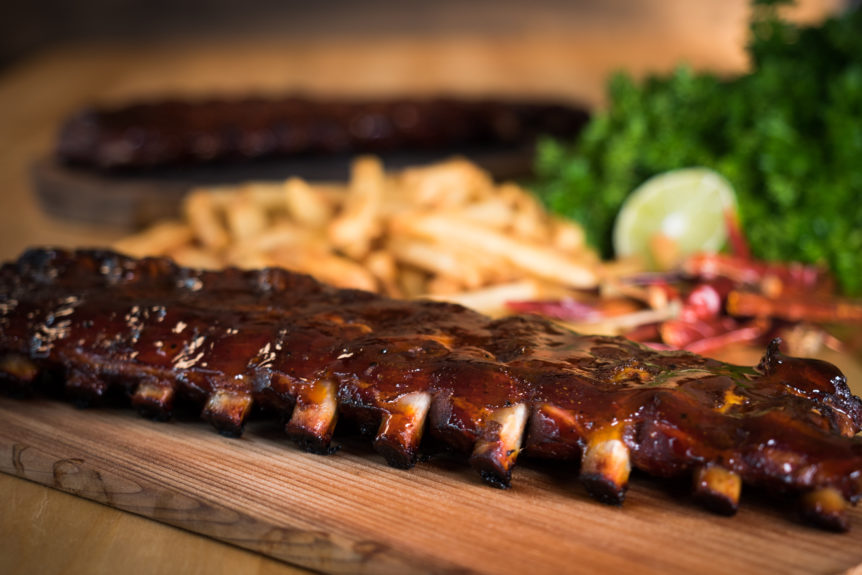 Let the person who is fascinated by BBQ pork ribs to raise its hand. Let's be honest, there's nothing richer than that explosion of flavours when the meat is mixed with the sauce, isn't? Therefore, today we will share a mouth-watering and simply bursting with flavour maple-smoked pork ribs recipe. We invite you to skip the same old boring barbecue sauce and opt for a sticky maple syrup glaze to slick up these pork ribs.
Impress your guests at your next BBQ dinner and grilling cookout with this sweet rib recipe starring a glaze of real maple syrup.
Remember that by using both the maple plank and the maple syrup you achieve a deep and unforgettable flavour. Moreover, you can also get the Broil King Baron tool, a high-quality set for the barbecue and one of the best grilling accessories to help you cook in your outdoor area.
✅ Before cooking this recipe, you should learn about the art of planking. This is an old grilling method to cook the most aroma-rich foods.
Maple smoked pork ribs recipe
What you need
2 lb pork side ribs
1 cup pure maple syrup
3 tbsp frozen orange juice concentrate
3 tbsp ketchup
1 tbsp Dijon mustard
2 tbsp soy sauce
1 tbsp Worcestershire sauce
1 tsp curry powder
2 green onions, minced
1 clove garlic, minced
1 tbsp toasted sesame seeds
Instructions
First, soak maple planks in a sink or clean bucket filled with water for at least 1 hour (You can do this during the first stage of cooking the ribs).
Light one side of your barbecue, and preheat until temperature gauge shows 350°F. Place ribs meat side up in a roasting pan. Cover pan tightly with foil and place on the unlit side of your barbecue. Bake for 1 1/4 hours.
In a saucepan over MEDIUM heat on the stove or on the side burner of the barbecue, combine maple syrup, orange juice concentrate, ketchup, soy sauce, mustard and Worcestershire sauce. Stir in curry powder, garlic and green onions. Simmer for 15 minutes, stirring occasionally.
Remove ribs from roasting pan, and baste completely meat side and bone side with still-warm sauce. Then, retain 1/2 of sauce for additional basting. Place ribs on soaked maple planks bone side down. Put the planks with the ribs on them on one side of the barbecue with a LOW heat setting directly underneath them. After that, turn the other side of the barbecue to HIGH and close lid. Keep the temperature around 350°F. Planks should begin to smoke within a few minutes and produce a sweet fragrant smoke in your barbecue.
Adjust the amount of smoke you would like to add by increasing/ decreasing direct heat underneath the planks, and opening/closing the lid. Above all, do not allow planks to catch fire. Allow ribs to cook on the planks for 25 minutes.
In addition, use remaining sauce to baste ribs several times throughout cooking. Then remove planks with ribs on them from the grill and place the planks directly on a plate or tray for serving.
Nothing beats sticky ribs on a hot summer's day. In other words, this recipe will be a sure-fire hit with BBQ guests, just try it and let us know the result!
This recipe was originally shared by our friends from Broil King.