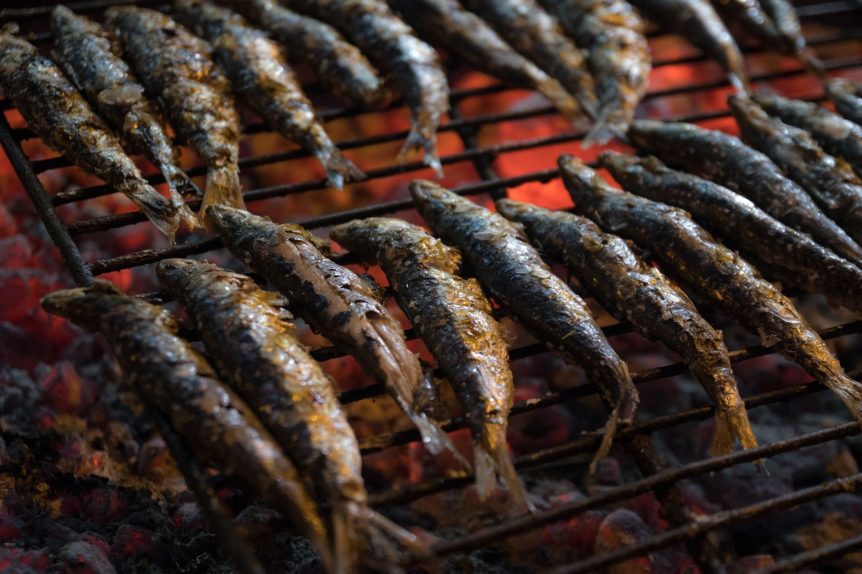 So, yes, in Portugal, we use our grills for cooking sardines too. It's not all about juicy steaks with mouth-watering sides. As a result of living in a coastline town such as the Algarve, we grilled many fish dishes, especially in summer. To sum up, the most important reason is that we find freshly caught fish in almost every market. Therefore, cooking some of them sounds very tempting to us.
With the Atlantic ocean-hugging Portugal from top to bottom, the sardinas assadas are a typical grilled dish of the Iberian Peninsula country. This particular dish has its festival during the summer. In July and August, locals and tourists cooked this grilled sardines recipe on open grills.
Moreover, this fish is most commonly served on top of a slice of bread. The reason? The bread soaks up the oily fat of sardines, the one that provides its unique flavours. In the same vein, the Portuguese also serve them with lemon, roasted potatoes and peppers.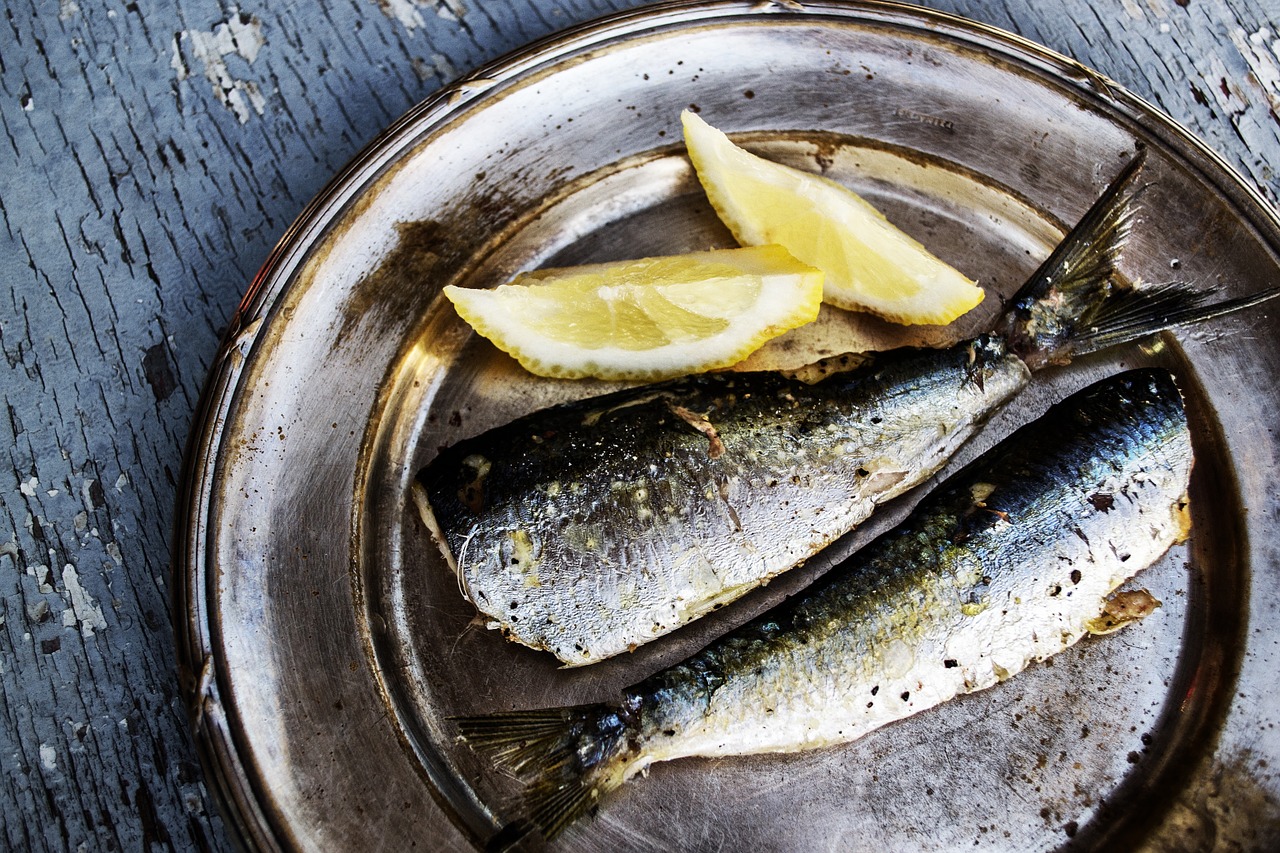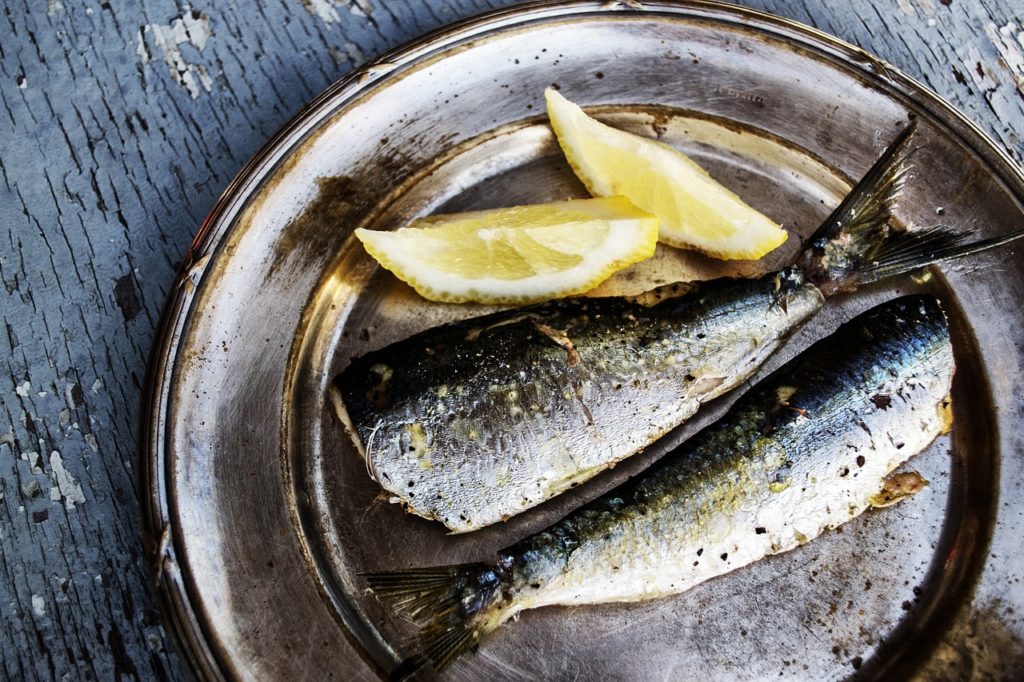 Summer is an excellent time to honour Portuguese passion for grilling and cooking with fresh ingredients. Likewise, neighbouring Spain, Portugal's tasty cuisine embrace fish dishes and the best quality wines. With this delicious grilled sardines recipe, we want to bring the Algarve flavours to your table. 🐟
Portuguese grilled sardines recipe
What you need
Sardines.
2 tbsp of extra-virgin olive oil (plus extra to serve).
Three sliced garlic cloves.
1 tbsp of smoked sweet paprika (plus extra to serve).
Slices of lemon (as much as you want).
Four stripped and bruised rosemary sprigs.
One red chilli finely chopped (optional)
Salt.
Instructions
Put all the ingredients, except the fish, into a bowl and mix with your favourite seasoning.
Add the sardines and toss well.
Cover and let it chill for a few minutes.
Heat your BBQ.
Cook the sardines for 5 minutes on each side.
Serve on a plate, drizzle with oil, and squeeze over the lemon slices.
You can season with more olive oil, salt and pepper.
If you want to grill sardines or fish in general, make sure you check our guide The best tips on how to grill fish for perfect results. 🔥
Surprising health benefits of sardines
This fish has been around for centuries. They are packed with nutrients and can help with the prevention of several health conditions, for example, heart disease. Did you know that just three oz. of sardines provides 23 grams of protein? Also, you can enjoy them fresh, but they are highly perishable. It is the reason why we commonly found then in a can.
Sardines are abundant in the Atlantic and Mediterranean seas, so if you live in Portugal, you are fortunate. They are a great source of calcium and other vital nutrients. They are rich in EDA and DHA, two fatty acids that our body uses to reduce inflammation.
Doctors frequently recommend them for pregnant women and older adults because it provides essential vitamins such as vitamin B12, vitamin D and selenium. Even more, they have low-level mercury concentration in comparison with other fish. Above all, sardines are indeed a very versatile fish. You can grill them, serve in salads or as a snack with bread or crackers.
In addition to this, sardines are great for kids, just remember to chopped them into little pieces.
🔥 Advice from BBQ's Algarve Moreover, you can serve this delicious food with grilled zucchini or grilled aubergines for a tasty and healthy meal combo.
---
Looking for the BBQs or grills that best suits your needs? Contact us or visit our store in Algarve for expert advice.
What did you think of this recipe? Would you cook fish in your grill? Have you got any recommendation or addition to this recipe? Let us know in the comments below.
You can also learn Portuguese grilled codfish recipe or the traditional Piri Piri chicken.