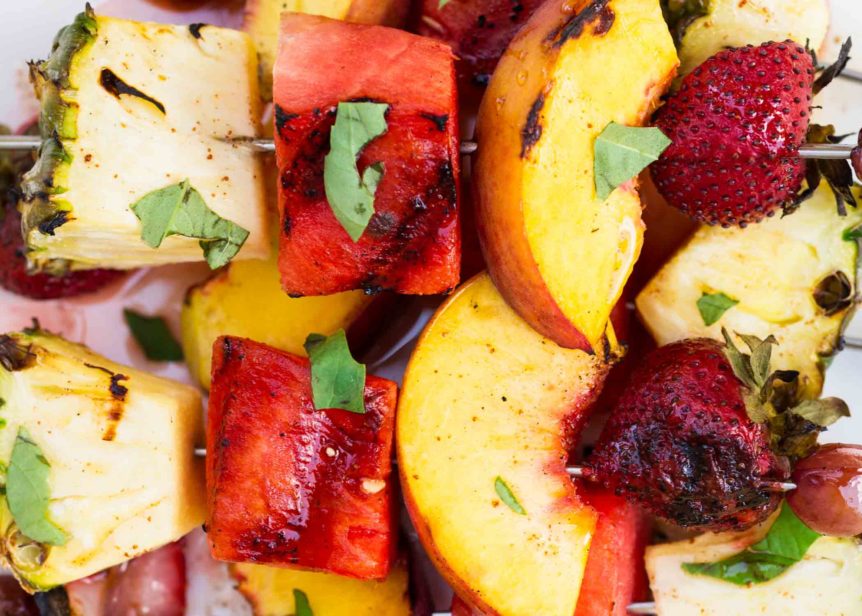 The grill doesn't have to burn out when the savoury dishes and the juicy steaks have been served. That's why today you will learn the best summer desserts that you can cook on the grill and have the perfect sweet ending to your summer meals with your family and friends in the Algarve.
Summer in Algarve means lots of fun in the sun. For many, that includes lots of barbecues at your garden or your perfectly built-in outdoor kitchen.
Moreover, there's plenty of grilling recipes out there: Portuguese grilled sardines, sausages, and even grilled veggies like zucchini. You can basically grill anything and enhance the flavour of any food just by grilling it.
Even more, there are different grilling methods such as indirect or direct grilling methods. You can also learn how to smoke your foods, to rotisserie them or even to grill your foods on a plank.
This year we're grilling something sweet
There are so many grilling methods, cooking times for each type of food, and recipes. However, desserts are often overlooked. Well, not this year.
If the grill is still burning, then why not use it to make dessert? Keep reading for easy and delicious grilled dessert ideas that will be a big hit at your BBQ parties.
In case you are wondering "What else can I cook on a BBQ?" or "What should I grill for a cookout?", surprise your friends with the following desserts you can cook on a grill.
7 desserts you can cook on the grill
Grilled chocolate bananas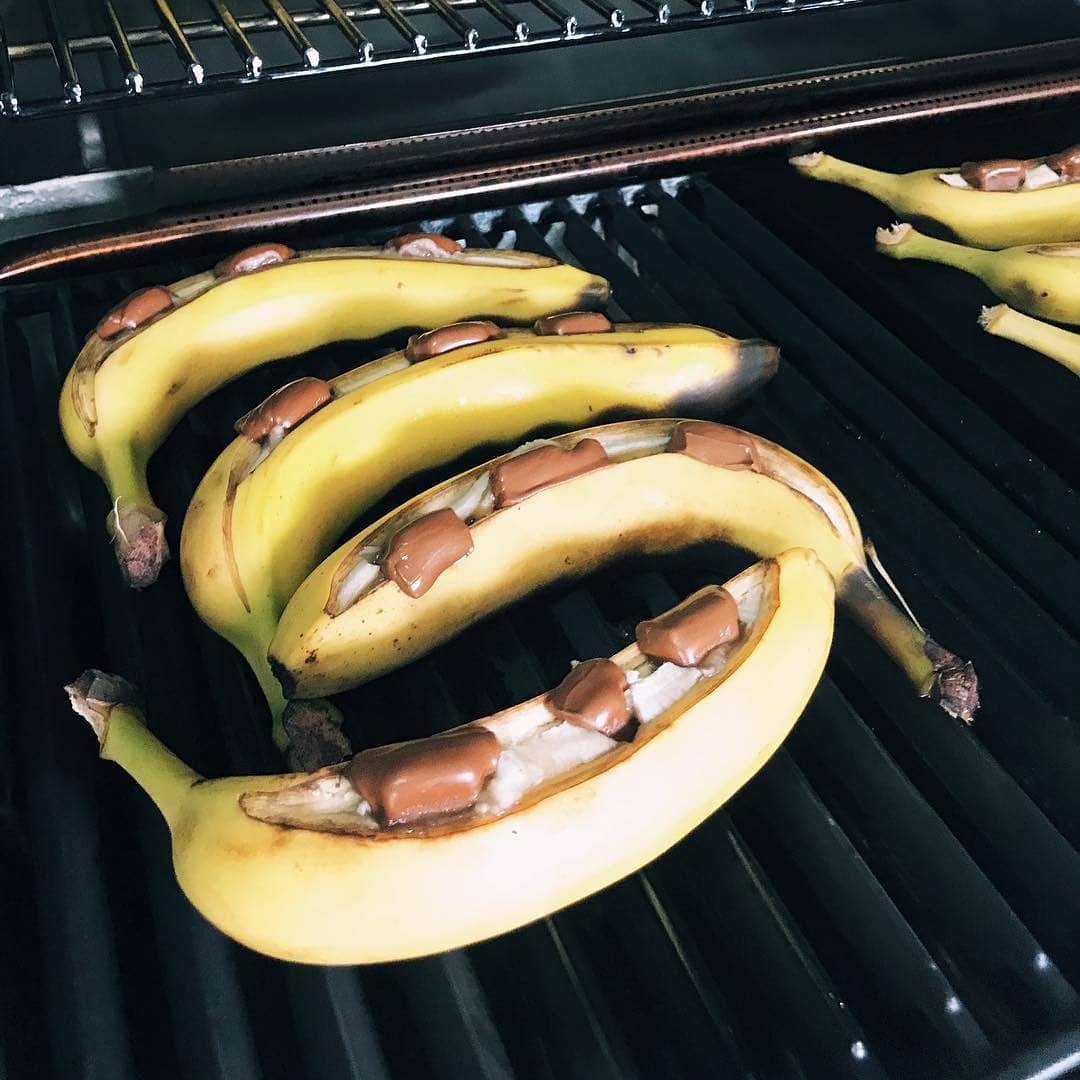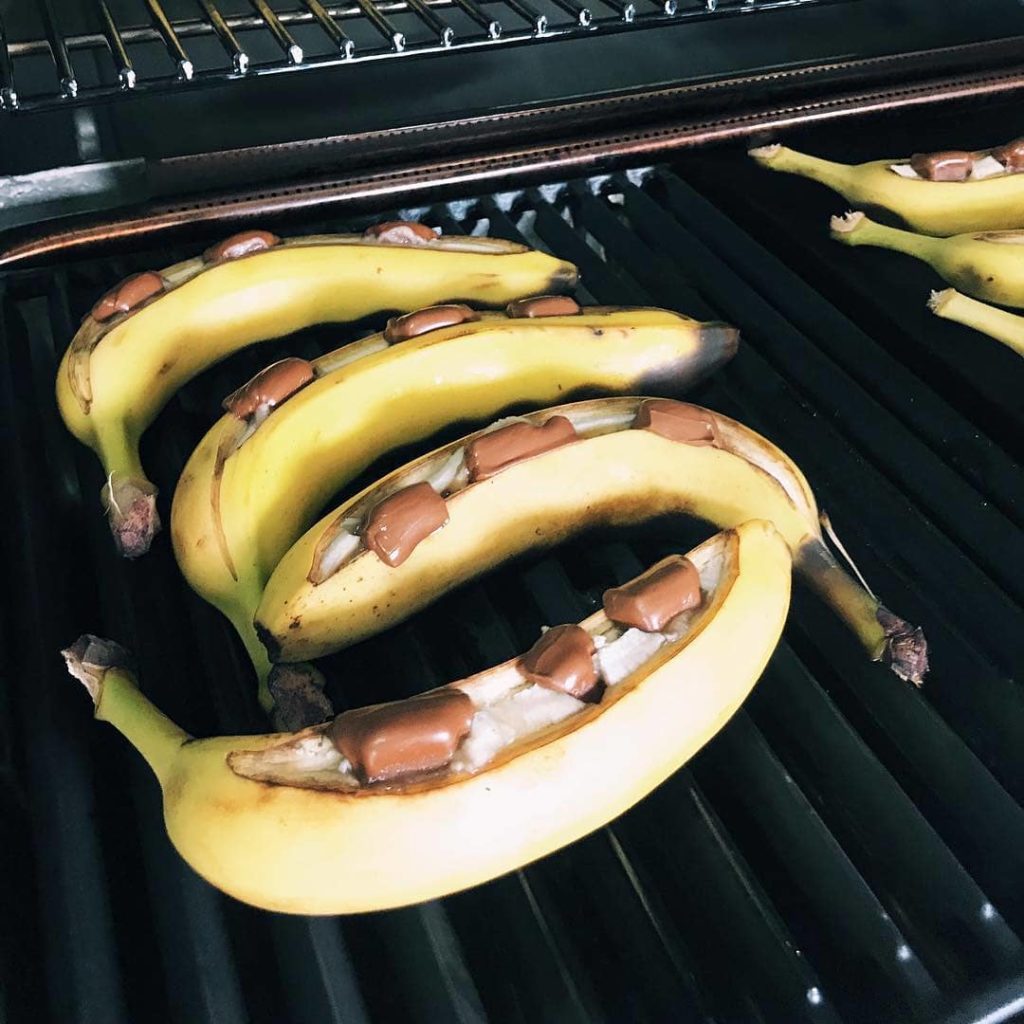 Grilled chocolate bananas are a wonderfully simple dessert to serve at the end of a barbecue. They are an easy-to-make dessert that will remind you of camping and that tinge of burn in your eyes from the smoke.
Take notice you only need to prepare your grill for medium-high heat.
Keep the peels on the bananas and slice each one lengthwise just enough to open them (be careful not to slice them all the way through).
Sprinkle cinnamon over the cut sides of bananas.
Evenly divide chocolate over top.
Place the bananas, peel side-down, on your grill.
Cook just until the chocolate melts (about 3 minutes).
Transfer the bananas to serving plates and enjoy!
🍌 Check our Instagram for the tips to make this perfectly grilled dessert.
#BBQTip ❗ Before grilling the bananas, make sure that your grates are well greased so that the bananas don't stick to the grates. We left the peels on the bananas so that they would hold up better on the grill.
You can also serve with a scoop of vanilla ice cream.
Marshmallow and strawberry kebabs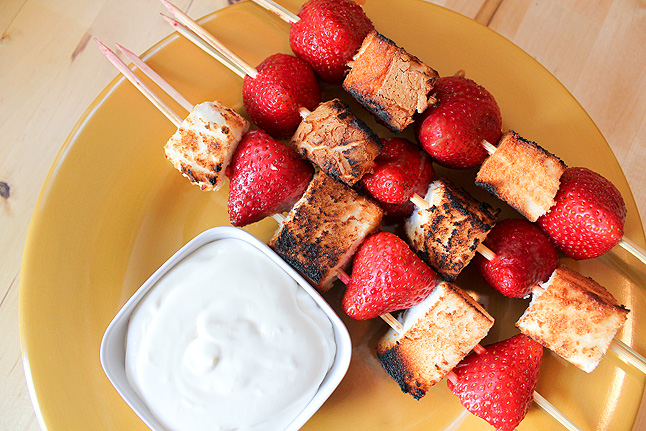 Nobody can resist a toasted marshmallow! If you have some residual heat leftover on your barbecue, toast up some marshmallows and strawberry skewers for a fun, sweet and sticky snack.
They might not be the healthiest fruit kebabs but they look pretty and taste delicious!
If you are grilling with your kids, these fruit kebabs are also a perfect activity for the kids to do over the school holidays.
#BBQTip To prevent the marshmallows stuck to the wooden skewers and go out of shape, run the skewer under cold water first, pat dry and then thread the marshmallow. You can also use the easy-to-turn Broil King stainless steel skewer set with six racks of ribs to hold your food firmly.
Grilled pineapple with honey and cinnamon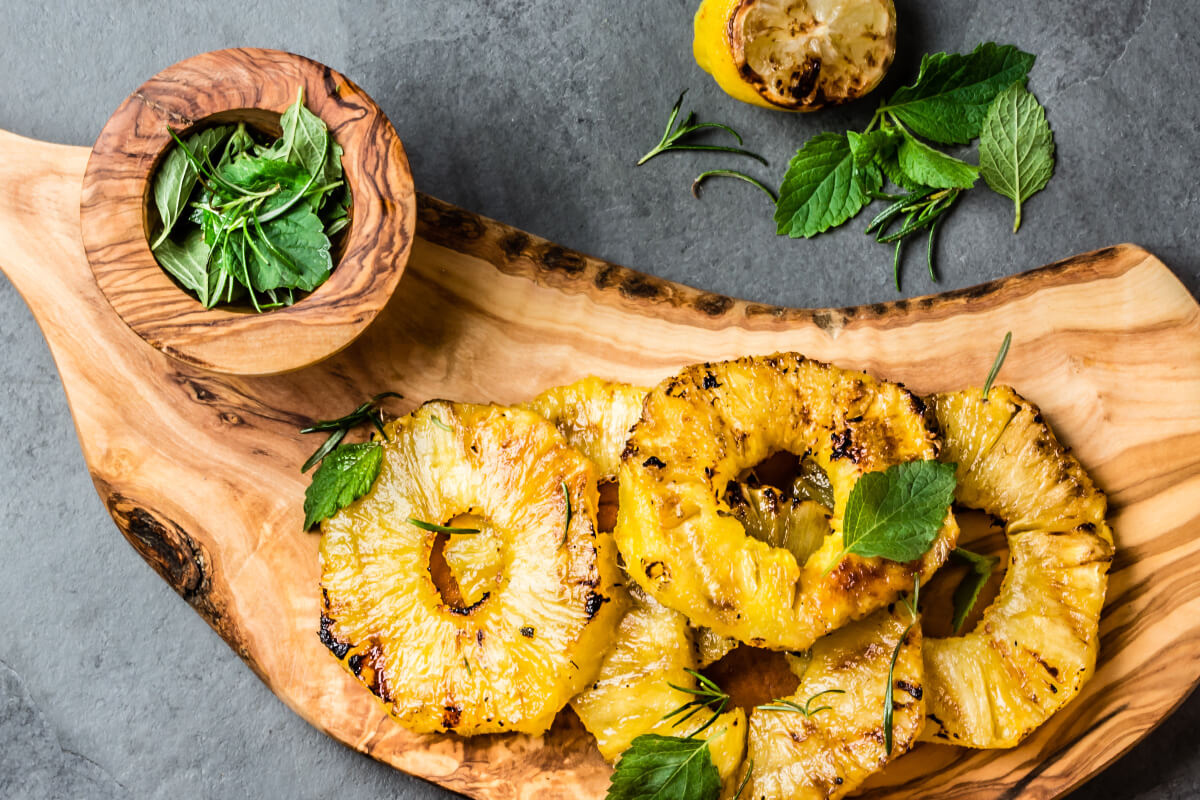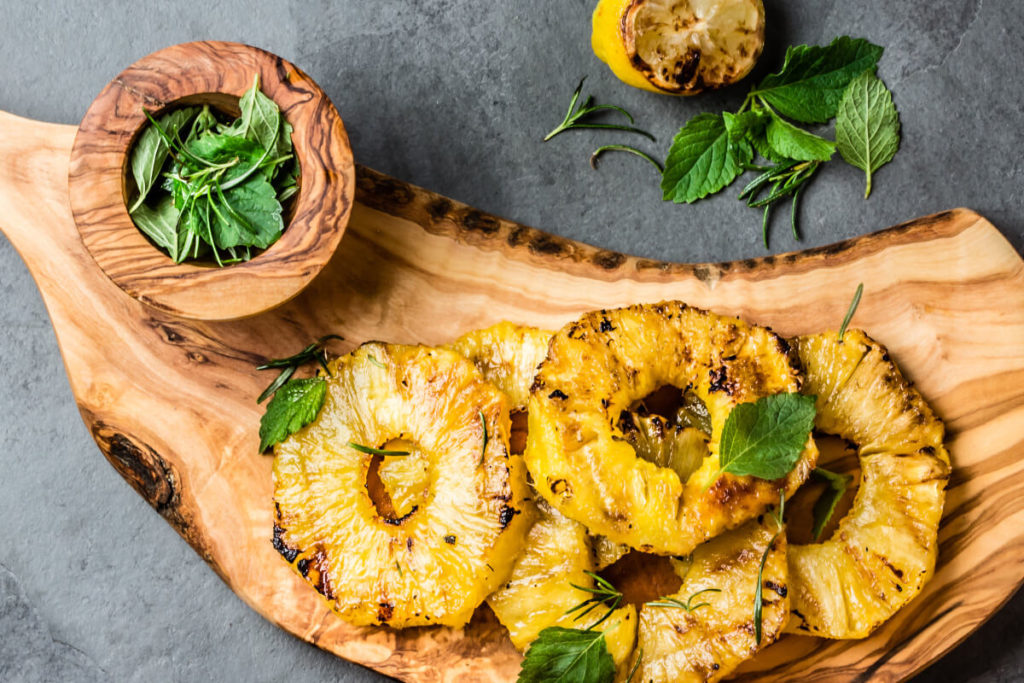 This is our absolute favourite way to eat pineapple! The fruit is beautifully caramelized on the outside and even juicer and sweeter on the inside after roasting.
Most of us get back to healthier eating at the end of summer. If this is your case, this grilled dessert will be a great option for you! It is also proper if you are thinking about starting a new journey of eating a vegan diet.
You only need to combine some olive oil, lime juice, honey and cinnamon in a small bowl. Then heat the grill or a grill pan.
After that, lightly brush the pineapple with the marinade and grill turning once and basting once or twice with the remaining marinade, until tender and golden. This should take around 3-4 minutes on each side.
Pineapple is a delicious fruit on its own, but if you want something quick, and easy to make for dessert this summer, try grilling it and serving it with some ice cream on the side.
Obsessed with grilling your pineapple now? Let us know in the comments!
The juiciest grilled watermelon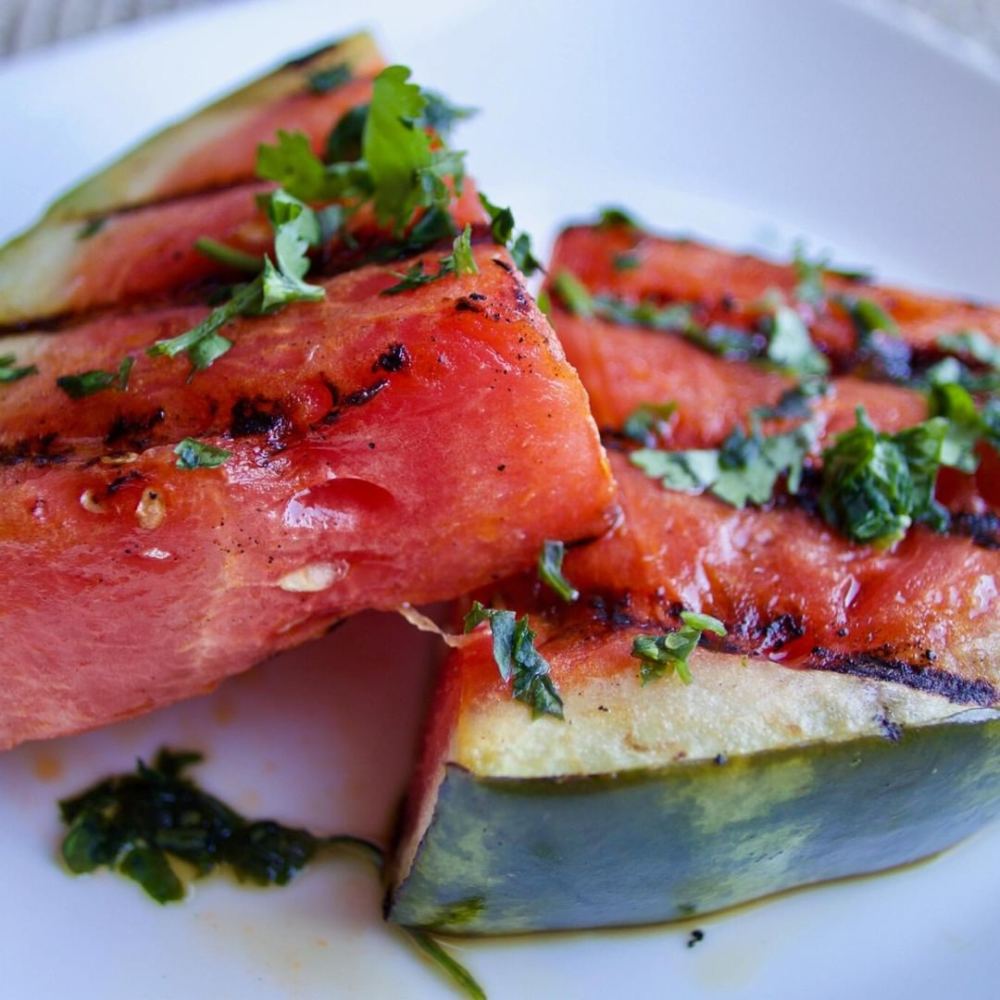 This summer we discovered this sweet and juicy recipe and we promised to cook it forever! In case you are eager to try something different, learn the steps to grill watermelon and the best ways to serve it!
We know this idea might sound strange, but the grill caramelizes the melon's sweetness and gives it a subtle delicious smoky flavour.
You will love it!
Chocolate fondue & toasted marshmallow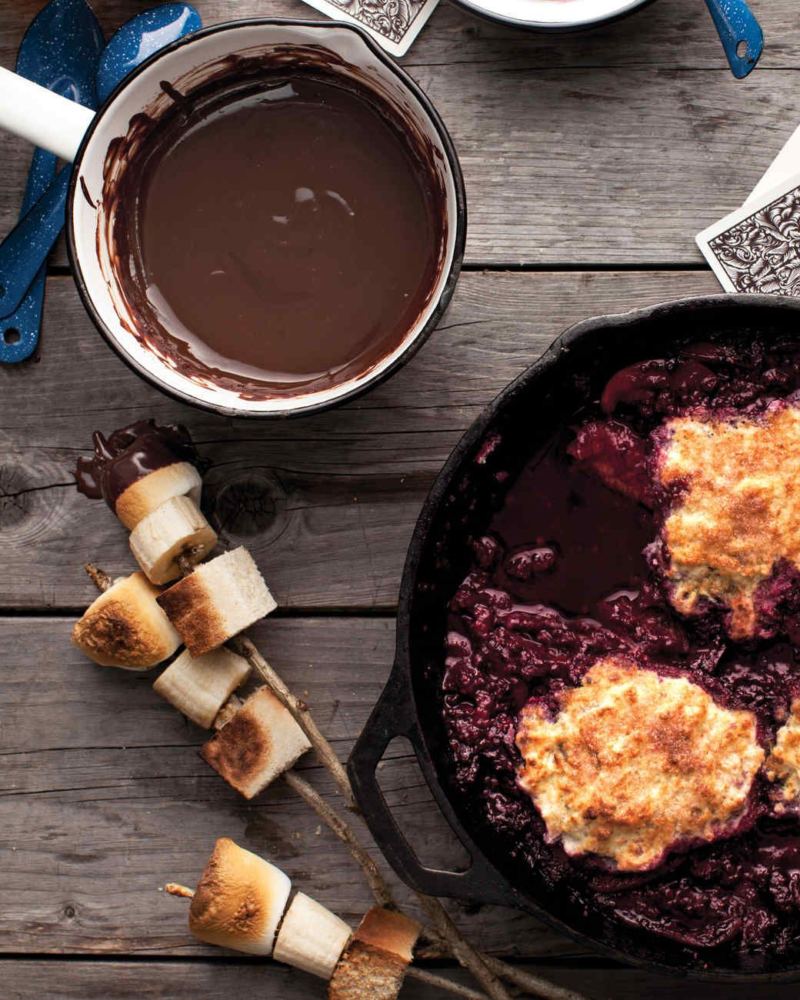 If you are looking for desserts you can cook on the grill, you will love toasted marshmallow with chocolate fondue! Toasted marshmallows are a messy business, but they're all the better for it!
Put the chocolate, some butter and milk into a grill pan, then heat gently, stirring occasionally, until the chocolate is melted and the sauce is smooth. Thread marshmallows on skewers and carefully toast them on the fire. Dip into the chocolate fondue and eat straight away.
You should cook this recipe published by the BBC on your charcoal barbecue.
#BBQTip When making this deluxe campfire treat, look for square marshmallows. They give the chocolate a wider surface on which to melt.
Sweet pizza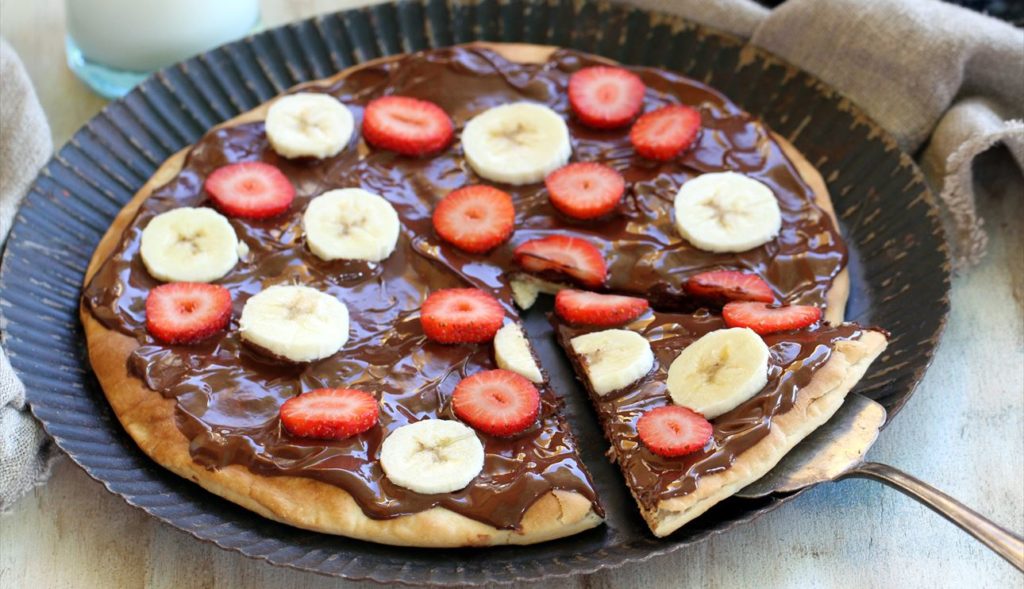 During the quarantine due to the Covid-19 pandemic, we published on Instagram some ideas for grilling pizza at home. However, we also want to highlight this very creative and delicious sweet pizza!
This sweet pizza recipe picks up some of the BBQ's lovely chargrilled flavour when the base is cooked on the grill. The pizza dough doesn't take more than 5 minutes to cook each side.
You need to preheat the barbecue or grill to medium.
Make up the pizza mix according to the pack instructions.
Divide the dough into 2 balls and roll each out to a circular pizza base.
Brush the melted butter all over both pizza bases and cook for 3-5 mins on each side, until lightly browned and bubbling. Set aside to cool fully.
Once the base cools, spread over a thick and sumptuous layer of cream cheese and ricotta and top with your favourite summer berries.
🍫 Instead of using cheese, you could also spread over some Nutella or melted chocolate with your favourite toppings!
Fire-roasted strawberries with vanilla ice cream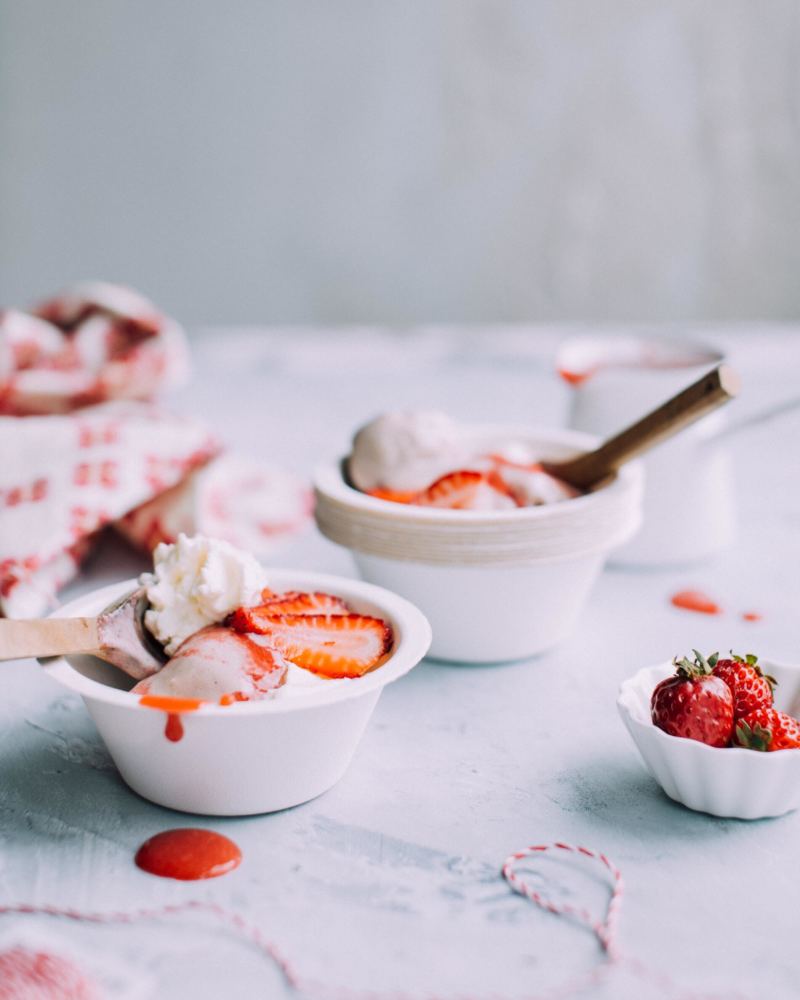 As you can tell by most of our recipes, we're fans of grilled fruits. And we make no exceptions!
First, you need to prepare your grill for direct cooking over high heat (450° to 550°F).
Trim the stem ends of the strawberries and toss them with brown sugar, vanilla, and liqueur (or lemon water) and toss to coat.
Line them up on a pan and place the pan over direct high heat, close the lid and roast until berries are soft and juices are bubbling approximately 10-15 minutes.
#BBQTip The cooking times will vary depending on the variety, size, and ripeness of the strawberries. Watch closely to catch them before they collapse. Remove from the grill.
Spoon the pan juices over the berries to moisten them and let cool for 5 minutes. Top the ice cream with the grilled strawberries and try to share it with others. Trust us, it's going to be a difficult task.
This grilled dessert has so much flavour and tastes so special and the best part is that it really requires no effort!
Enhance your grilling experience
---
Are you enjoying the summer season in the Algarve so far? If you live in this paradise you must love summer BBQs with family and friends with the most amazing sunny weather and beach nature.
Visit our store in Vilamoura or have a look at our shop for a perfectly chosen range of gas and charcoal barbecues from the top brands in the market. Check for the best quality awnings to cool down your spaces and the best grilling accessories to enhance your grilling experience.
Let us know in the comments your experience at grilling these desserts! 👇🏻