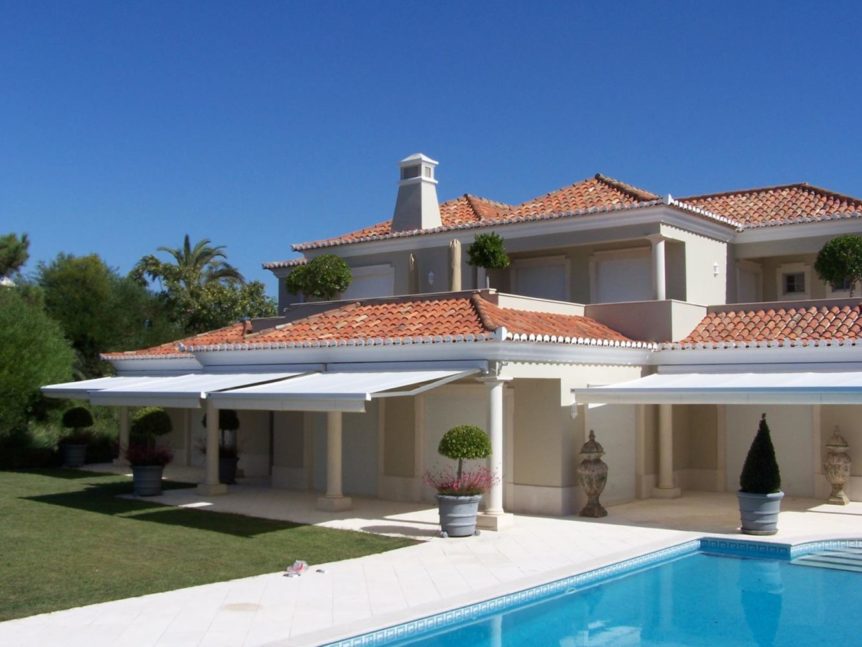 Here in the Algarve, we have beautiful scenic views. This region is full of beach lovers, always talking about the sun, the waves and the amazing moments spent especially during the summer season. Furthermore, those moments with the family and friends gathered around the barbecue.
Outdoor living is part of the joy of the Algarve locals and visitors. The majority of our clients contact us to ask us for help to build their own outdoor kitchen space. If you already built your outdoor dining area in your garden or terrace, you should now be thinking about beating the summer heat by installing window coverings and awnings at your place in the Algarve.
The increased awareness of the dangers of sun exposure has led to a proliferation of shading products for outdoor spaces. In the process, the awnings and other shading tension systems have become popular visual features in designed landscapes. We recommend you to install awnings at your place so you won't be blinded by the light this summer 🤦🏻‍♂️. Within the following lines, you will learn more about the benefits of awnings.
Awnings installation at your place in the Algarve
Thanks to the sunny weather in the Algarve, spring and summer seasons bring pleasant afternoon and evening events with friends. However, you often may require sunglasses, wide-brimmed hats, and fans to enjoy the views while grilling, to keep you and your guests comfortable and to avoid sweating sunscreen into your eyes.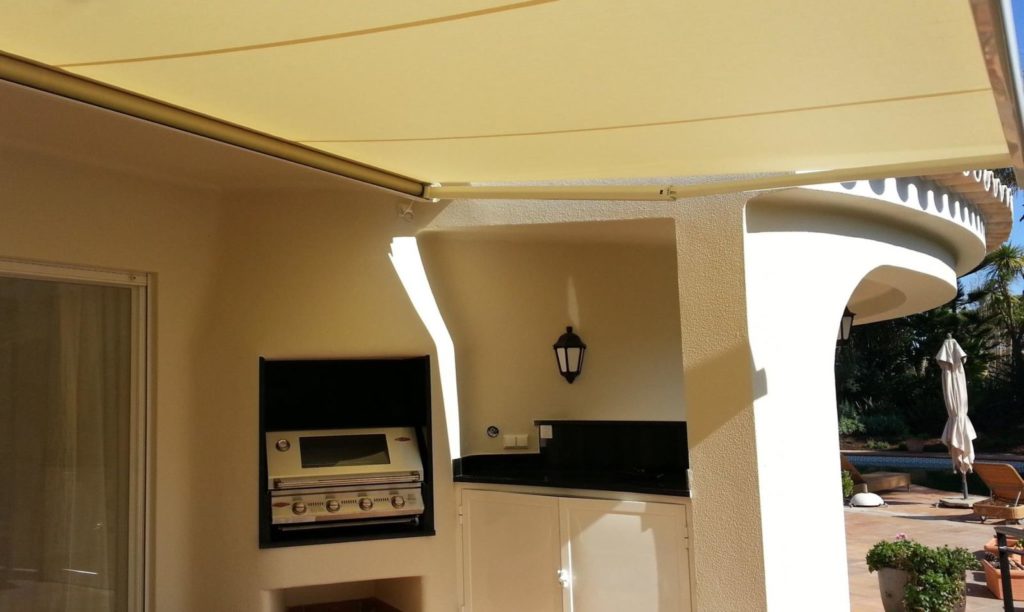 To add a spot of shade to your outdoor kitchen in Algarve, all you need to do is open up a big umbrella. Nevertheless, nowadays there are plenty of options to add shade to your outdoor area. In this sense, our awnings not only will shade your backyard but will also serve as stylish features in the landscape. Keep reading to know the benefits of installing sunlight protection to your home in the Algarve. You will also learn about the maintenance of awnings and the products we offer in our showroom in Vilamoura.
🌞An awning that is sewn, rather than glued, tends to last longer. Although glues used today on awnings are much better than in the old days, one that is sewn is going to be more reliable.
The benefits of installing retractable awnings
Protection for your skin. Most dermatologists would recommend you minimize your tanning time in general, but if you're going to be outside, they advice staying in the shade when the sun is strongest (generally between 10 a.m. and 2 p.m.).
Coverage when grilling. Retractable awnings are designed to protect you from the damaging rays of the sun, especially during the summer warmest days that might reach a sweltering 40ºC in many Algarve locations.
Protection for your eyes. The most essential function of awnings is to keep the heat off you. In addition, shading your eyes from the bright sunlight is a blessing, isn't it?
Captivating space. Awnings decorate your outdoor space to give it a more attractive look.
Easy-to-use. Once installed, you just simply need to extend it for instant shade and protection. In this sense, you will be able to put it away with the touch of a button.
Maintain your food and drinks temperature. Stashing your food and drinks in the shade will help keep them cool rather than adding more ice to your drink.
Can awnings add value to your property in Algarve?
Awnings are beautiful. This is just one of the many reasons why they add value to any real estate property. Moreover, if you are planning to sell your house or redecorate your current home in the Algarve, awnings have more to offer than most of us realise.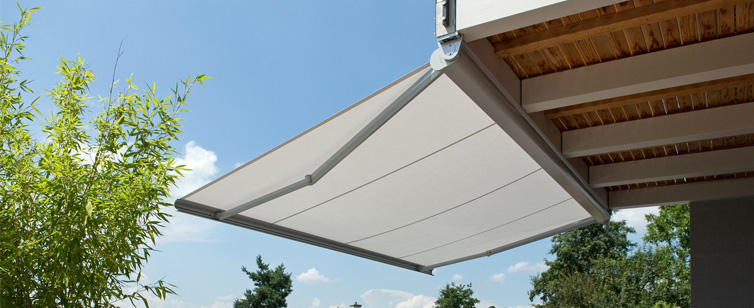 Bespoke awnings can increase the value of your property. This is just due to how aesthetically pleasing well-planned awnings can be. In this sense, the awnings in bespoke designs can give your installation a personalised touch aligned with your expectations and the surrounding look of your garden or backyard. Remember to keep the sun and the Algarve heat in mind when decorating your outdoor area.
CASABOX
CASABOX is one of our most-installed products for our clients in the Algarve. This slimline box awning has a timelessly elegant, minimalist design. It is ideal for shading small to medium-sized areas such as balconies and terraces. It has a long service life. You can operate them easily with a crank or an optional electric motor to automatically bring them in if a storm comes in.
TENDABOX
TENDABOX is particularly suitable for shading medium-sized terraces and seated areas. As the CASABOX, this awning also has a long service life. Its installation on walls, ceilings or rafters is very easy. Moreover, its ingenious adjustable incline enables quick and easy assembly. You could always choose to operate it with an electric motor or manually using a crank.
You can always extend your awnings over your patio whenever you need them to provide complete control over the weather, on your terms. Moreover, every time you close one of our awnings, the fabric will always be fully protected.
👍🏻A common feature of these retractable awnings is that they are custom made to fit the length and width of almost all terraces and patios. They are made with durable fabric and come in over 200 different colours, plain or stripped. Just contact us and we will guide you until you find the awning that best suits your needs!
Maintenance of your retractable awnings in Algarve
The ideal weather condition to extend your retractable awnings is when you are relaxed outdoors, barbecuing with your family and friends. In this sense, take the following maintenance tips to ensure the durability of your awnings at your place in the Algarve.
Always retract your awnings if you plan on being away from home for a long period.
In this sense, you should also retract it if severe winds of about 20mph or stronger are predicted. Bear in mind that the intensity of the wind might lift your awnings and damage them.
Lubricate moving parts with a lubricant preferably a dry silicone spray once a year.
Keep it clean. Don't let dirt collect on the fabric. Although most awnings fabrics are very resistant, if they are constantly dirty they can be mildew damaged.
Rinse your awnings with a garden hose once a month.
Clean the underside of your awning by brushing it with a simple household broom.
Don't use spot removers since they can bleach or tarnish the fabric.
Don't allow stagnant water to collect on the awning. If water starts to pool, bring the awning in.
Don't use excessive force to extend or retract a crank-operated awning.
🧰Awnings with proper care and maintenance can last up to 15 to 20 years. At BBQ's Algarve, we can also just replace the fabric if needed.
💧Wash your awnings through the summer season to keep them clean. Inspect for rust and corrosion regularly so you can coat before it becomes a big problem.
Best tips to maintain your home cool during summer in Algarve
Awnings, shades, and curtains can keep you cool during the summer season in the Algarve and your utility bill in check. We know air conditioning is blissful during the hottest summer days in this region, but running it nonstop during a heatwave could make your bills to increase a lot.
Fortunately, smart use of awnings can help you keep your house cool. By our experience living in the Algarve, we have learned that smart management of window coverings can reduce heat gain by up to 65 per cent. Along the same lines, these practices can also reduce heat loss in the winter.
Window awnings can reduce solar heat gain on your windows. For even better results, choose awnings in light colours that reflect more sunlight. On the other hand, roll up your retractable awnings to let the sun warm up your house in winter.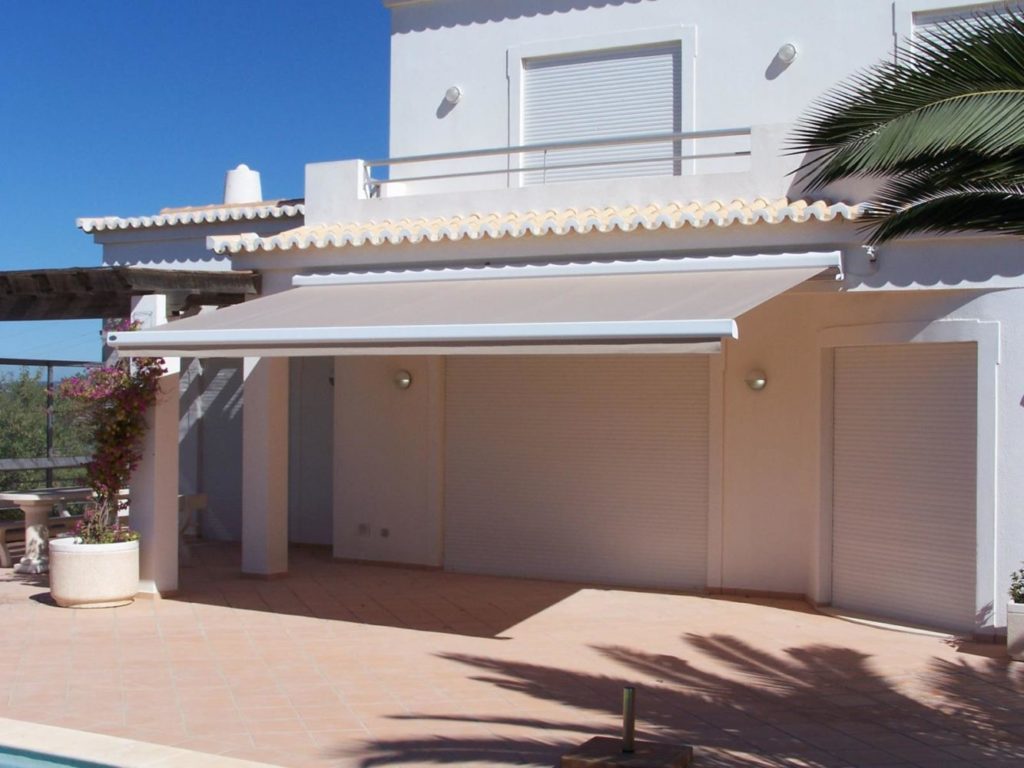 Window shades are one of the simplest and most effective ways to save energy. Mount them as close to the glass as possible within the window frame, creating a sealed space.
Also, when installing an air conditioner you should take the heat of the sun into consideration. If you place the unit in a window that gets direct sunlight during the hottest part of the day, it will have to work harder to keep you cool. And that'll cost you.
If you want to install awnings to cool down your indoor and outdoor spaces while you enjoy the best summer drinks in hammocks between your garden trees, contact us!