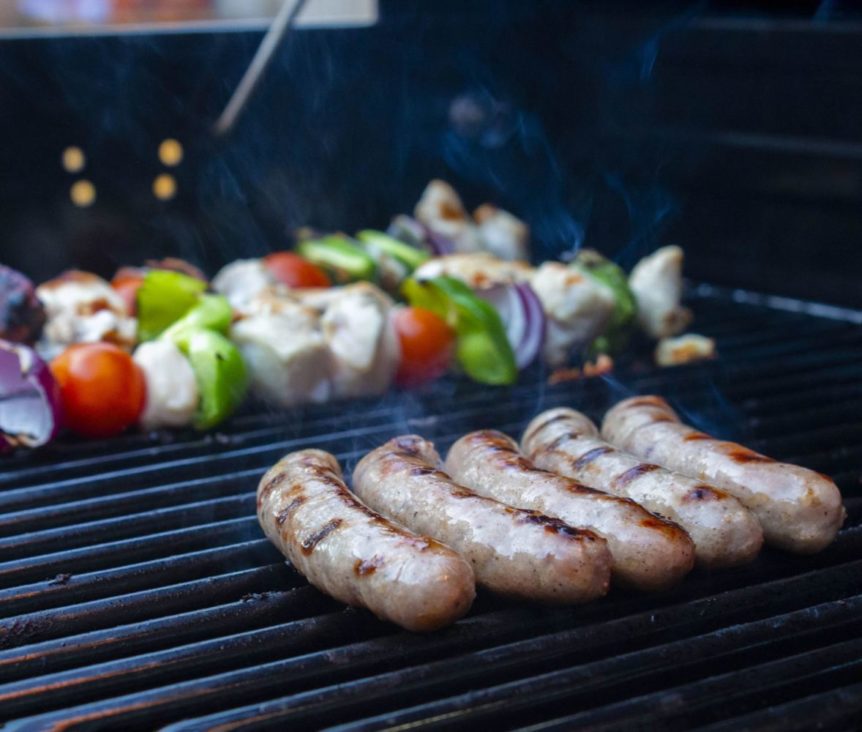 Are you keen to cook, entertain and enjoy with your friends this summer in the Algarve? It feels like we have been waiting for the Algarve sunny weather and the start of the summer season for so long! If you already built your outdoor kitchen for the BBQ season and installed your awnings to protect it, you will see how these additions will transform both your garden and your summer gatherings. That's the reason why we are teaching you today to prepare the perfect grilled sausages using indirect heat.
First of all, you should know that grilling sausages is not easy. Cooking a sausage all the way through before it burns on the outside is tricky, and flare ups from dripping fat make it even harder. Along the following lines you will learn how to prepare perfect grilled sausages. You will also learn to keep the flavour of your sausages and prevent burning using the indirect heat technique.
There is no more reliable guest at a cookout than sausage. Moreover, once you cook sausage on the grill, you'll see that, like zucchini, it really does taste better than in any other way. Keep reading!
Sausages: A love story
According to our friends from The Spruce Eats, sausages are thin or thick cylindrical pieces of meat made out of ground pork, veal and veal. Most often, sausage has salt, spices, and other flavorful seasonings. The term sausage is derived from the Latin word salsus which translates to "something salted."
🌟Grilling sausage is a healthy alternative to frying as it reduces fat content and calories.
The challenge with grilling sausages is getting them cooked completely through—without drying out the casing, having them burst open, or burning the outside. Although breakfast sausages are typically cooked on the stovetop, cooking our delicious bangers or bratwurst, takes some work. Thankfully, you can learn a lot of sausage grilling methods to prevent burning and keep their delicious flavour.
While writing this post, we have found that sausages hold a special place in people's affections. They're the easy 'go-to' meal choice for all generations, which many of us Brit's consumed at least one day a week. These meaty treats are a great weekday meal, as they require very little preparation. 😍You can turn them into a flavorful dinner in literally minutes. 
Try asking your friends about sausages and they will probably smile and tell you about their favourite type or a fond childhood memory. We are convinced that even the most sophisticated gourmet finds them irresistible. The main reason might be that sausages evoke childhood memories such as beach campfires, a family Sunday breakfast or a Birthday party at the park.
Prepare the perfect grilled sausages using indirect heat
Overcooking sausage is a common problem. Grilled sausages turn out dry and flavourless often due to incorrect or careless cooking. In this sense, people tend to cook sausages for far too long.
✅Sausage is a ground-meat product, you should always cook it to an interior temperature of 160 degrees, but no more than that.
We never recommend cooking sausage over direct heat, because the heat of the flames will quickly bring the juices of the interior of the sausage past the boiling point. As a result, all the flavorful juices will run out of the sausage and onto the flames, creating flare-ups, and you'll lose a lot of flavours.
In this sense, the best way to prepare the perfect grilled sausages is through indirect heat. We promise you will notice the difference from a dry sausage to an incredible carefully cooked and tender sausage. Follow these useful tips for preparing the perfect sausages:
1️⃣ First, brown your sausages over high heat for a minute or two.
2️⃣Turn the heat of your gas grill down to medium. Arrange the sausages far from the heat source and also close the lid if you can.
3️⃣Your sausages will cook from 10 to 12 minutes depending on how thick they are. For more BBQ tips you can also check all the cooking times of the grill for perfectly cooked food.
4️⃣Remove your sausages from the grill and serve them on skewers or with chopped onion, mustard or one of these sauces. 
5️⃣Take a look at the following sausages on a bun recipe from Broil King that you can grill with your kids and family at your outdoor kitchen in the Algarve.
Sausages are a prime candidate for sear-roasting on the grill. Start your sausages over indirect heat, and leave them there until they are cooked through.
Recipe: Sausage on a bun with caramelized onions and peppers
Now that you have learned to prepare the perfect grilled sausages, you can take the classic hot-dog recipe to a new level. This is a very easy recipe. It will take you around 15 minutes to prepare it and around 40 minutes to cook all the ingredients.

What you need
8 sausages
8 buns
1 red pepper, sliced
1 sweet onion, thickly sliced
Olive oil
Instructions
Preheat your barbecue on medium.
Toss the onion and peppers in a bowl.
Place the sliced vegetables in a cast iron pan over the flame or on the side burner, if you have one. Add the oil.
Cook for 5 minutes, stirring often, then reduce heat to LOW, stirring occasionally until onions are softened and brown. This will take about 40 minutes.
Meanwhile, place your sausages on the grill.
Cook approximately 10–12 minutes per side, until cooked through.
During the last few minutes of cooking time, warm the buns on the upper rack. 🌭🌭
Make it easier with this grill accessories
Did you enjoy this recipe? Let us know in the comments below or tag us on Instagram!
Summertime usually means entertaining outdoors. While a simple small BBQ grill might suffice for a tiny get together, it is nearly impossible to cook all the food you need for a backyard party on one small grill.
This means you're usually running between the kitchen and your grill outside. Why not cut the hassle and make entertaining easier this summer season with an outdoor kitchen?
Take dining al fresco to a whole new level by adding a cooking station outside in your garden!
Installing an outdoor kitchen can give you the grill station a grill master deserves. This year, it's all about taking barbecuing seriously with an outdoor kitchen. Contact us and we will help you build the outdoor dining area of your dreams.