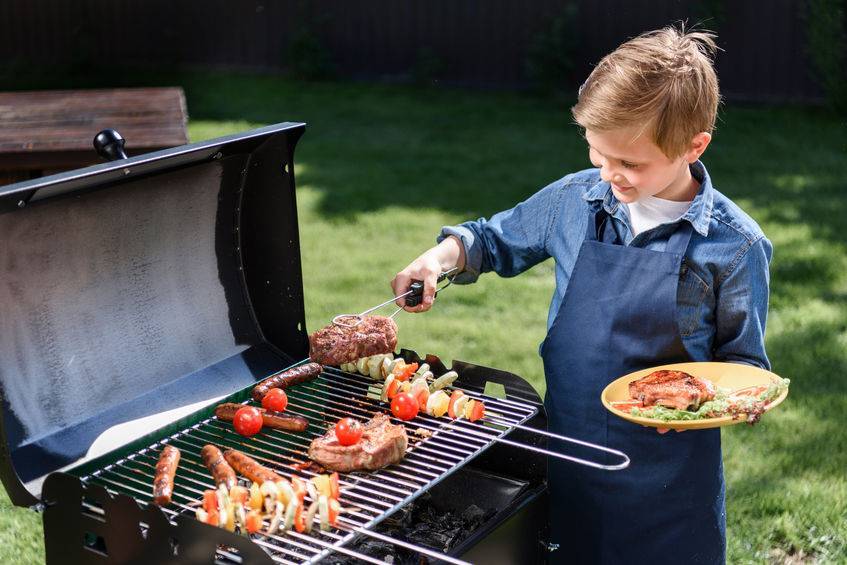 Have you ever thought about grilling with your kids? Grilling is one of those rights of passage between a father and child that can impact their entire life. When you cook or grill with your kids, you let them be involved with the food they eat. By doing this you also promote healthy eating habits and their creativity. More important, you might find out that your kids are more willing to try a variety of foods.
There is nothing more fun than barbecuing outdoors with a beer, the Algarve sun, and the presence of your kids, family, and friends. Laughter, juicy steaks, crispy grilled veggies and so on. You can take advantage of this moment to teach some grilling lessons to your children.
Worried about safety? Teaching and maintaining safety is your first and foremost task for them to learn the basics in a fun a safe way. The next time you and your family get together to grill, follow our tips to make it a wonderful experience for everyone! It's never too early to start teaching the future grill masters of the family!
❗ Consider the ages of your kids before introducing them to any type of outdoor grill. Whether they are toddlers or teens, it's important that you remember to never leave them alone with the grill. You may think 40 seconds to go inside and grab seasoning isn't anything, but a lot can happen in just a moment.
Basic grilling lessons to teach your kids
Teach safety
Children are often prone to accidents and impulsive behaviour. The first lesson is to show them how to light and start the grill several times before letting them try it on their own. This can be easier on a gas grill than on a charcoal one.
Make sure your child is tall enough to easily reach the meat with the tools you use to cook. This will assure they don't get burned when they reach over the grill.
Explain to them the hot areas of the grill and remember to include the outside of the grill. This way you will also avoid your little ones from getting burned.
Use grilling tools
When grilling food always use long-handled grilling tools to give plenty of clearance from heat and flames. Teach your kids to use a spatula and encourage them to wear an apron for their safety. You can also use a kitchen timer at the beginning so your kids can monitor the cooking times of certain foods.
In addition to the above, another lesson you can teach them is to learn that whatever food that takes the longest to cook goes on the grill first.
Where to locate your BBQ
Teach proper grill positioning. Grills should be ten feet away from buildings and fences on a level surface. Also, remember grills shouldn't be used near low-hanging tree branches. If you have a working fire extinguisher nearby, teach your kids how to use it.
The basics of health and maintenance
To maintain cleanliness and health, ask your children to always wash their hands before start cooking and after handling raw meat. In this sense, never put cooked meat on a plate you have used for raw meat.
After everyone's has eaten and the grill is warmer, teach proper grill cleanup and maintenance. It's nice to have a BBQ at home but keeping it clean is vital for the grill to last in your backyard for years.
How can your kids help you when grilling
There are a lot of tasks you can ask your kids to do. Read the list below and choose the ones you will assign to toddlers, big kids or teenagers:
Rinse vegetables.
Chop vegetables.
Setting the table.
Folding napkins.
Shape and season burgers.
Assemble ingredients.
Mix salads.
Brush the kitchen with sauces and marinades.
Husk corn.
Put your veggies and meat on skewers.
Butter the buns when grilling burgers or hot dogs.
Bring the food to the table.
Supervision the little kids.
Recipes to cook on the grill with your kids
Skewers
Putting veggies, chicken, and even fruits is an easy task to do. Even more, it is an excellent way to teach your children to eat their veggies. You can cook red peppers, zucchini, aubergines and onion with steak or chicken. You can also take skewers to backyard parties during the summer season. Get yourself a top-quality skewer set to facilitate this task.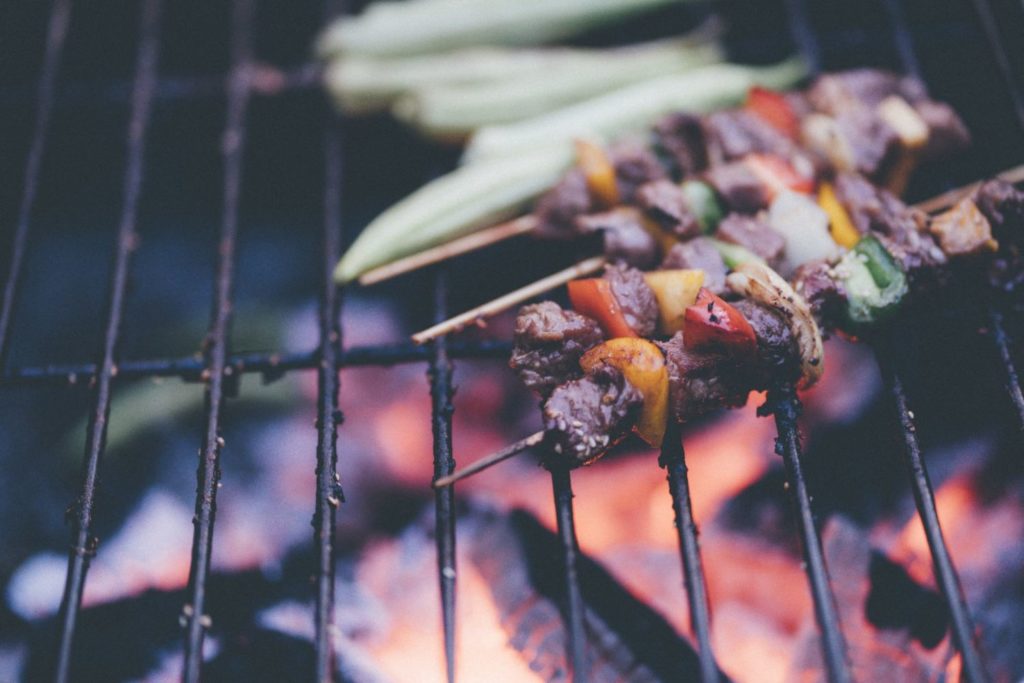 Grilled meatballs
Besides season the meatball, you can also make burgers. These are cooked very fast and easy and can be eaten with different sauces like pico de gallo or chimichurri.
Campfire potatoes
Cooking potatoes in aluminium foil over the fire makes them tender and flavorful. This is a very easy-to-cook side dish for kids. They will for sure enjoy cooking potatoes and eating them when barbecuing this summer.
Chicken tacos
Children tend to like chicken more than any other kind of meat. To make them eat more veggies, you can grill the chicken and then chopped it to fix into tacos with onions, green peppers, corn and guacamole.
Grilled pizza
Few things are easier than making pizza. It doesn't matter if you have homemade dough or store-bought. Just toss it on the grill and let your kids choose their toppings on their own. Napoleon Grills and Broil King barbecues are great for making grilled pizza with a smokey added flavour. They are also safer than charcoal for grilling a pizza. Also, don't forget to use a baking stone set to ensure safety and avoid burning and also, for cooking more than one pizza at the same time.
Grilled vegetables
This is another way to promote your kids to eat healthier. You can cook delicious grilled zucchini, asparagus or aubergines. Even more, you can make a batch of pasta or rice ahead of time and then mix with the vegetables you've tossed on the grill.
Hot dogs
We couldn't miss adding hot dogs to this list. This is one of the children's favourite meals. You can cook the sausages and bread and if you want them to eat veggies, add onion, grated carrot and grated cabbage.
---
Teaching your kids the basics of grilling will take any fear they have of the grill away and start them on the path of a life filled with delicious grilled meals they can competently and passionately prepare themselves!