Welcome to the Algarve.
A hassle-free family destination. Portugal's holiday paradise for surfers. It is a place that combines scenic coastlines with a variety of beaches and cliffs. The Algarve is awash in the sunshine for almost 3,000 hours every year. With this forecast, it becomes an ideal place to visit in the sunniest months of the year.
The southern region of Portugal is ready to receive at a rate of tourists that increases every year during summer. It is a place with nothing to envy to neighbouring Majorca or St. Tropez. With lower visitors than this other Mediterranean mainstays, the Algarve is the perfect place to relax. You can enjoy the resorts along the coastline or eat in one of the Michelin-starred restaurants. In eastern Algarve, you can also take a walk by eroded routes of pinnacles, arches, and drops.
Summer, the best time to visit the Algarve
Based on 2018, the Algarve is expecting a remarkable 2019 summer season. Thousands of travellers will discover this attractive holiday destination. Summer is just around the corner. The best thing to do is booking flights and accommodations as soon as possible. By making a reservation with several weeks in advance you make sure you find the best quality and prices.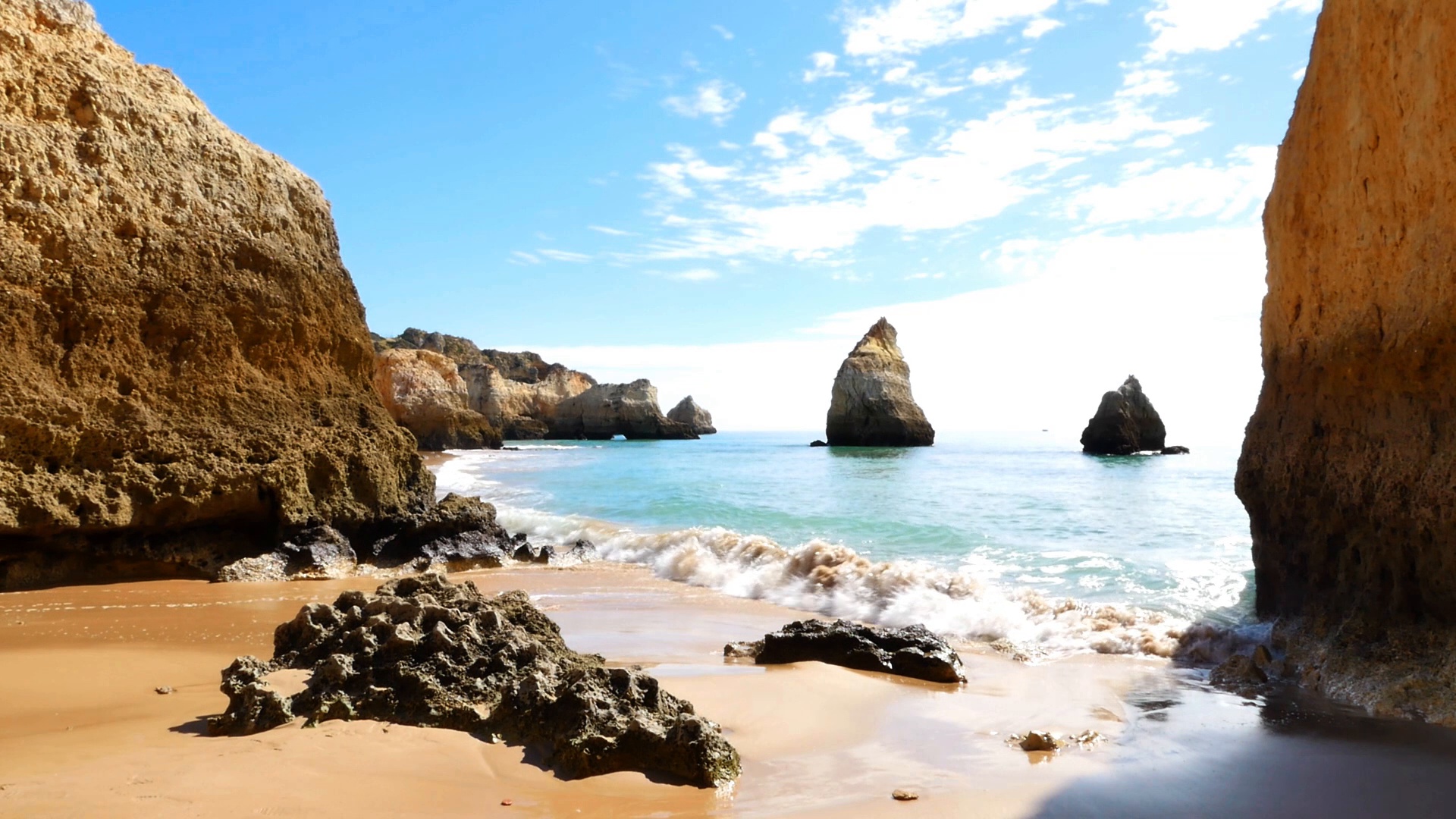 Plan a trip to the Algarve during summer
Most of the tourists that visit the Algarve stay in the beautiful coastline that expands from the Praia da Rocha to Vilamoura. These places are very close to Faro airport. They are also surrounded by seashores and mountains that block the wind and sometimes the sun. Outside of this area, there are more peaceful and traditional Portuguese towns.
Without a long distance of separation, every coastal town of the Algarve has a distinct atmosphere. You can find very trendy villages such as Tavira or Vila Real de Santo António. Also, centric and energetic towns such as Vilamoura or Albufeira. Traditional ones like Lagos, Portimao or Sagres. Each of them has its charm in this authentic Portuguese paradise.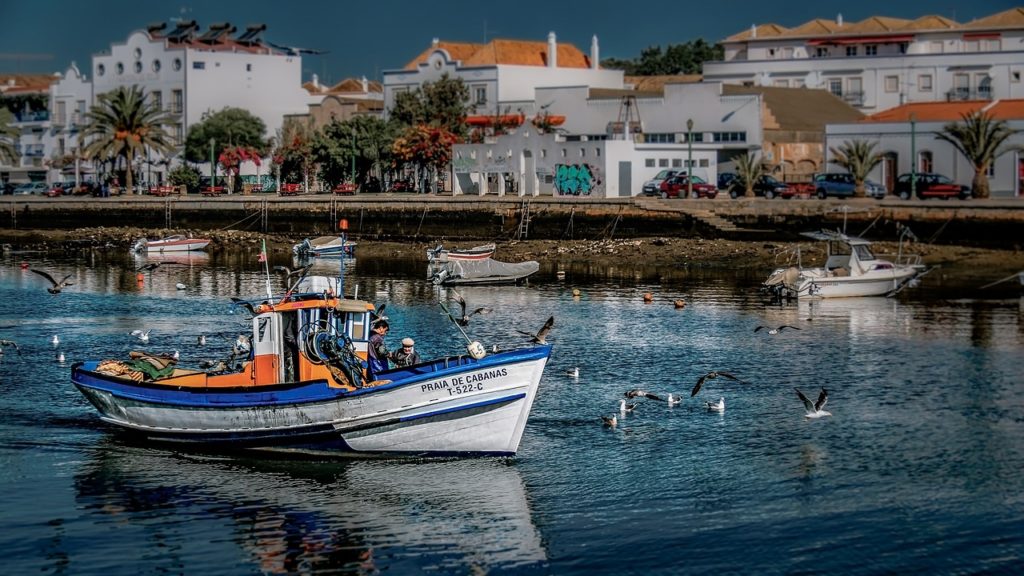 The Algarve and all of its fishing towns and pristine beaches are wonderfully varied. You can go for a hike in the mountains. There are a lot of waterparks for children and teenagers. On the other hand, nightlife options for couples or group of friends are available too.
Seafood festivals in Algarve during summer
During summer a lot of festivals, fairs and events take place in Algarve. Therefore, here is an overview of some of the activities related to the food you can enjoy.
Caldeira festival. One of the typical fish stew has its festival. It is celebrated each year in Armação de Péra. During the festival, a significant number of local restaurants offer stewed fish dishes with wine and olive oil.
Cataplana festival. Another slow-cooked stew with a celebration: the "Festa da Cataplana". It takes place in June. During this month, almost every restaurant in the Algarve serves the mouth-watering aromatic dish. They cooked Cataplana with prawns, tomatoes, onions, fish, and chorizo.
Presunto and Medronho festival. The Algarve celebrates this festival on the last weekend of July. There are local bands and folk groups. Everyone eats presunto, a cured smoked ham typical from Portugal.
Sardine festival. During July and August locals and tourist go to Faro or Quarteira to enjoy sardines festival. Restaurants serve this freshly caught fish. Enjoy it with tomatoes, bread and onion, oregano, olive oil, and vinegar.
Festival do Marisco. Olhão celebrates this festival during August. Music and dance combined with every kind of seafood dishes. Restaurants serve delicious octopus or prawns.
More activities during summer in the Algarve
Sandcastle lovers can visit Pêra during summer too. The Sand Festival is a unique exhibition considered the largest sand sculpture festival in the world. Since 2003, experts of the sculpting create their masterpieces with over 30,000 tons of sand. There is also space for kids to build their castles or figures.
Medieval festivals are also top-rated in the Algarve during summer. The Medieval Fair in Silves is one of the most famous ones. They represent how Moors and Christians lived in the Middle Ages. There are barbecues, medieval music and costumes. All participants enjoy tournaments, battles, and parades.
Enjoy the Algarve beaches
One of the most beautiful places of the Algarve is the Benagil Sea Cave. It is an eroded coast ideal to live an unforgettable moment on a boat trip. There is also a colourful dome that creates a real cave experience. It is another place where erosion has created a tremendous number of pinnacles, cliffs, and sea caves. You can visit it in Ponta da Piedade, in the town of Lagos. This beach is also a beautiful spot for sunrise and sunset.
Praia da Marinha is also one of the prettiest beaches in the Algarve. It has natural arches and cliffs that offer breathtaking views to anyone who visits. Likewise is Praia da Falesia beach with its six kilometres to admire Mother Nature's work. You can enjoy the contrast of colours at any time of the day.
All of the Seafaris in Algarve offers a variety of programmes. Cliff fishing, exploring caves and cruises are some of the activities. Navigate through the coastline in a large catamaran or a cruise. Swim and even dive in the impressive caves and pristine water reefs.
A walk or a ride in Via Algarviana
Via Algarviana is a typical Great Route on foot also know as GR13. It crosses the entire region and the undeveloped interior of the rural Algarve. The itinerary is 300 kilometres long. You can take it into 14 sections around 15 and 30 kilometres each.
Take a day trip to visit an ancient religious path to the Promontory of Sagres. The route is along the mountains and villages with the rural character of the Algarve. You can discover it on foot, by bike or from thematic itineraries. Some of them are the route of the Smuggles or the Water route. There is also geology and majestic tree route.
---