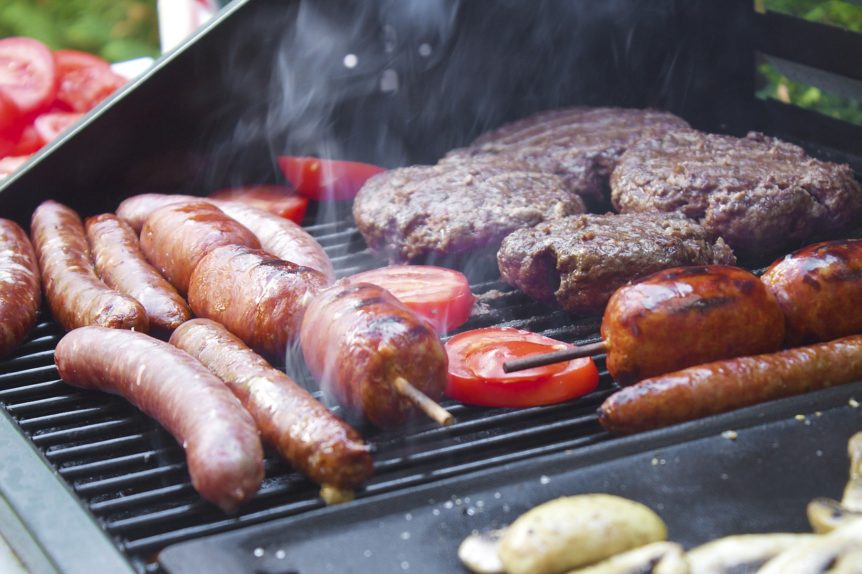 Summer is here. Swimming pools, the beach, the garden, living the leisure in Algarve… and of course, the barbecue! An authentic ritual to celebrate a good time with family or friends. It requires patience, control of the fire and catching the point to learn the cooking times of the barbecue and grill every food at its right point. Here you will find the right cooking method for your food. We know it takes more than just high-quality equipment and premium ingredients for the perfect barbecue. Time is essential to get perfectly cooked food.
One of the biggest headaches when grilling is to know when the meat or any other ingredient is ready. This is a doubt that sometimes forces us to slice the piece or nailing the knife to see if it is properly cooked inside. On the other hand, sometimes you may need to return the meat to the barbecue once you have made a first attempt to eat it because is still raw.
To avoid these small moments of frustration we are posting today this helpful guide of the cooking times of the barbecue. We let you know exactly the time each type of food requires on your brand new BBQ. With this advises you will learn to cook the ingredients at their right point and without dehydrating them more than necessary. When grilling the clock is a fundamental step.
The time for every ingredient on the barbecue
It's important that you take into account a time reference for each type of food. In this way, you won't only give the food the right point, but also, you will enjoy it as you deserve.
If we think about the food to put on the grill we usually think about meat, chorizos or burgers. However, barbecues are ideal to cook almost any food. In this post, we present you some of the most common but also the forgotten ones that are a real treat if you decide to cook them as well.
Beef. The main course of most of the barbecues is the juicy steaks simmered. Meat doesn't require more than 5 minutes to be ready if you are a meat lover to the point, and a maximum of 10 if you prefer it more made.
Pig. An absolute most of the barbecue in any of its ways of being prepared. Sausages, ribs or tenderloin are some of the favourite pieces for the barbecue. Its average cooking time is 10 minutes, and it's best to keep it between 10 and 15 centimetres away from the embers. 
Chicken or poultry. Another of the usual plates that in the case that we decide to marinate it, it gains a lot of flavours thanks to barbecue cooking. To enjoy it at its right point, the idea is to cook it 10 minutes on each side.
Lamb. Although lamb is less cooked in barbecues, the truth is that it is an ally of the embers. Thanks to its characteristic fat, we can enjoy its crunchy texture. If we choose "chuletillas" or similar pieces, the ideal time is 5 minutes per side.
How much time you should grill vegetables?
To know the grilling times of the vegetables you will cook on the barbecue, you should know it all depends on the vegetable you are cooking. There are a lot of veggies you can cook on your grill. In the case of peppers, cooking time is very short: they will be ready within 2 minutes. This is the same for tomatoes and zucchinis.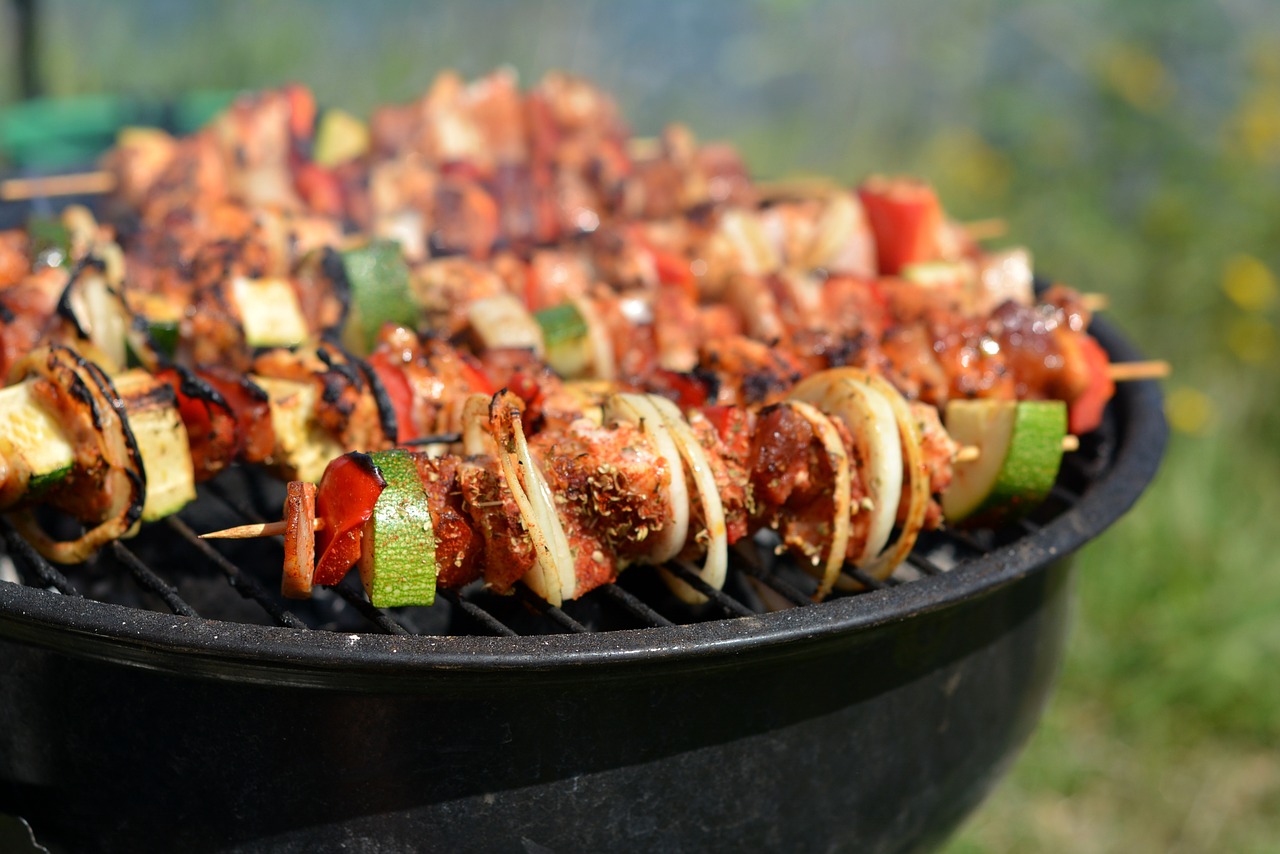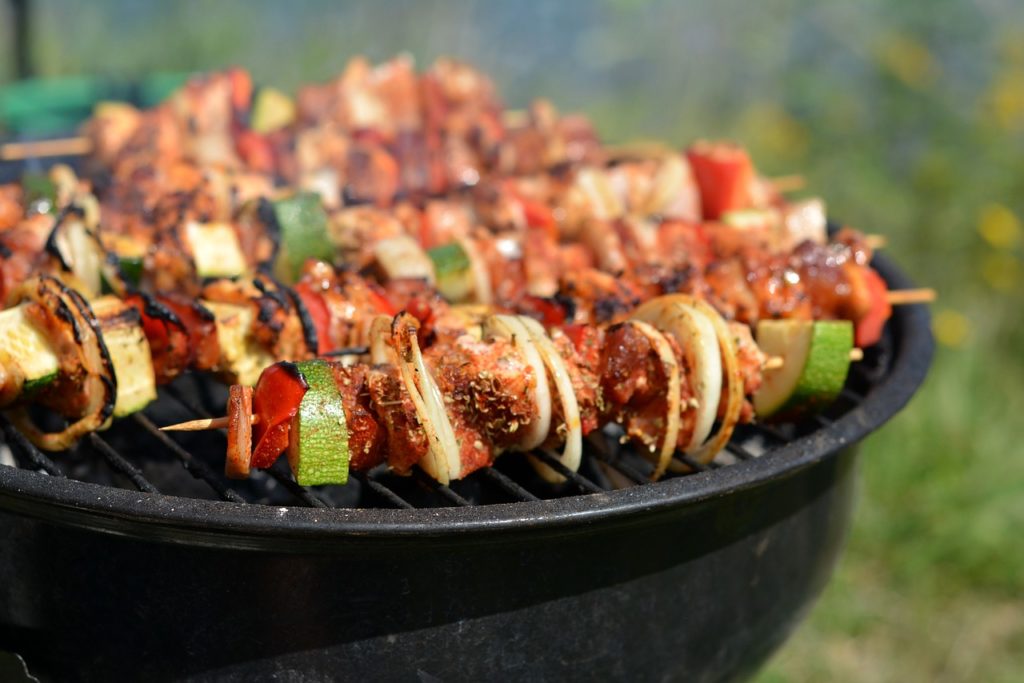 Other vegetables, for example, asparagus and eggplants may take 7 minutes to cook. On the other hand, onions take a minimum time of 5 minutes to be ready and leeks take from 7 to 10 minutes.
It is important to notice this if you decide to cook them on skewers, mixing different types of vegetables. You will have to sacrifice the cooking time of some to the detriment of others.
Grilling time for fish, seafood and fruits
Special mention to the food or ingredients that are almost always forgotten in the barbecue but are delicious. One of them is fish, perhaps the most habitual option that you may usually have doubts at the time of including them in your barbecue menu. Interestingly, the most suitable fish for cooking are the fatty ones. Choose salmon or tuna as perfect choices to grill without losing their flavour. Moreover, you can also try to cook sardines, or Portuguese grilled codfish, two traditional dishes from Portugal that you will absolutely love. These kinds of fish are cooked really fast and served with salad or grilled vegetables.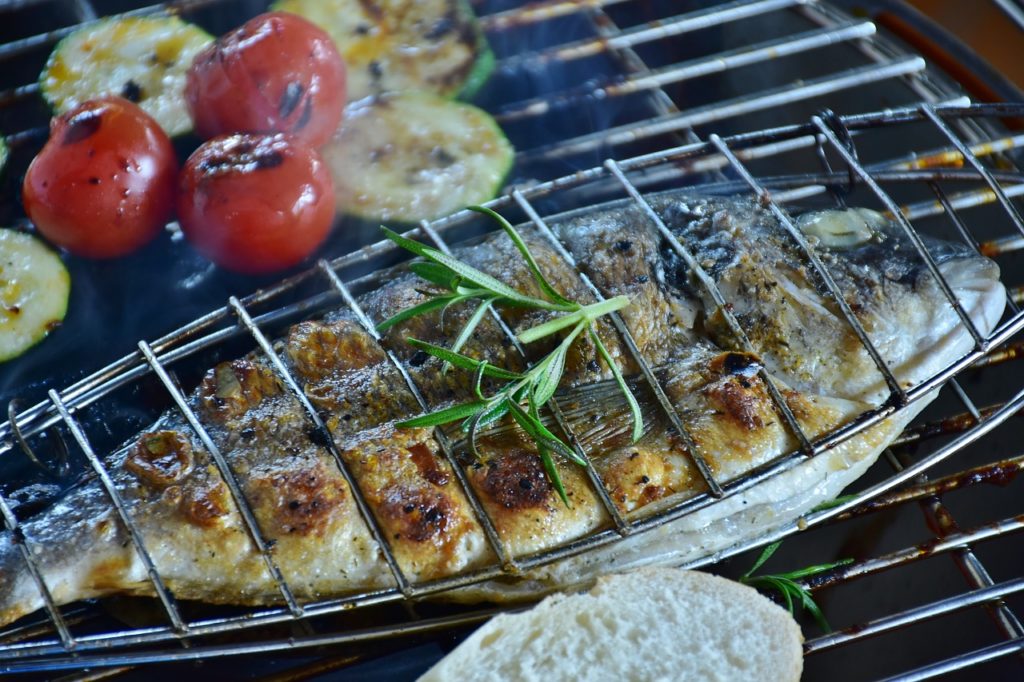 On the other hand, you can use the barbecue for dessert too. Cook slices of pineapple or banana, open a peach or a banana in half, or even grill on skewers for 5 minutes.
If you want to cook something different, you can try the sweetness of our grilled watermelon recipe. It might seem rare, we know, but just try it and let us know! We promise this recipe will surprise you! 🍉🍉
---
If you have a Weber grill you can adjust your BBQ thermometer and follow this other advises on grilling time.
Still don't have your barbecue to cook your meat this summer? Take a look at our selection of high-quality barbecues and outdoor kitchens.