At BBQ's Algarve, we are true believers that the grill can improve the flavours of EVERYTHING, even fruit. Grilling fruits or veggies like zucchini can make a big difference in how you perceive the flavours of food and decide whether you enjoy them or not.
There is a lot of people who don't like to eat vegetables until they taste them grilled with a delicious smoky flavour and cooked over direct heat. The grill always turns bland food into delicious food of the gods, so in case you have always thought you hate veggies, try grilling them first and let us know.
If you get to this post is because you are wishing to try new tasteful watermelon recipes to keep yourself fresh and hydrated under the Algarve sunny weather during this summer season. We know it is being a rare 2020 but the summer is waiting for us to enjoy it.
Dare yourself to grill watermelon this 2020
We love meats and grilled veggies but we wanted to post an untraditional grilled dish for this summer. This grilled watermelon recipe is our choice since we know it is easy to cook and it will allow you to relax and enjoy with your guests at your outdoor kitchen.
Don't worry, we know it sounds strange, but the grill caramelizes the melon's sweetness and gives it a subtle, smoky flavour.
Moreover, paired with a sweet and spicy seasoning, grilled watermelon can be an intriguing side dish or a surprising dessert. Even more, it is healthier than bananas and melted chocolate dessert!
Grilled watermelon recipe 🍉🍉
When you grill watermelon something happens that changes both the flavour and the texture into a whole new fruit/vegetable. Try this grilled watermelon recipe from the Wimpy Vegetarian!
#BBQTip: Seedless watermelon is best here, though you can use any watermelon variety that you have on hand.
What you need
1 medium seedless watermelon sliced into 1-inch thick wedges.
Olive oil.
2 tablespoons of lime juice.
1 teaspoon kosher salt.
¼ cup thinly sliced fresh mint leaves.
Instructions
In a small bowl, whisk together the olive oil, the lime juice, and the salt.
Heat up the grill on high, with the grill lid closed until the grate is searing hot. This shall take about 10 minutes.
Oil the grates by pouring a little olive oil on a triple layer of paper towels. Quickly rub the paper towels on the grates where you plan to sear the watermelon.
Generously brush the watermelon with the lime mixture on one side only.
Arrange the watermelon wedges, the basted side facing down on the grate. Baste the top of the wedges with the lime mixture.
Grill 2 minutes per side.
Arrange on a serving plate, drizzle them with the remaining lime mixture, and sprinkle with the mint.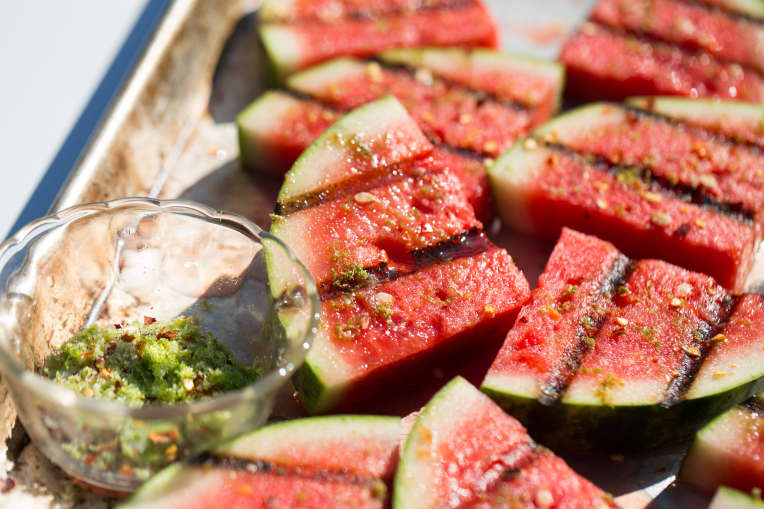 You will totally see watermelon as a vegetable after having this dish! We are telling you; you need to try this recipe so you can see a whole new side of watermelon. Plus, those grill marks are beautiful, aren't they?
Grilling the watermelon enhances its sweetness and adds a touch of smoky flavour. 🧹Remember to brush the wedges with oil to keep them from sticking to the grill.
It's important to top it off with a little salt. Salt is magical at bringing out and enhancing flavours.
#BBQTip: You can also try a combination of oil, minced garlic, salt and pepper. This helps to accentuate the savoury flavours, tricking your brain into thinking you're eating something closer to steak! 🥩
Serving your grilled watermelon
Grilled watermelon alone is a stand-out side dish. But you can also chop it up and toss it with crumbled feta cheese or one of these sauces. You can also serve it with thick Greek yoghurt for dipping, or go completely sweet for dessert with a scoop of vanilla ice cream.
5 Reasons why watermelon is the perfect summer fruit
Known as a "body-healing fruit", watermelon is full of amazing health benefits, especially during the summer season. Clearly, it is the best time to taste this succulent melon, as it has to offer an array of nutrients, vitamins and minerals.
1️⃣ A single watermelon is made up of 92% water and the rest of the fruit is packed with healthful nutrients, vitamins and minerals. Its high level of water helps keep you energized and hydrated during summer.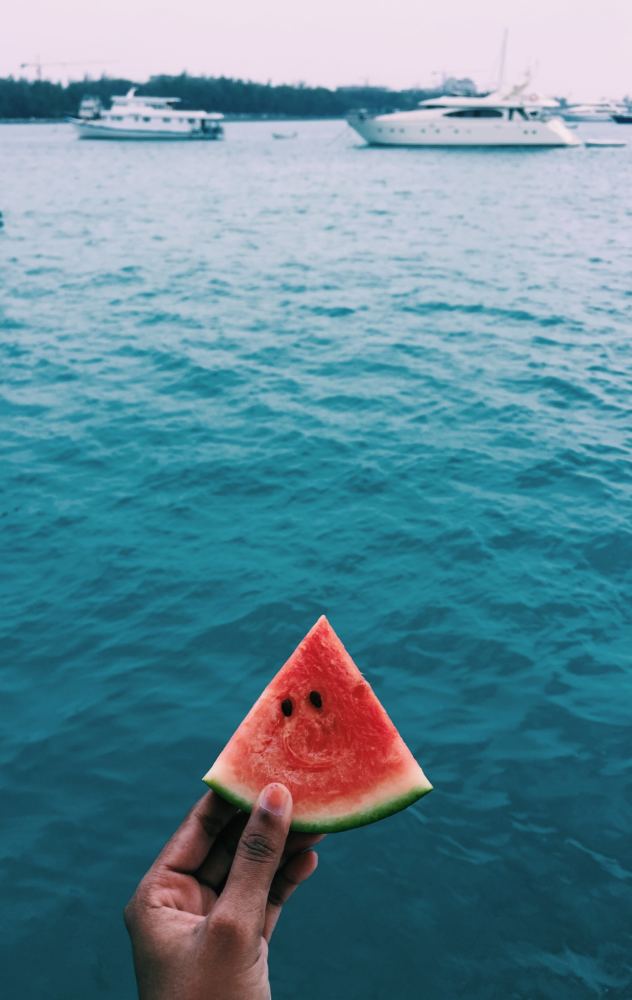 2️⃣ Watermelon is a great source of vitamins like vitamin A, vitamin C, vitamin B6, potassium, magnesium, and dietary fibre. It helps to battle back against heart disease, arthritis, asthma, as well as several types of cancers. Now, that's a powerful fruit!
3️⃣ It is loaded with the antioxidants you need to fight back against free radical damage and prevent inflammation.
4️⃣ It's an excellent source of electrolytes, sodium and potassium you need to help your body run strong.
5️⃣ Watermelon is also rich in Vitamin B, which is necessary for energy production.
How to pick out the perfect watermelon for the grill
Pick up and feel the whole watermelon. Choose a firm watermelon that is symmetrical in shape and that does not have soft spots or cuts.
Don't judge a watermelon by its size! Pick one that is heavy for its size.
Take notice that the only "spot" that should be on the watermelon is a yellow-white area on the bottom of the fruit where it sat on the ground as it grew.
Wash your watermelon before cutting and eating it. This way you will avoid yucky germs pressed into the fruit part that you are going to eat!
---
Try having some fun with how you eat watermelon during BBQ season. Give this summertime favourite a new twist and let us know all about it in the comments below.
Check out for more BBQ recipes and helpful tips for successful grilling your meats.