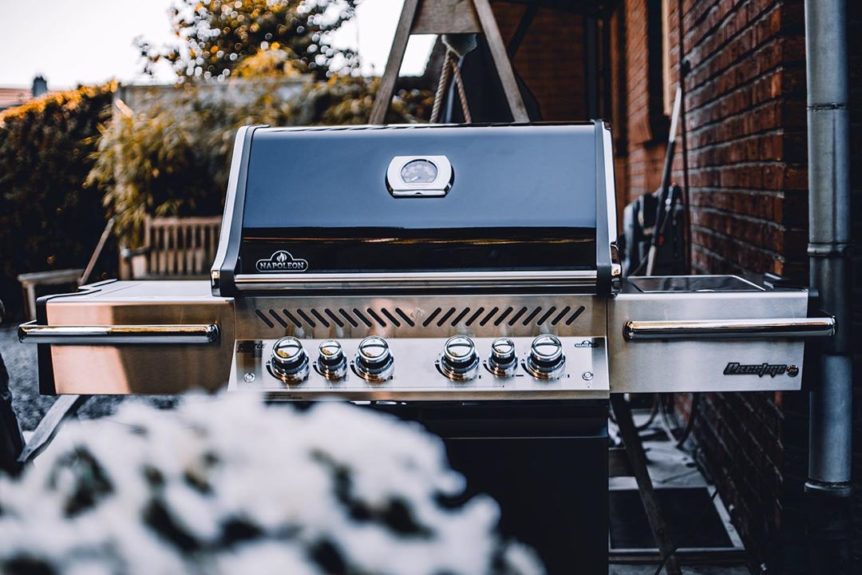 We have repeatedly said that grill season isn't over. As sweater weather falls upon us, it's usually the time to bring parties indoors. However, due to COVID-19 things look a bit different. Many Governments around the world are recommending that gatherings with family or friends be held outdoors to avoid the spread of the virus. This is why today we are teaching you to make winter grilling practical with a gas grill.
As we explained in our end-of-season sales blog post, Autumn can be one of the best times to host a get-together outside. You can gather your friends to grill juicy steaks in your outdoor kitchen and enjoy the beautiful autumn foliage.
If you want to enjoy more outdoor cooking, especially now that due to the pandemic outdoor activities are recommended, read on for your guide to safe entertaining outdoors through the cold weather and the reasons why you should level up your outdoor dining area.
Is a backyard BBQ safe during COVID-19?
First, you should know that mixing households during a pandemic come with risks. However, if you do decide to have a BBQ party in your backyard, it's important to have a plan. On the other hand, if you're attending one, make sure the host is taking extra precautions.
Have a look at the 5 ways to make an outdoor BBQ as safe as possible during the pandemic:
Keep things intimate. Meeting with people will continue to come with risks. Be aware and make sure the number of guests is conducive to social distancing. Also, try to invite people that live and come together.
Keep your guests outdoors. Set up your outdoor dining area with everything your guests might need available outdoors and try to keep them out of your house as much as possible. Also, make sure your outdoor area is stocked with all the napkins, grilling accessories and dinnerware your family and friends will need.
Create a direct path to the restroom. Now that you will keep your guests outside as much as possible, make sure they know exactly how to get to the bathroom without touching any potentially contaminated surface. Also, leave paper towels in the restroom so you and your friends aren't sharing your hand/face towel.
Keep the kids entertained. If you have kids around, make sure there are plenty of outdoor activities so they won't be able to go inside to play video games. You can also engage them with their first barbecue lessons.
Serve straight from the grill. When it comes to serving the food, consider serving straight from the grill and having just one person fill a platter of meat to serve the entire table.
Wear a mask if necessary. Even if you are outdoors, don't be afraid to wear your mask in case you feel you need it. While it may not protect you from catching the virus, it may protect you from spreading it if you're infected and don't yet know it.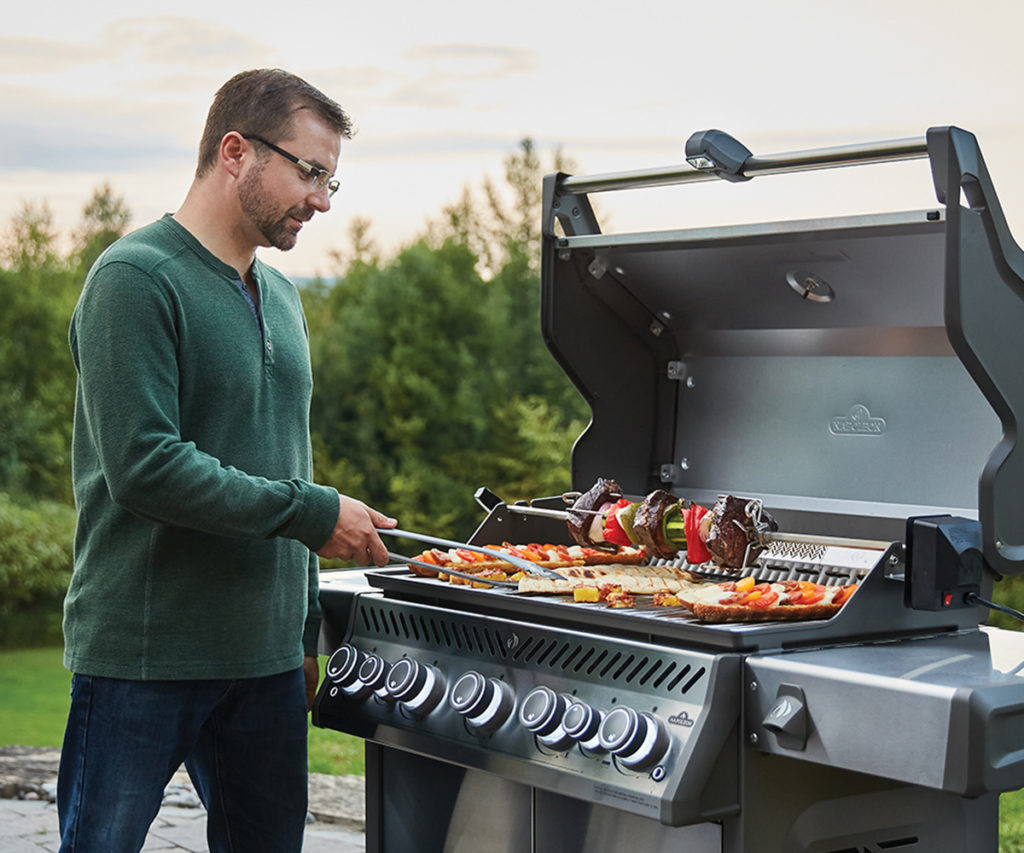 Outdoor living is a healthy lifestyle
We are all conscious of our food intake especially when it comes to meats. Grilling outdoors is a healthy way of cooking food. Unwanted fatty oils of the meat are dripped off the meat, which means that the calories are reduced, but nutrients like riboflavin and thiamine are maintained. 
We also don't use butter when we grill meats which mean healthier food intake! Moreover, veggies that are grilled are super nutritious, especially those which are low in water content. Aside from being healthy and nutritious, the utmost part of grilling is that the food tastes finger-licking good! 😍
Outdoor cooking is entertaining and a stress reliever, no matter the season.
Using your grill during winter
When cooking on your grill during winter, there are a few things you should keep in mind to keep your gas grill functioning at its best.
The main thing you should do is to keep your grill cleaned and oiled.
Use oil to keep the grates lubricated throughout cold weather, similar to how you'd maintain a cast iron pan.
We feel privileged to live in a place with such sunny and great weather in the Algarve, even in winter, but if you live in a place with snow and ice, use salt on your deck or backyard. Be careful to not let the salt touch your grill as this mineral can damage the metal.
In addition, make sure you keep your grill under a cover to prevent rust.
Cleaning your gas grill
Turn your grill to 500 degrees for 20 minutes with the cover closed to let any large debris burn off, making it easier to clean the grates.
Turn it off and let it cool. Then, use a clean grill brush to scrape off any food left behind. Use a cleaner designed for stainless steel to clean your grill's exterior and give it a nice shine. Learn more on how to clean your gas grill.
5 tips for grilling during winter
Baby, it's cold outside! Cold weather doesn't mean you can't enjoy incredible BBQ year-round. Follow these simple steps to combat the weather and squeeze all the goodness from your grill.
Consider repositioning your cooking area
If you own a portable grill placed in your backyard, you can move it closer to your house to minimize the number of steps you have to take to get from your house to your grill. In addition, be sure to avoid overhangs, porches and anything that could present a fire hazard.
Consider cast iron cooking grates
Cast-iron grates get hot extremely fast and stay hot for a long time. Luckily, most gas grills come with cast iron grates, but others do have stainless steel or aluminium grates instead.
Deal with the wind
Finding a protected spot will help with maintaining some kind of consistency the main thing to consider is airflow. The solution is to monitor the wind direction and adjust your intakes accordingly.
Go for quick to-cook-ingredientes
We know when grilling outdoors in winter, you may want to stay away from foods that can take a longer time to cook, such as thick steaks. You can minimize the amount of time you spend in the cold by selecting food with a shorter cooking time. Thinner or smaller cuts of meat cook quickly over high heat. Make sure you check the times for cooking the food on the grill. On the other hand, try grilling seafood (such as salmon, Portuguese sardines) or veggies.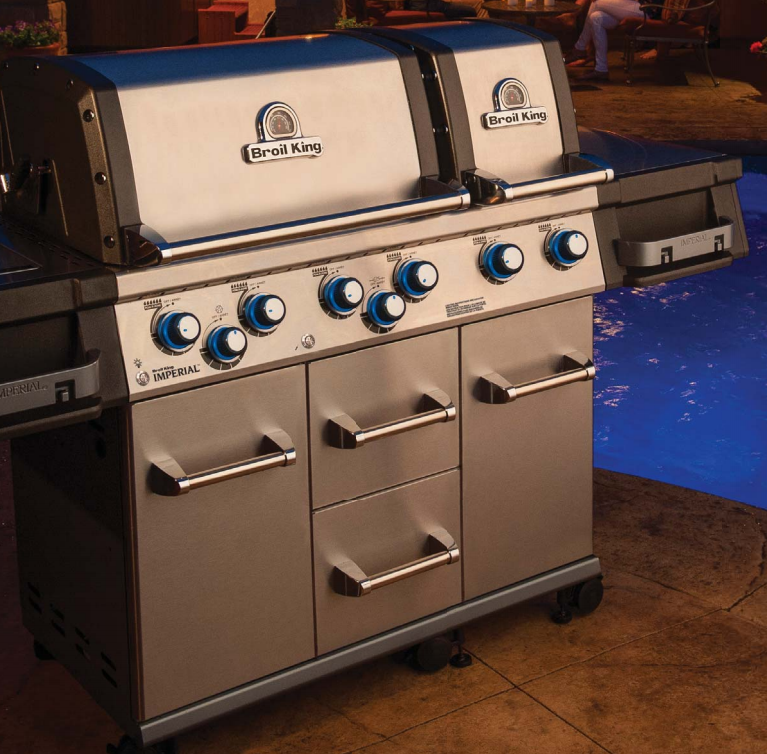 Have extra fuel on hand
Propane and gas act differently in lower temperatures. Make sure to have extra fuel on hand.
Warm the grill in advance
Warm-up your gas grill in advance. Give it a little more time to get up to temperature and combat the cold. Every grill is different but you'll need at least 5 additional minutes. 
Get proper winter grilling clothes
When it's cold outside, the person in charge of grilling should have a designated "grill coat" while working around the grill. Ensure that you're prepared with suitable clothing and footwear for grilling in winter. Keep those slip-on shoes near the door along with a comfy coat, hat and scarf. Moreover, you could also get some fingerless gloves.
Set up a comfortable outdoor dining and entertaining space
A few strands of outdoor lights can do wonders for setting a mood. In addition, a fire pit or fire tables offer a beautiful glow that gives an outdoor space an elevated level of ambience.
Moreover, you can create an activity around the fire, such as playing cards, be together with the people you love or having a station to grill marshmallows or other grilled desserts.
Patio heaters are also a great idea since they add warmth to your guests during colder temperatures. Don't forget to break out cosy pillows and blankets for an extra layer of warmth.
Grill seasonal food and your favourite dishes
No party is complete without incredible food. As the temperatures drop, we recommend you to cook a warmer menu. In this sense, forget about cold cocktails and try serving a warm beverage such as mulled wine, hot cider or a stronger liquor.
For the food, try consuming seasonal food such as apples, artichoke and sweet potatoes. If you love grilled veggies, you will love our grilled zucchini recipe.
Dice your vegetables up and cook them on a grill pan, then blend them to make a slightly smoky pumpkin puree (perfect for using in savoury fall recipes).
We also recommend our slow-cooked brisket recipe, a fantastic dish to cook on your gas grill.
---
Life is so short and we want you to be able to have those quality moments with the ones you love. Moreover, if those moments can happen outside like they did when you were younger, it's even better! Contact us or visit our showroom in Almancil for the best barbecues, outdoor kitchens and grilling accessories.
Want to buy a grill in 2021? Have a look at our Gas Grill Buying Guide and also, visit our monthly offers for discounts on the best barbecues in the market!