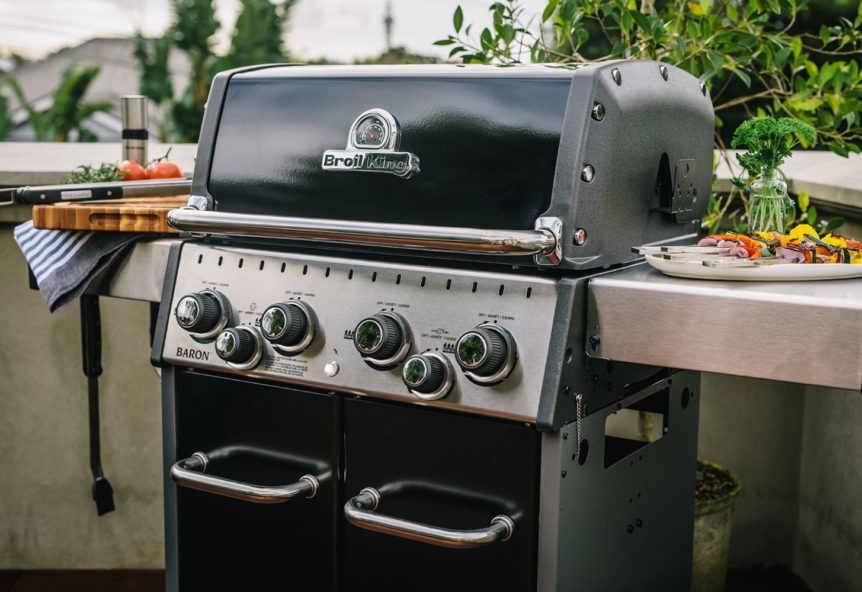 If you are looking for a place to learn everything you should know about gas grills, you've come to the right place🥇. Keep reading to know our top recommendations for the best gas grills to buy in 2021 and our ultimate guide for gas grill buying. Enjoy your reading and take notes!
First, before you run to the store to buy a new gas grill you should know that there are a lot more grills out there than you'll find in one store. In this sense, we've broken down the best gas grills on the market by price range so you can find the perfect gas grill for you.
#BBQTip While many of these gas grills are easily found, try shopping at speciality grill stores. In this way, you not only ensure the quality of a product that will last for years, but also the advice and guidance of the experts.
How to choose the ideal gas grill to buy in 2021?
We know it can be difficult seeing so many models on the market, but here are the things to keep in mind when buying a gas grill:
The size: How big do you need your barbecue to be? Keep in mind, that gas grills are often larger than other types of barbecue, so you may need a lot of space. But, if your idea is to take it with you when you go on a trip, you will have to look for a more compact model.
Will you use it often?: Do you like to have family gatherings at home? Or are you just going to buy it for special occasions? Depending on what you want it for, you will be interested in a cheaper model or invest in a more expensive one, like an outdoor kitchen.
What about the lid?: There are models of gas barbecues that are sold without a lid. In this sense, we always advise our clients to buy a BBQ with a lid. It is much better if it has a lid because it helps the food to cook better. However, this is another aspect you should think off before buying a new gas grill in 2021.
Location: It is also important to check that you have the necessary space to install your new BBQ.
Cleaning: Gas barbecues require some special attention when it comes to cleaning, due to their intricate parts. For example, you'll need to clean the ignition rod, as it often gets covered in food residue. Look for handy features that make cleaning easier, such as fat drip trays, and tight grills, as this helps stop smaller food from slipping through the cracks and onto the burners.
What type of barbecue cooking do you prefer? Perhaps you're a devotee for a beautifully smoked steak or enjoy the chargrilled flavour of pork ribs. Do you want to go full speed, roasting a steak and spit your chicken on a rotisserie? Or do you love a good wood-fired pizza? There is a speciality range BBQs to feed the most discerning taste buds.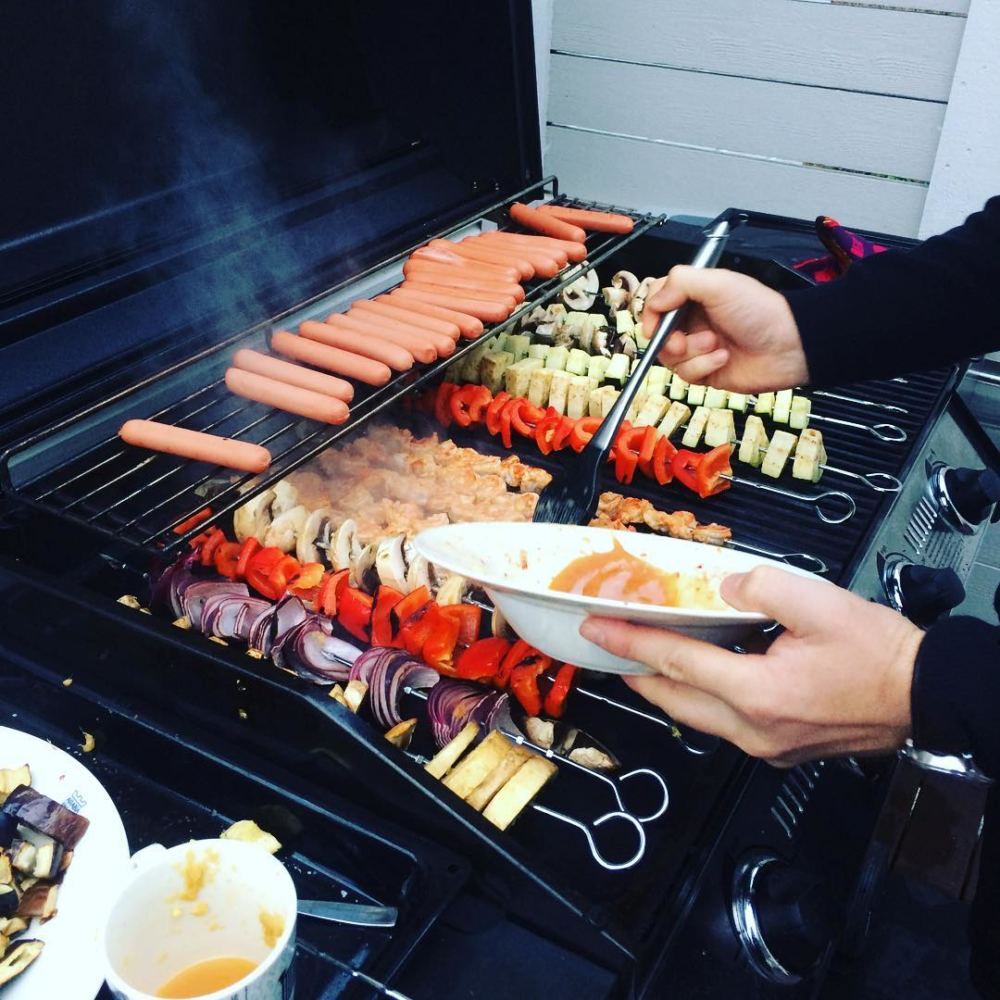 Factors to consider when buying a gas grill in 2021
Let's make your barbecue buying process easier with our list of questions to think about:
What style of cooking do you enjoy the most?
If you're looking to break up your daily meal routine with a bit of BBQing, then you'll need an easy-to-use grill that is quick to heat up. In the case you're a weekend entertainer who appreciates the gourmet taste of low and slow cooking, then a smoker would impress your guests. If you want to create a little alfresco luxury, a built-in outdoor kitchen could be more your style. Or maybe you prefer the adventurous approach, cooking in the great outdoors with a portable gas grill.
We advise you to buy a grill that complements your personal cooking preferences. Gas grills are versatile, and many models can do more than just grill or cook on a hotplate. In case you love trying new grilling methods, a gas BBQ could be a great choice for you.
Cooking techniques for your gas grill
1️⃣ Grill: This refers to cooking with the lid up, on the grill section of your barbecue.
2️⃣ Searing: You can sear most meats on a grill for 2-3 minutes on high heat. Some gas BBQs even have infrared searing zones, which is even more down-to-business.
3️⃣ Hotplate: Perfect for cooking food that would otherwise slip between the grates of a grill. For example, you can barbecue diced-up zucchini or other veggies, onions and sausages.
4️⃣ Indirect cooking: While direct cooking refers to using a grill and hotplate with all burners lit, indirect cooking is gentler. If you have a 2-burner BBQ, light up one burner but sit food above the unlit burner, and close the hood. The heat generated by the gas will evenly cook your food rather than burning it.
5️⃣ Roast/bake: The hot air circulating in your gas grill with the lid down works like a convection oven, letting you roast or bake anything from a traditional roast to pizza, casseroles, and even cakes.
6️⃣ Wok/side burner: This is handy if you cook a lot of stir-fries, and is available in much larger freestanding BBQs and built-in BBQs.
7️⃣ Smoker: If you prefer low-and-slow smoking this is doable on most gas BBQs. However, if that smoky flavour is your kryptonite, you might prefer a charcoal BBQ.
8️⃣ Rotisserie: This can either be in-built or removable, but it's an optional feature, so look out for it.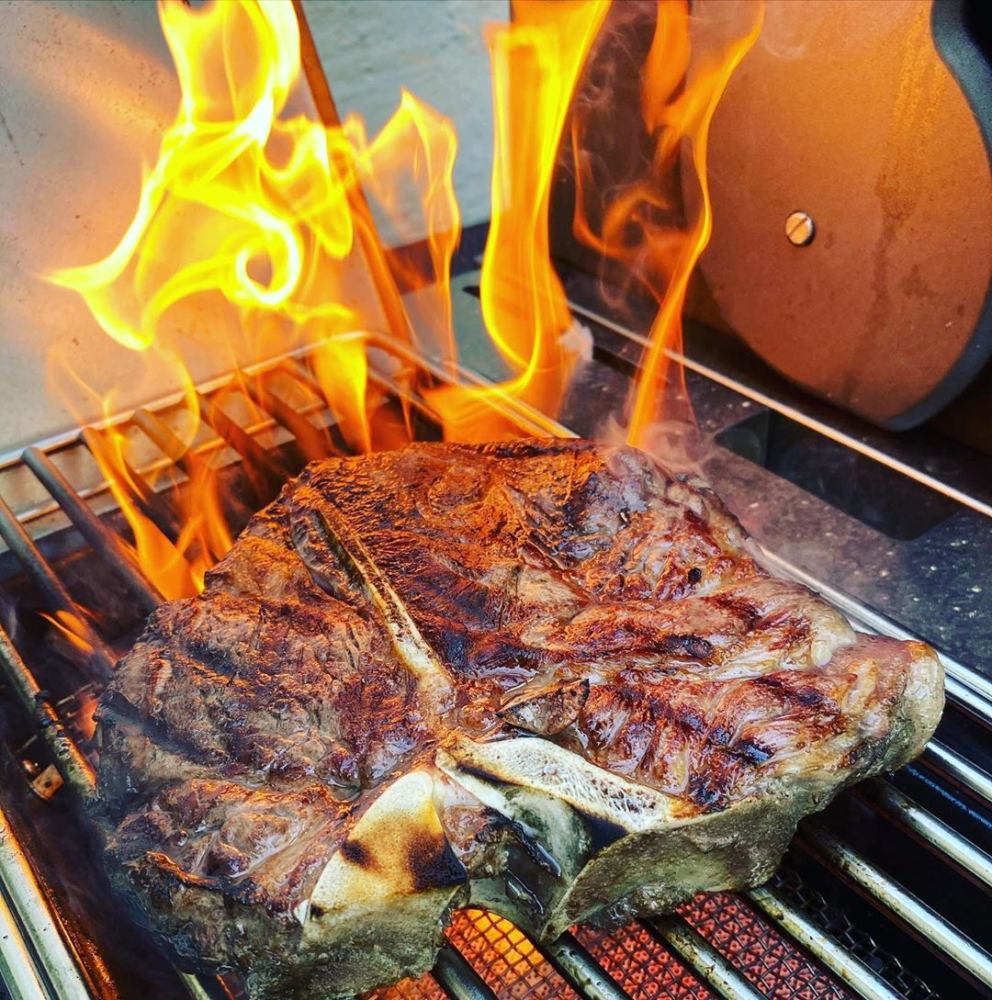 What is your budget?
The economic range for a gas grill is between 500€ to 700€. In this sense, mid-range goes between 800€ and 1,500 €. These two price ranges would give you more economical value, and straightforward cooking.
In this regard, the higher-end price range BBQs 2,000-10,000€ can get more sophisticated with a combination style of cooking and unique features like burner technology, higher quality grade fireboxes and accessories.
👉🏻 Your gourmet grill skills shouldn't be limited by your budget. We can assure you that whether you choose to barbecue, grill, bake, roast, smoke, rotisserie or sausage sizzle, we'll have the right barbeque to meet your budget.
How many people do you usually cook for?
As we mentioned above, identifying how many people you'll be cooking for, and how frequently, will give you a good idea of the size of your new BBQ. In this sense, most people prefer the 4-burner gas grills because it's a flexible choice for cooking for a family or a party.
Since no one enjoys waiting for food, it's important to select a barbecue with the right number of burners. Consider the number of people you normally cook for, as well as any guests you might normally have over for meals.
2-3 burners: A good size if you're mainly cooking for a couple, with an occasional couple of guests dropping by.
4 burners: This is a popular choice, as it's suitable for a family of four, or around 4-6 people. 5 burners are the happy medium between 4 and 6 burners.
6 burners: These are more often found on freestanding and built-in grills. If you frequently entertain or have a family of 6+, a 6-burner BBQ should meet your needs.
8 burners: While you'll see these on some built-in BBQs, they're not really necessary for domestic use.
How much outdoor space do you have? Is storage an issue?
We are sure that no place is too small for a BBQ. There are more things to think about than simply how many hamburgers you want to cook at once. To a great extent, more size offers more cooking flexibility. Few people need a giant grill, but most people can take advantage of having a bit more cooking space.
❌#BBQTip When you try to squeeze too much food onto the grill at once, it can become difficult to manage the cooking. A good rule of thumb is to keep at least 25% of your grill grates clear at all times.
What brands should you consider?
Our extensive collection of barbecues includes the award-winning Broil King, Napoleon, BeefEater, Sunstone, Traeger and FireMagic. It's hard to point to one brand that fits all without going through these questions. However, if you're already familiar with a brand or two, take a look at our shop, filter our BBQs by Brand and start comparing barbecues to find the one that best suits your requirements. You can also contact us and let us guide you.
With BBQs aplenty in the market, making the best choice for your perfect outdoor entertaining experience can be a challenge. We cater for the entire spectrum of barbecue enthusiasts – whether you're a BBQ beginner, smoking royalty, a killer griller, weekend camper, a luxe outdoor entertainer – or you're simply looking for a quality value-for-money barbecue.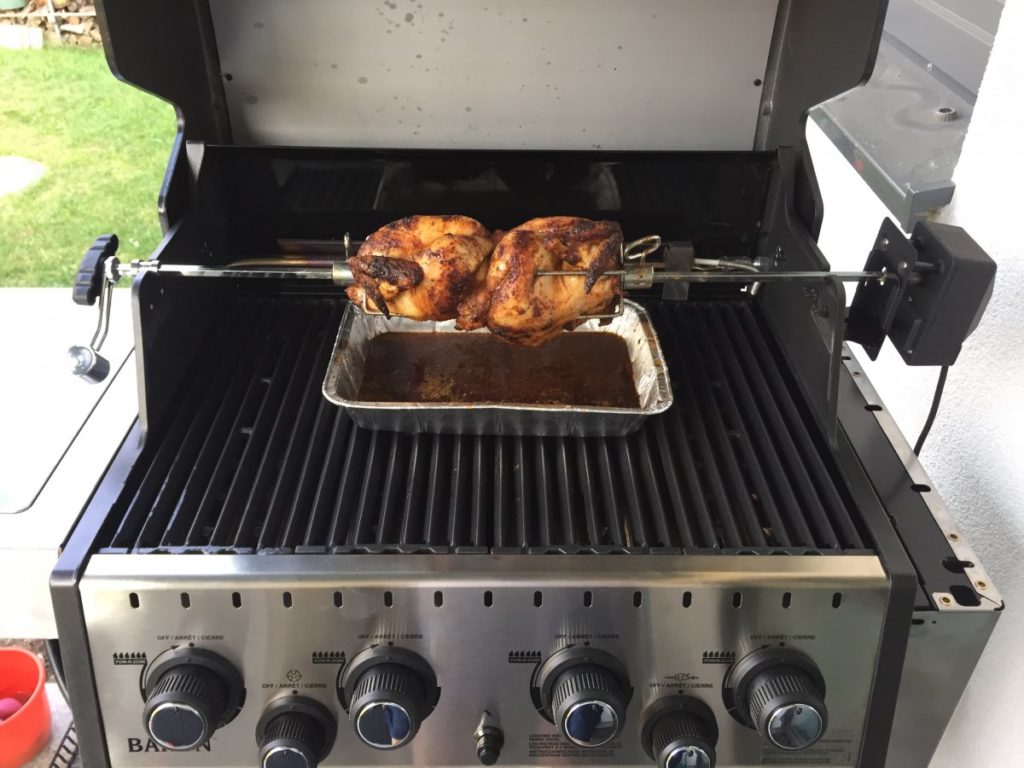 How durable is the BBQ?
As BBQ specialists, we're passionate about entertaining in the great outdoors. That's why we offer high-quality products, special accessories and expert advice on everything to help you barbecue, grill, bake, roast or smoke your foods.
Since your BBQ will need to weather the elements and last you several years, it should feature solid construction.
🏆Stainless steel is the most durable material you can get. It retains heat the best. Combined with thick grids on your grill, this ensures food becomes properly cooked and caramelised. In this sense, cast iron grills are also good quality. Just make sure you season the grill first to remove any oils or contaminants and allow for non-stick cooking.
Types of Gas Grills
Gas grills are classified by size. Grill manufacturers differentiate models by the number of burners—typically two to six—but that doesn't necessarily tell you the size of the grill.
Below, you can take a look at Consumer Reports' size classification by the usable cooking surface, which they measure by how many burger patties a grill can fit. We then divide those into three size categories:
Small grills: can hold 18 or fewer burger patties.
Mid-sized grills: large enough to hold 18 to 28 burger patties.
Large grills: large enough to hold 28 or more burger patties.
Gas Grill Features
✅ Heavy-Duty Grates. Stainless steel and coated cast-iron grates tend to be better for searing and maintaining even grilling temperatures. For the long haul, stainless is more durable.
✅ Igniters. An electronic igniter is usually easier and more reliable than a rotary or push-button igniter.
✅ Side Burner. Cook a kettle of corn or keep the baked beans warm while grilling the main course. Some side burners are also searing burners.
✅ LED-Lit Controls. For grilling after dusk, LEDs light up the grilling surface and illuminate the control panel or knobs.
✅ Fuel Gauge. A gauge indicates how much propane is left in the tank. If the grill doesn't come with a gauge, you can buy one separately.
✅ Pullout Tray for Propane Tank. It makes turning the tank on or off a snap and simplifies changing the tank when you run out of gas.
✅ Dual-Fuel Valves or Natural Gas Conversion Kit. Most grills use propane, but some have dual-fuel valves for conversion to natural gas. Once hooked up to your home's natural gas line, your grill will never run out of fuel and there's no need to refill propane tanks. But the grill will be less mobile, and you'll want to call a pro to run the gas line. Some brands also make entirely separate natural gas versions of certain models.
Want to buy a gas grill in 2021? Keep reading for our recommendations! 👇🏻
BBQ's Algarve top recommendations for the price range
It has been difficult to choose between our barbecues, since they all come from quality manufacturers, with the best brands in the market. However, we have succeeded and here are our recommendations organized by price range.
Economic range gas grills to buy this 2021
✅ Napoleon R425PK – Rogue 1 Black Gas BBQ
The Napoleon's Rogue® 425 Propane Gas Grill, is a premium quality gas grill with a very affordable price. It has three burners that light every time with a battery-free ignition. This Napoleon grill is an attractive looking range-style barbecue with handy side tables which fold for more compact storage.
It has wheels for ease of mobility and castors which help lock it securely into place.
This grill boasts precise temperature control, high heat searing over cast iron cooking grids and stainless steel sear plates for even heating and to keep your grill clean. Moreover, the stylish black exterior is highly durable and easy to clean. It is, without a doubt, one the best gas grills from this price range to buy this 2021.
Main specifications
42,000 BTU's
3 Stainless Steel Main Burners
570 in² Total Cooking Area
Porcelainized Cast Iron Iconic WAVE™ Cooking Grids
Space Saving Folding Side Shelves
Stainless Steel Sear Plates
JETFIRE™ Ignition System
ACCU-PROBE™ Temperature Gauge
Large Chrome Plated Warming Rack
Dimensions
Height: 47.50 in (120cm) 63 in (160 cm) with the lid open.
Width: 51 in (130 cm) 35 in (89 cm) with shelves down.
Depth: 25 in (63.50 cm).
What we love about this BBQ
You will get an excellent-quality BBQ for a great price.
The porcelain-coated cast iron wave cooking grids resist rust and provide even heat transfer and a great sear for the steaks.
We find it well-built and sturdy, thanks to locking castors, while also being easy to move around your garden.
It cooks meat and poultry quickly, retaining juices and flavours
You can also accurately gauge the temperature of your grill for optimal temperature control when BBQing. Burners have automatic ignition, so it's quick for you to set-up and start grilling for family and friends.
The folding side shelves let you tuck your grill out of the way giving you extra space when needed.
It provides additional and easily accessible storage for sauces, condiments, and tools and never runs out of storage.
All parts are easy to remove for cleaning.
What we don't like
It's a little tricky to access castors at first, they are well hidden beneath the base of the barbecue.
🥇More gas grills for the economic price range:
Mid-range gas grills to buy this 2021
✅ BROIL KING Baron 490
The Baron series from Broil King offers both power and performance in a variety of sizes to suit the avid griller. Baron 490 is our favourite one. This gas grill includes standard premium stainless steel features like a double lid, drop-down side shelves, control panel, handles and cabinet doors.
It also has the Broil King's legendary cooking system containing heavy-duty cast iron cooking grids and precise cooking control.
Main specifications
40,000 BTU main burner output
10,000 BTU professional inset side burner
15,000 BTU stainless steel rear rotisserie burner
Premium rotisserie kit included
644 sq. in. / 4,155 sq. cm. total cooking space including porcelain coated warming rack
444 sq. in. / 2,865 sq. cm. primary cooking space
Heavy-duty cast iron cooking grids
Flav-R-Wave™ cooking system
4 stainless steel Dual-Tube™ burners
Linear Flow™ valves with 180° Sensi-Touch™ control
Sure-Lite™ electronic ignition system
Deluxe Accu-Temp™ thermometer
Dimensions
Height (in) 45
Width (in) 24
Depth (in) 57
What we love about this BBQ
You can start cooking in no time with the electronic ignition system.
It needs minimal heat to cook chicken and sausages and it gives beautiful colour tones on the meat.
It is very easy to assemble.
The enclosed cabinet base provides storage for all of your tools and propane tank.
The stainless steel Flav-R-Wave technology creates even heat across the entire surface and prevents nasty flare-ups.
It also has the fantastic reversible cast iron grills, on one face in a V shape where they channel part of the excess fat burning less fat and making less smoke and flare-ups. On the other side of the grill, we will have normal grills, yes of cast iron to distribute the heat well throughout the grill.
This grill is very well designed with a huge number of features that makes grilling easy and fun.
🥇 More gas grill for the mid-range:
High-end gas grills to buy this 2021
✅ BEEFEATER Signature SL4000S 4+1 BBQ
A barbecue to make your outdoor kitchen dreams come true. In this sense, your dream alfresco dining area is possible with the BeefEater Signature Built-in LPG BBQs. Finished in stainless steel, this LPG BBQ will not only add some stylish flair to your outdoor kitchen but will be resistant to rust and corrosion, as well as being easy to clean.
BeefEater's Signature range boasts a powerful side burner, an integrated quartz start ignition as well as a convection roasting hood. All models include a temperature gauge and warming rack. Another distinct feature with this BeefEater BBQ is the removable hood that includes a viewing window for you to check on your food without letting the heat escape.
This BBQ has four burners, operated by Quartz Start ignition, provide rapid, localised heating for cooking an assortment of different foods. Combined with the large stainless steel roasting hood, you can slow cook large cuts of meat such as chicken, pork, brisket, and more.
This BBQ might be a great addition to the backyard if you are planning to host the next family gathering as it is designed with a side burner that provides 21MJ/hr heat output and can be used for stirring up sauces, stir-fries or simply for steaming.
Moreover, you will get the best quality from this Australian brand that aims to provide functional yet stylish designs along with durability.
Main specifications
90000 BTU Heat Output
Stainless Steel Cooktops
Stainless Steel Roasting Hood with Viewing Window
Fully welded stainless steel BBQ frame
Integrated high output side burner with stainless lid
Reliable Quartz Start Ignition (No batteries needed)
Large Removable Warming Rack
High-Performance Stainless Steel Burners
Stainless Steel Vaporizers
Stainless Steel Heat Reflector
Integrated Temperature Thermometer
Dimensions
Total height (with lid closed) (mm) 525
Total height (with lid open) (mm) 715
Width (mm) 1181
Depth (mm) 570
Hood width (mm) 308
Hood depth (mm) 855
What we love about this BBQ
We love the solid Stainless Steel roasting hood and high-performance stainless steel burners that are quickly in action using quartz ignition. Cooking time has been reduced by vaporizers that also enhance taste and prevent flaring.
With the built-in side burner, you can prepare delicious sauces, sides, and more, while grilling on the main hotplate.
If you have meat or veggies that still need a little more time on the grill, the warming rack on this model will keep your cooked food warm in the meantime. You could even use the warming rack as a way to toast buns, creating the perfect burger!
Behind each of the four burners is a blue LED light that remains lit while the gas is flowing through to alert you of the presence of gas.
If you're addicted to alfresco dining done in premium style, this built-in BBQ is worth it.
What we don't like
A useful aspect of built-in models is that it allows you to customise your own cooking space. With their larger hotplate and grill sizes, built-in BBQs are a great match for those who love to frequently entertain plenty of guests. If you don't have the space for a built-in kitchen, you might want to take a look at other options.
🥇 More gas grill for the high-end range:
Outdoor Kitchens are also available in the Artisan range.
How to properly use a gas grill?
Do you think grilling on a gas barbecue is something you will learn in just one day? Of course not! If you want the food you prepare in it to be perfect, you are going to have to learn a series of tricks:
🧽 Your grill should always be clean. Does it sound obvious to you? For many, it isn't. It's true that these types of barbecue don't have to be cleaned as much as others, but the smoke from the grill leaves a bad taste in the food if it's not previously cleaned well. Also, the fat generated by the food and the heat will also stick to the grill, and this can spoil the taste of some dishes. For example, if you've previously cooked Portuguese grilled sardines, and you don't clean it well, the flavour could stick to the taste of your grilled watermelon or your sausages.
🔥 Watch out for flare-ups. Yes, gas barbecues are indeed safe, however, when the grease from the food mixes with a spark or a flame, an unexpected flare can occur. To prevent this from happening, it is necessary to have an empty part of the grill, to be able to move the food in the event that the flame rises.
😰 Sugar and heat. There are foods that are cooked with sauces, and these are very rich in sugar. Sugar burns when it reaches a temperature of 130º C. When you cook this type of food, you must make sure that your barbecue does not exceed this temperature.
👀 Always keep an eye on the barbecue. A single mistake when grilling could spoil the doneness of your foods. If you are grilling alone or with your kids, never leave your grill unattended.
👨🏻‍🍳 Perfect cooking point. Gas barbecues can reach a temperature of up to 300º C. This doesn't mean that all the food that you are going to cook should be done at this temperature. Pork or beef must be cooked at a high temperature, but fish, vegetables or chicken must be cooked over medium heat. You will have to be patient with the cooking times.
🥩 Do you know how to sear? Searing the food is one of the great cooking secrets to obtain the best flavour in a barbecue. It helps to give the meat an excellent caramelized flavour. To do this, you have to heat the grill to the maximum, place the meat and wait a minute. Then, turn your food over, reduce the heat and cook normally.
🍳 Learn how to use indirect heat. To grill some types of meats, such as chicken or fish, it is best to use indirect heat.
Other Factors to Consider When Buying a Gas Grill in 2021
About burners. Keep in mind that for gas grills, burners are the most replaced part. In this regard, expect them to last two to 10 years. Burners with a warranty of 10 years should last longer than those with no guarantee. If you need to replace them, it's a 10-minute job.
Look for solid construction. When shopping for a gas grill, you'll want to carefully look over the construction of the grill. Jostle the assembled grill from several points to test sturdiness; the more stable the better.
Check the cart, wheels, lid, and firebox. Stainless steel carts with seamless construction and welded joints are usually sturdier than painted steel carts assembled with nuts and bolts. Wheels or casters at all four corners or legs make a grill easier to manoeuvre. And wheels with a full axle are better than those bolted individually to the frame.
How Should You Clean a Gas BBQ?
If this is the first time you own a gas barbecue, you may not know well how to clean it. For this type of barbecues, you have to carry out two types of cleaning, one after each use and once a year.
You will have to light the barbecue, with the oven lid closed, for about 20 minutes. This will burn the remains of fat and food, achieving a quick partial cleaning. Once the 20 minutes are up, turn off the barbecue and let it cool down. Next, disconnect the gas cylinder and the burners. With a brass, brush proceed to clean the grill, and then with a sponge dampened with warm water. ❌Never use abrasive products.
The major grill manufacturers have issued statements that warn consumers to avoid the aluminium foil cleaning practice due to safety concerns.
In this sense, Weber cautions that this method "could trap gas and become a fire hazard and blocking the airflow causes very high heat that can damage valves, burners and supply lines that may make the grill unsafe to use." As a safe alternative, they recommend preheating the grill (with no foil) on high for 10 to 15 minutes to burn off all residual food before grilling.
👉🏻 If you are getting a gas grill in 2021 take a look at our ultimate guide for cleaning your grill.
Where should you put your gas barbecue?
The great advantage of this type of barbecues is that it's much easier to locate them than other types. You can place it on a terrace or in the garden, without any problem, since they are much safer and there is not much chance of fire.
On the other hand, even if your BBQ doesn't smoke much, ideally they shouldn't be near doors or windows.
It's also not recommended to put the barbecue near the area where you are going to eat, as the smell of gas could be annoying for your guests.
Since the size is a negative factor in this type of barbecue, you should find a place with a lot of space to install it. They are usually put on terraces, but if you have a large garden, you can also have it in that area without problems.
Gas or Charcoal Grill?
The main choice involves how you want to cook your food: over gas or charcoal. Your budget might make your mind up for you, as gas machines tend to be more expensive.
On the other hand, charcoal barbecues require more time to get going as the embers need to be piping hot to cook the food properly, although if you invest in a chimney starter you can speed up the process by cooking in 15 minutes.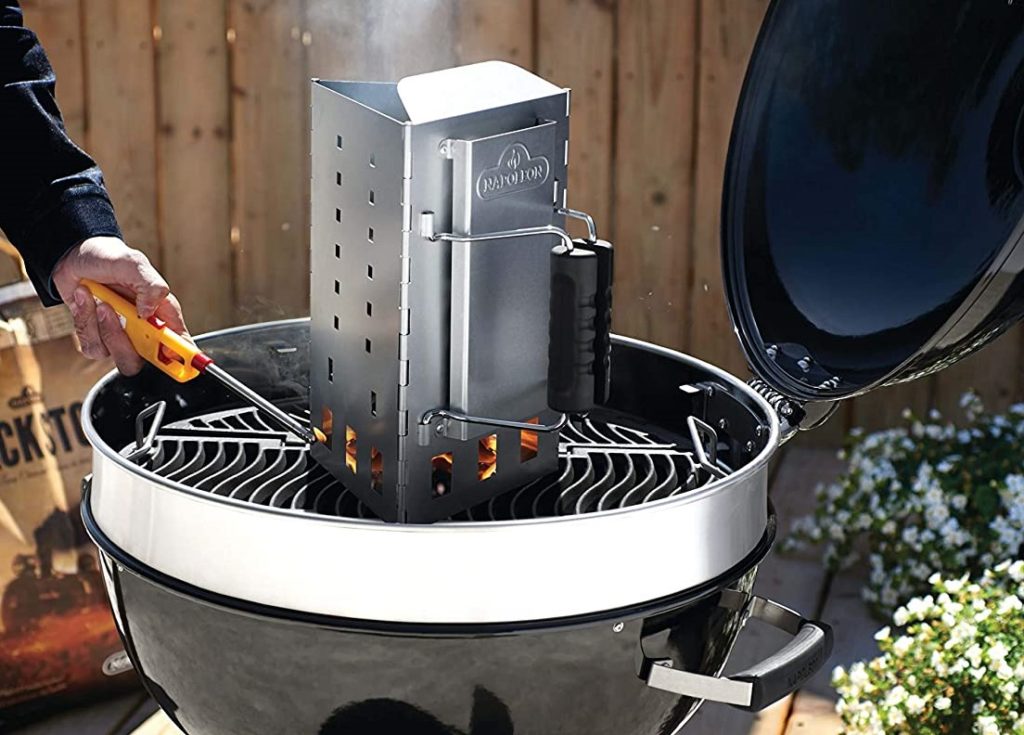 The taste from a charcoal barbecue is distinctive. You can taste the difference of food cooked on chargrilled wood, because it is cooked slower and it keeps the moisture in, making the meat more succulent.
However, nowadays if you have a gas grill you can smoke on a smoker box or use wood-chips in foil with holes in it. See how we do it.
Gas barbecues allow you to start cooking almost immediately. As the temperature is regulated, gas tends to cook more evenly than charcoal. On some machines with multiple burners, you can cook food at different temperatures. This is handy for foods that require varying heat intensities.
---
Your Outdoor Living Specialists
Unsure about what kind of gas grill to buy in 2021 is the best for you? Our friendly and knowledgeable team will be happy to answer your questions. For advice, simply give us a call at our number (+351) 289 356233 or fill in our contact form.
Always make sure any prospective barbeque suits your space, lifestyle, cooking style and budget – while having good build quality!
Did you enjoy this post? Let us know in the comments below! 👇🏻 Also tag us on Instagram!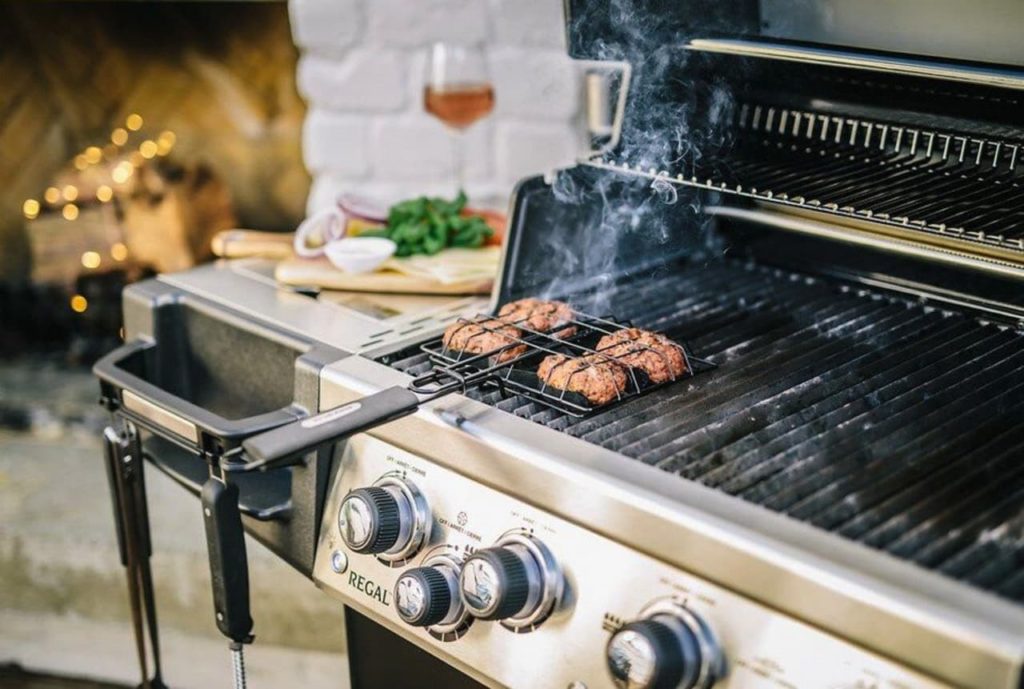 Sources to writing this post: Product Review, Barbeques Galore, BBQWorld.