When the sun is shining we all know what that means: a barbecue is on the cards. However, demand is high in spring and early summer, when you are eager to grill some hot dogs, burgers, juicy steaks, and kebabs. In this sense, we think fall is a great time to buy a BBQ. During fall, the summer grilling season is over, and we are eager to sell all of our remaining grills. ¿Would you like to check the gas grills to look for end-of-season sales?
You should know that you will probably find the best selection of barbecues during spring and early summer. But the best deals come in early fall🍂.
Typically, gas grills don't go on sale as often as charcoal grills, but you can always find deals on gas grills, usually in October.
If you're starting from scratch and need to find the perfect BBQ or the ideal outdoor kitchen for your garden, we've got a wide range of barbecues to choose from.
#BBQTip If you already own a grill, but you are considering changing the size of it, we advised you to be prepared and know what you want before you go to the end-of-season sales.
Grills to look for at our end-of-season grill sales
Our end-of-season sales are on in our store in Vilamoura. You can also select your favourite items online. We display many great options from top manufacturers such as Napoleon, Broil King and BeefEater.
Every model is heavily discounted to clear stock for next year and we have BBQs with savings of up to 30%! Pop along to our end-of-season sales and grab a great barbecue to become the new addition to your garden, terrace or outdoor living space.
Napoleon R425PK – Rogue 1 Black Gas BBQ
The Napoleon's Rogue® 425 Propane Gas Grill in black, is a premium quality gas grill with an affordable price. This grill boasts precise temperature control, high heat searing over the iconic cast iron cooking grids and stainless steel sear plates for even heating and to keep your grill clean. You can also tuck your grill out of the way giving you extra space when needed with the folding side shelves! Moreover, the stylish black exterior is highly durable and easy to clean.
Napoleon Prestige P500RSIBPCH-1A Gas Barbecue
Broil King IMPERIAL XL BLACK
The Broil King Imperial XL gas grill features Performance Grilling Technology (PGT) for versatility and great barbecue flavour. Enhance your backyard in Algarve and outdoor living experience with this stunning BBQ. Moreover, the stainless steel side shelves and enclosed cabinet base provide workspace and storage for grilling essentials.
Broil King Imperial 490 Slide In
This BBQ represents a match of performance and luxury designed for the professional and the outdoor chef. This series comes equipped with premium standout features. Check them out!
BeefEater SIGNATURE S3000E 4 Burner BBQ
This 4 burner ripper delivers great performance whilst adding value to your outdoor entertaining area.
BeefEater ProFresco Proline 6 Aero with Granite Display model
A uniquely fresh, clean-lined approach to your outdoor living space. Created by architects to design luxury outdoor entertaining areas, with homeowners in mind, whether a city roof garden, a suburban terrace or rural mansion there will be a PROFESCO set to enhance your outdoor space.
Broil King REGAL PELLET 400
The Broil King's Regal Pellet 400 grill is inspired by traditional barrel smokers. This fabulous pellet smoker makes cooking simple by just the touch of a button. Whatever you want to cook, this can do it. From smoking a brisket or ribs to baking a pizza, the pellet smoker has the ability to do it all and everything in between. The pellet smoker uses 100% natural wood pellets. It comes equipped with Wifi and Bluetooth® digital controllers that provide enhanced temperature control to smoke, roast or sear.
Sunstone DUAL ZONE CHARCOAL GRILL 30
This charcoal grill is a heavy-duty masterpiece completely built-in 304 Stainless Steel with superior thickness to hold up to the intense heat of grilling with wood and charcoal.
Visit our showroom in Algarve and take a look at the rest of our end-of-season sale! Contact us with any question!
Fall is a great time to BBQ!
Do you think backyard living is over because the summer season is over? Think again! Fall means cooler mornings, sweater evenings and changing colours. The great thing about fall is that you don't have to let the chill in the air keep you from using your grill.
Even more, in the Algarve, we are privileged with this amazing weather to keep that grill out for the fall season and even into the winter season.
5 reasons to continue living your best outdoor living during the fall season
Don't settle for cooking on a stove just because it is fall. The flavour you get to your foods from a barbecue is worth any extra effort needed.
Keep bringing family and friends together for a Sunday game day feast or take the grill out for a barbecue party in your garden. Remember we are still living under social distancing regulations and measures due to the pandemic. What better way to enjoy the outdoors than in your own space?
That heat of the summer season, which made standing in front of a barbecue uncomfortable, is GONE, now the heat from your grill is very welcome!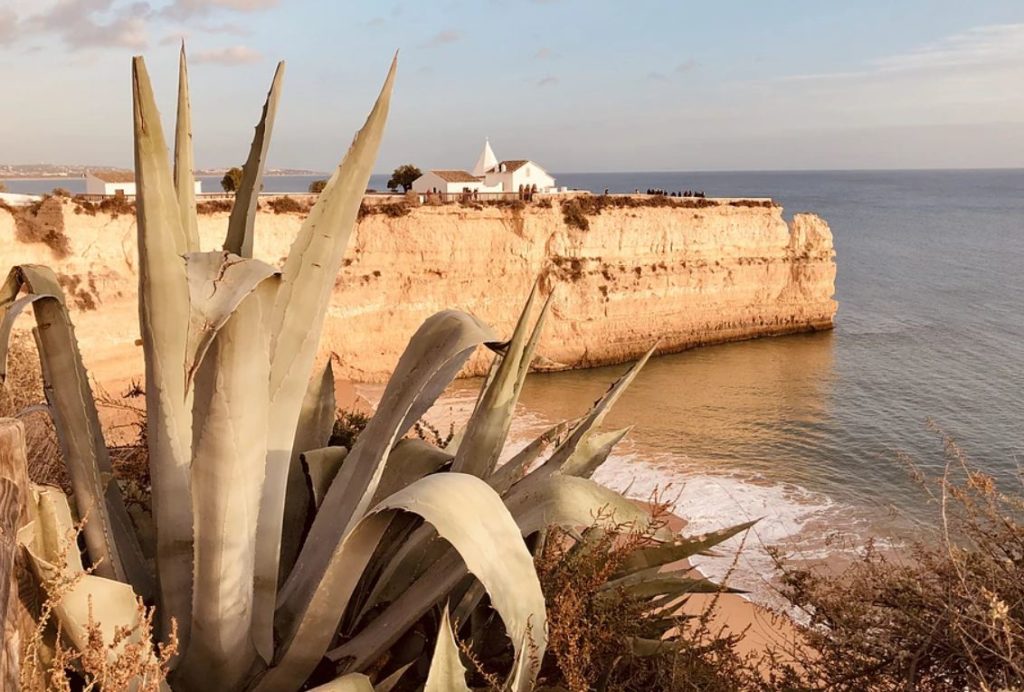 Summer's heat brings around a lot of unwelcome bugs. During autumn or fall season in Algarve you can enjoy an evening barbecue with friends with fewer bug bites to worry about and no need to be spraying bug spray.
Fall vegetables and fruits such as carrots, potatoes or turnips can stand up to grilling, and they taste great! You can also grill fall fruits like apples sprinkled with cinnamon sugar. Check our grilled dessert recipes for that tasty caramelization of fruits cooked on the grill 🥕.
If it is a little too cool to be grill outdoors, minimize the time needed to check on the grill. Consider roasting or smoking meats with the indirect grilling method. This kind of heat will roast your meats over a longer period of time.
🥩 Slow cooking for hours makes grilling on the barbecue an easy task. You can cook larger and thicker cuts of meat and transform it into the most delicious and juiciest food.
👉🏻You could also try the rotisserie grilling method for poultry or turkey.
Feel the warmth by the fire and a patio heater
🛑 Remember it's important to preheat the barbecue when grilling because you'll be starting with a colder grill this season.
If it's an evening grill, that warm fire and flame is a welcome relief to the cool winds. Also as days get shorter, the warmth of a fire's glow helps encourage relaxation.
Create a warm atmosphere in an outdoor setting with a portable patio heater and extend your summer while enjoying the fall.
Bring that delight of outdoor cooking and family gatherings into the autumn season. Cosy sweaters, warm fires, fall harvest with your best friends and family will make the effort worthwhile.
Enjoy BBQ flavour this fall!
🍁Grill lovers! Remember your grill can take you from season to season to season to season. Become a master griller through your own experiments and enjoy every day of autumn grilling as much as you did summer grilling.
Readers, what kind of grill do you prefer? Did you buy one this summer, are you taking advantage of end-of-season sales or are you waiting until later in the year? Let us know in the comments below 👇🏻👇🏻👇🏻.