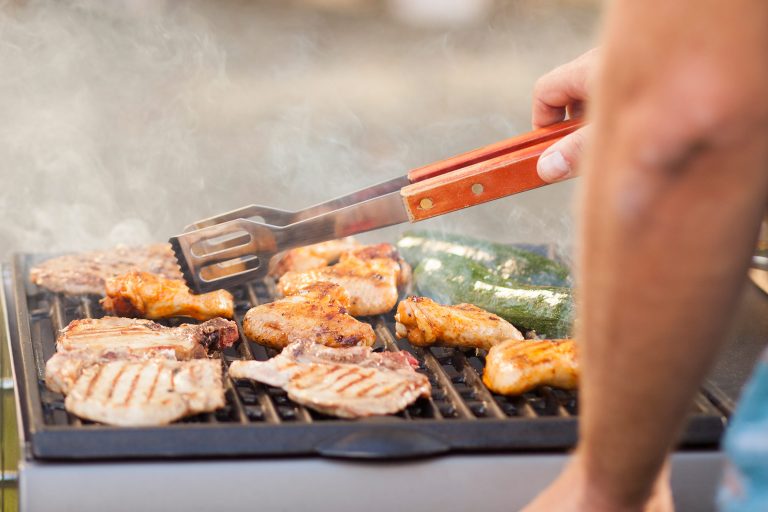 Grilling and barbecuing is a flavorful way of cooking, no matter the season. In this sense, eating outdoors is one of the great joys of summer and one of our most-loved rituals. During this season, you can smell the grill smoke in the air. But sometimes, these smells come with calorie-packed eats. Many of us end up eating very high-fat sausages and meats when we fire up the barbecue. Filling our plates don't have to result in filling out our waistband. This is why we chose to write this article and show you 10 ways to have a healthier barbecue.
The best part is that grilling may be one of the healthiest ways of cooking. After all, one of the golden rules of eating healthy is to choose grilled foods instead of fried options. However, we know many barbecue food can be unhealthy because they may be high in fat. In turn, we may also have companions full of carbs or sauces drenched in mayonnaise.
If you want to avoid fat, saturated fat, calories and cholesterol in your diet, you shouldn't prevent grilling at all. Besides, there's something about grilling that makes food look and taste amazing. After dusting off your grill this summer, go and hit the supermarket for an array of tasty food, fire up your BBQ and follow these steps.
10 ways to have a healthier barbecue
Choose healthier cuts of meat
Pick the main course well. It would help if you prioritised lean meats and fish to sausages and fatty meats. Lean meats and skinless chicken breast are ideal to have a healthier barbecue. Also, grilled fish can be a delicious alternative to red meat. Fish is rich in Omega 3 fatty acids and is linked to several health benefits. You can choose salmon, trout or other ones. If you want to try something different, try cooking the Portuguese grilled sardines recipe.
Avoid processed protein
Hot dogs and sausages might taste good, but they are the fattiest foods you can cook on your grill. You can make a big difference by choosing leaner cuts of meat. If you are cooking chicken, you can remove the skin first to lightening it up.
Grill fruits and vegetables
Whether you're vegetarian or not, add lots of vegetables to your barbecue. This is a primary step to have a healthier barbecue. Veggies, veggie burgers or fruit are safer choices to avoid any health risk. You can grill aubergines, zucchini, red or green peppers, corn, mushrooms, asparagus and celery sticks. You can also cook them on skewers, mixing different types of vegetables like tomatoes and onions.
The best part is all these veggies will cook for under 10 minutes. Moreover, you can enjoy that grilled flavour you love in fruits as dessert. The natural sugars caramelise in high heat, and they turn extra sweet. Grill halved bananas or sliced pineapples and apples. Please read our 7 desserts you can cook on the grill article for more ideas.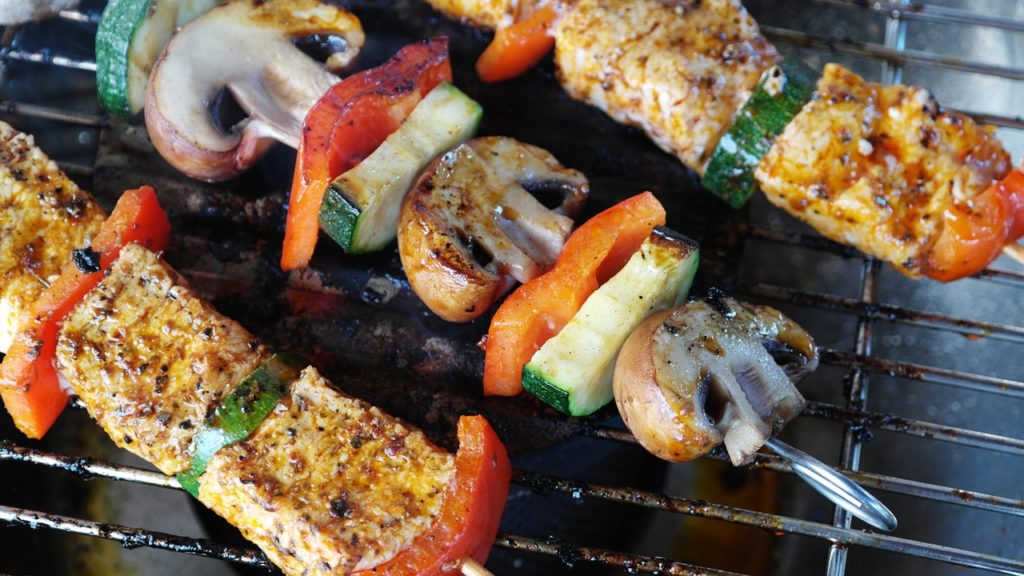 Rightsize your portions
Keep the balance between all the food you are eating during your barbecue party. A healthy piece of meat is about three ounces. If that sounds small for you, remember all the exquisite grilled veggies and sides for you to eat with your protein.
Flip it, flip it good
Flipping the food frequently can help prevent HCAs' formation, amines that are produced when meat is cooked, grilled or broiled at high heat. In this sense, use a tong or a spatula instead of a fork to turn the meat without piercing it so you don't release its juice. Also, grill smaller portions of meat to cook faster and spend less time on the grill.
Don't show up hungry
One of the most fundamental signals your body sends out is the one for hunger. If you are invited to a barbecue meal, don't wait until your appetite is huge and you feel you will eat pretty much anything. This usually results in overeating not only meat but mostly fatty foods. Therefore, you should eat when you are hungry and stop when you're full.
Skip heavy marinades
Another step to have a healthier barbecue is to lighten up the salt by marinating or rubbing spices, olive oil and fresh herbs on the meat, fish or poultry. On the other hand, this is useful for salad dressings often laden with preservatives and sugar. If you want to look for healthier varieties, all you need is about one tablespoon for each pound of food. You can try the Broil King Barbecue seasoning in our store.
Serve healthier snacks and dips
Ditch the traditional fatty sides such as baked beans, coleslaw with lots of mayonnaise and a bag of potato chips. Avoid their saturated fats, added sugars and sodium and try healthier homemade sauces such as raw vegetables like carrot, celery sticks and tomatoes served with a delicious low-fat dip. Prepare healthier sauces and dips like chimichurri, guacamole or pico de gallo.
Keep count on the alcohol
Skip the coke and drink lots of water while you are out in the sun. Refresh yourself by adding fresh fruit and ice to your water. And of course, don't be shy about drinking a beer or another liquor during your barbecue. Just don't abuse alcohol.
Always clean your grill
Many people don't realise that cleaning the barbecue is another fundamental step to have a healthier barbecue. If you don't clean your barbecue, you may transfer the leftover chemicals to your food the next time you grill. Although we know this is not the funniest part, you should always remove leftover burnt food pieces. Get an extra-wide nylon grill brush to remove dirtiness out of your BBQ.
Top 5 tips for a safe barbecue
Always ensure your meat, chicken, meatballs, and burgers are cooked through.
Never put food on a surface or a plate that has had firstly raw meat on it.
Always store raw meats separately and use different forks and knives to chop.
Avoid contact with cooked food and a marinade or sauce that previously had contact with raw meat.
Be careful of leaving salads, rice, ham or cheese in the sun. They should be kept cold until needed.
---
What makes grilling so unique? Is it the smoky flavour? The grill lines that form on the food? The smacks of marinades? The fresh taste that comes from cooking food over high heat in a short amount of time? The time we have to gather all family and friends? Get yourself a high-quality barbecue and start your outdoor cooking experience.