When you think of sausages, barbecuing them is usually the first thing that comes to mind. They are so delicious in this traditional way. In this sense, Bangers and Mash is the familiar term for Sausage and Mash, a favourite British and Irish dish. Bangers and Mash are quick and easy to make, and also makes a cheap yet very substantial meal. According to our friends from Napoleon Grills, Germans have their own version of this British dish and cook it on National Bratwurst Day during Summer.
As British, we love our traditions, but also love its variations and the fact our traditional dishes can inspire other cultures. This is the reason why today we will present you how to cook Bratwurst Dinner in a recipe created by Andrea Alden. Easily made in one place, on a Rogue Gas Grill, these brats are cooked down in German beer, then the beer to make gravy with added caramelized onions. Bratwurst with Beer & Onion Gravy is a deliciously German variation on our traditionally British dish.
Bratwurst dinner inspired by Bangers and Mash
What you need
4 to 6 bratwurst sausages
4 cups (2 cans) German beer like Beck's
For the caramelized onions
2 large onions
2 tbsp. butter
½ tsp. sugar
For the potatoes
6 fist-sized potatoes, peeled and sliced
1 clove garlic, grated
3 tbsp. butter
Salt and pepper to taste
½ cup milk or cream
For the beer & onion gravy
3 tbsp. butter
2 ½ tbsp. flour
1 cup beef broth
1 cup beer from boiling the brats
Salt and pepper to taste
Instructions
Preheat the grill to low, about 300°F. Place a skillet or oven-safe frying pan over direct heat. Melt the butter and then add the onions. Sprinkle with sugar. If you have a lid that fits the frying pan, place it on top. Cook the onions over low heat for about 20 minutes, stirring frequently, or until they are a deep caramel colour. Keep them warm on the grill.
Using the Napoleon Stainless Steel Wok, pour in two cans or bottles of German beer and add the bratwurst. Bring the brats and beer to a boil over the side burner of your grill, or on the stove. Cook for about 10 minutes. Remove the bratwurst from the beer and set them aside. Measure out 1 cup of beer from the wok. Set this aside.
Boil a pot of water and cook the potatoes until they are fork-tender. Mash them with the garlic, butter, milk, and season to taste. Keep warm.
Move the onions over to indirect heat and turn the burner up to medium-high. Grill the bratwurst over direct heat until grill marks form and they're heated through.
While the brats are on the grill it's time to make the gravy. Melt butter in the Stainless Steel Wok over low heat. Whisk in the flour and allow it to cook for 2 to 3 minutes. Slowly whisk in about ¼ cup of beer or broth at a time, alternating between the two. The first two additions will make the butter mixture go thick and chunky but don't worry, you're on your way to perfect gravy. Add the beer and broth until you have the perfect gravy texture. If you add too much liquid, allow the gravy to come to a simmer until it thickens again. Add the onions.
Serve the bratwurst on a bed of mashed potatoes, slathered in beer & onion gravy.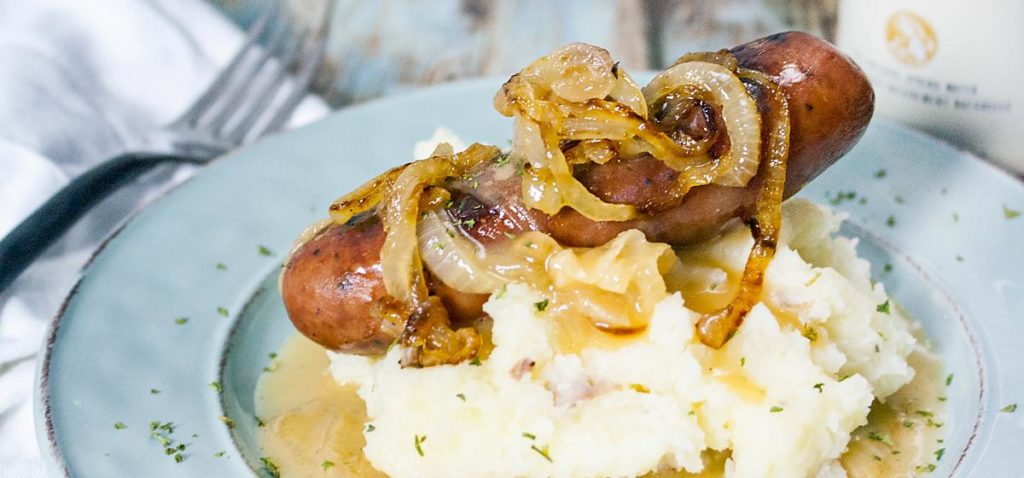 The world is a better place with bangers and mash
The name bangers ais believed to come from the habit of sausages bursting in the pan with a bang if cooked too quickly. It has been declared that the term bangers and mash has its origins in World War II when the sausages were of such low quality that when they were cooked they partially exploded, but it has been used since at least 1919.
As we mentioned before, it's one of the UK's most iconic dishes and it's featured front-and-centre on our menu. This rich meal, mainly consisting of mashed boiled potatoes, sausages, and gravy has been filling bellies in the British Isles for a surprisingly short period of time.
On the other hand, bangers are the quintessential British breakfast sausage, forever immortalised by being half of the classic 'Bangers & Mash". Bangers are not just one kind of sausage, the term can refer to any British sausage and you will a variety of British sausages in the English breakfast depending on what part of the country you are in. We would also love to add that this dish is a great favourite with children.
Moreover, the sausages may be pork, beef, or lamb, but one of the most traditional meat sticks is Cumberland sausage, a coiled pork sausage from northwestern England.
Tips to cook bangers and mash and Bratwurst dinner
When making your mashed potatoes, make sure that you cut your potatoes into even-sized pieces so that they all cook at the same rate.
Put all of the potato pieces in a pot with cold water, bring to a boil, then reduce to simmer until fork tender. The fork should be able to easily pierce the potato without effort.
Give the sausages a minute or two over high heat. This is to brown them.
Bring your sausages to room temperature. This means your cooking time will be shorter and the results will be more uniform.
Gas wins over charcoal in terms of a heat source for sausages
It is easier to regulate the heat on a gas grill. We love a gas grill for everything, really. If you're a charcoal purist, feel free to discount this advice, but a constant, regulated heat source leads to a better final product and once you bring your coals down to sausage grilling temp (300-350°), the temperature may drop even lower and get the job done. Gas fixes that problem.
---
Should you fancy learning how to cook more recipes on your gas grill visit our recipes. You will learn to grill juicy steaks, veggies, beef brisket and Portuguese sardines! Sounds yummy? We'd be happy to see that you've tried our recipe! Share your results on Instagram and tag us @bbqsalgarve!