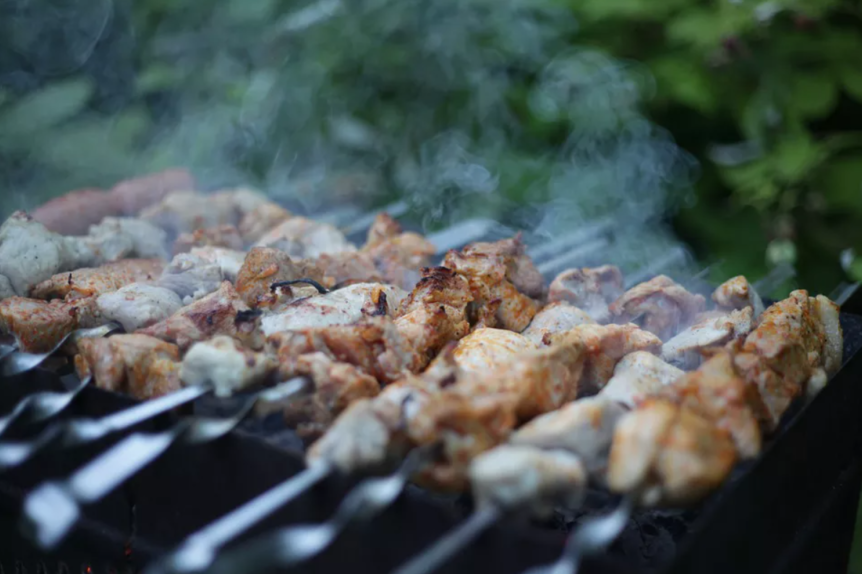 Espetada, or Portuguese Skewers, is a recipe that calls for a party! We are in love with this dish since we moved to the Algarve back in 1998, although it's not a traditional one from our region but Maderia. Try cooking this mouth-watering Portuguese-style pork kebabs! They are tasty and very easy to prepare! Surprise your family in just 30 minutes!
What is Espetada or Portuguese kebabs?
Espetada is the most famous dish on the island and one of the richest in Madeira's gastronomy. Moreover, the espetada is nothing more than beef or pork skewers but with the meat punctured in bay laurel branches.
In this sense, "Espetada" is the term Portuguese designate to this gastronomic technique in which they place food on a spit.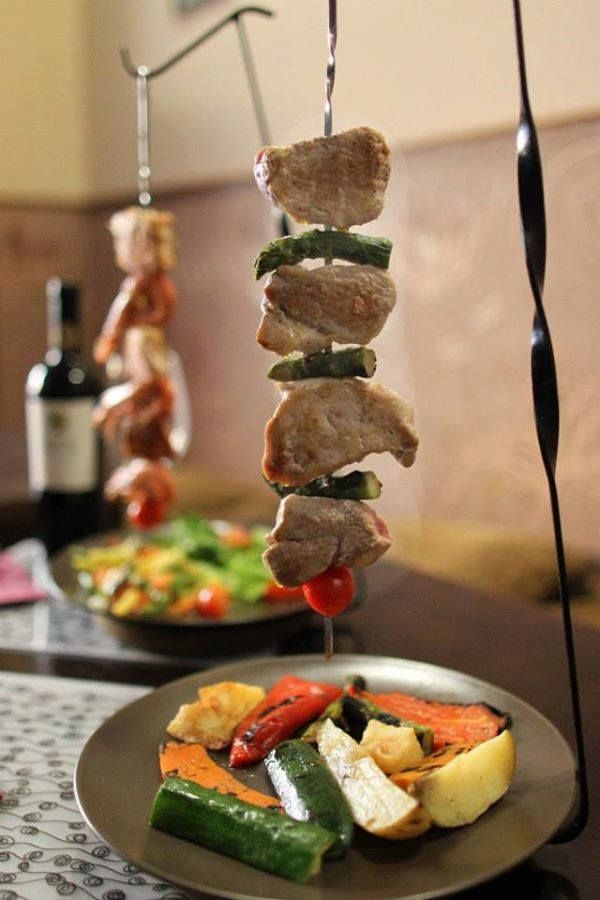 It traditionally consists of large chunks of meat that are rubbed with garlic and salt and skewered onto bay laurel branches before being grilled. In this regards, these skewers are often accompanied by fried corn or vegetables.
😍Espetada is one of the most known and loved dishes by the Madeiran population😍
Although Portuguese use beef more frequently, it is possible to prepare these kebabs with a huge variety of other food products, such as fish, seafood, vegetables, etc.
The story of Espetadas in Madeira
Initially, this was a dish only cooked in Madeiran festivals or pilgrimages, where, in addition to the music band, there were plenty of stalls for the sale of meat and regional wine.
Indeed, these parties were presented as one of the rare opportunities for a significant number of locals and outsiders to eat beef, a food that due to its cost only went to the table of the less affluent population when they went "from party to party".
Although many people purchased the meat to cooked it in their homes, others, especially foreigners, ate it at the food and drink stalls. They made a fire and cooked the skewers made from laurel branches.
---
More Portuguese inspired recipes:
---
The first espetadas restaurant
Around the 50's, Francisco da Silva Freitas opened the first espetadas restaurant, As Vides, in the Estreito de Câmara de Lobos.
After the success of the place, the kebab as a dish of the Madeiran restoration spread quickly throughout Madeira, initially in the form of speciality restaurants, some of which still exist today, where the kebab was the single or the most important dish and then, becoming part of the usual restaurant menu.
With the passage of time, people start eating the meat with the help of fork and knife and served with other accompaniments such as tomato and lettuce salad, fried corn, fried potatoes and bolo do caco. In this regard, the dish has become popular throughout the island, becoming one of the most typical of Madeira.
Mouth-watering Portuguese-style pork kebabs
Looking for a juicy, tender, easy-to-make and affordable recipe? Take a look at this delicious dish created by our friends from Broil King.
👨🏻‍🍳Difficulty: Intermediate
⌚Prep Time: 15 min
⌚ Cook Time: 10 min
What you need
1.6 kg pork loin centre cut, cut in cubes (about 1 to 1.5 inches)
5 cloves garlic, minced
12 bay leaves, crumbled
1 tsp paprika
Portuguese hot sauce or Tabasco (optional)
1 tbsp Portuguese sweet pepper sauce (optional)
1 cup white wine
2 tsp coarse sea salt
1 large green bell pepper (stems and seeds removed, and cut into 1-inch pieces)
1 large red bell pepper (stems and seeds removed, and cut into 1-inch pieces)
1/2 medium cooking onion, (peeled and cut into 1-inch pieces)
300g Portuguese chouriço, cut on a slight angle in 1/4 inch wheels
1/2 lemon
Grilling tools you will need
Instructions
In a bowl, mix together the garlic, crushed bay, paprika, hot sauce, sweet pepper sauce, wine and salt.
Pour the marinade in a strong and seal-able bag.
Place the pork cubes in the bag with the marinade.
Remove some of the air from the bag and seal.
Move the marinade around the pieces of pork to completely coat, and then place the bag in the fridge for at least 4 hours or overnight.
Clean and coat the grids/grates with oil to prevent sticking. You can brush or spray a light coat of canola or vegetable oil.
Light the BBQ, cover and heat to between 232 C and 260 C.
Build your skewers alternating between the pork pieces, red pepper, green pepper, onion and chouriço pieces.
Place the skewers on the grill and close the lid. Cook for 2 to 2 1/2 minutes.
Repeat the last step for all four sides.
Place the skewers on a serving dish and squeeze the lemon over the meat.
Loosely cover with aluminium foil for about 5 minutes.
Serve with a fresh salad, rice, roasted potatoes or any other favourite side. Enjoy!

#BBQTip Try this very simple Portuguese kebab recipe with salmon, beef or lamb. On the other hand, you can create veggie versions too with grilled zucchini, peppers and mushrooms cut into pieces, seasoned with salt, and lemon juice, grilled in olive oil on skewers.
---
🥇 Broil King has a strong history of building durable and well designed BBQs. Put yours together and immediately understand why they're known for their quality. Visit the shop or contact us, and we will guide you throughout the process of getting a grill or an outdoor kitchen!
If you cooked this recipe, we would love to know if you enjooooooyed it the same way we do! Share your experience in the comment area below or tag us on Instagram!