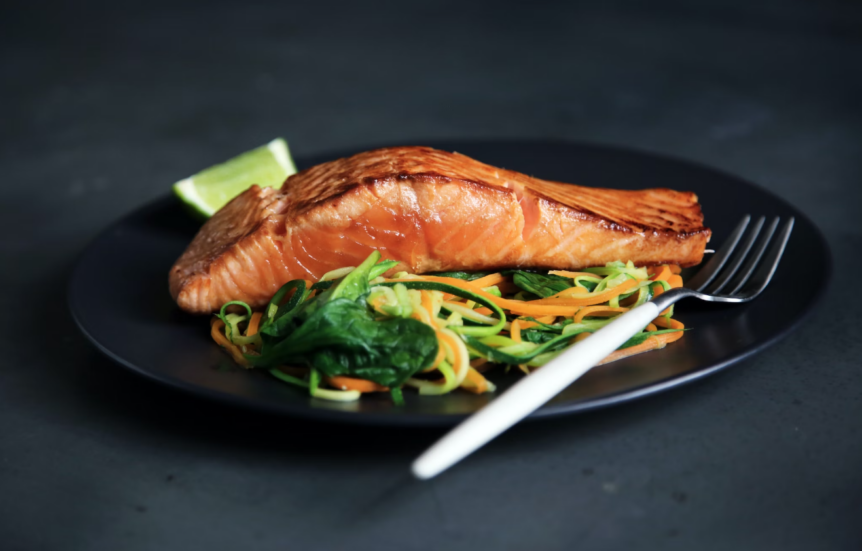 Salmon is a delicious and versatile fish packed with nutrients and health benefits. Therefore, a salmon salad is an excellent option whether you're a seafood lover or simply looking for a healthy and flavorful meal. Salmon is a fascinating fish for the summer since you can use it for cold recipes that will help you survive the heat of the season.
With its combination of fresh greens, juicy tomatoes, and succulent chunks of salmon, this dish is the perfect balance of protein, vitamins, and minerals. But, with so many different recipes, how do you make the ideal salmon salad? Fear not.
In this article, we will share our top tips for creating a delicious and healthy salmon salad recipe to impress your friends this summer. From choosing the right ingredients to preparing the salmon, you'll learn everything you need to know to make the perfect salmon salad for any occasion. So, let's dive in and discover the secrets to creating a delicious and nutritious meal that will satisfy and energise you.
Ingredients needed for the perfect salad
Who doesn't like a good salad? Whether as a starter or main course, hot or cold, this meal is an excellent option for any occasion. In addition, it can be prepared in a matter of minutes and with few ingredients.
The first thing to do to prepare a suitable smoked salmon salad is to decide on the base, and you should know there are as many options as there are tastes! The key is to combine it with ingredients that accompany its flavour and not mask it. You can choose, for example, to use pasta, rice, quinoa, chickpeas, lentils, vegetables, and even fruit as a base. We dare you to add these ingredients! Keep reading to learn how to cook the salmon for your salad!
How to properly grill the salmon for your salad
Grilled salmon is delicious and not complicated to make. The key to grilling salmon is high heat and a little (little) patience. Once you put it on the grill, you can't move it until it has formed a crust where it touches the grill. That crust makes it come off the grill naturally. This works even better if you marinate the fish beforehand.
Of course, you can use another fish if you prefer. It is essential to have a thick fillet to be browned without overcooking, like tuna, swordfish, etc.
When grilling salmon, the cooking point is critical. We love semi-cooked salmon. With the centre still semi-raw and very juicy. If you like it more cooked, no problem, but try calculating the time perfectly so it is still juicy. How to find out if your salmon is perfectly cooked? You will know once you split it because it should peel off in perfect sheets. You missed the point if your grilled salmon looks like shredded chicken when it comes out.
You can also try the planking method over indirect heat! It's one of the best ways to cook salmon and prevent it from sticking to the grill.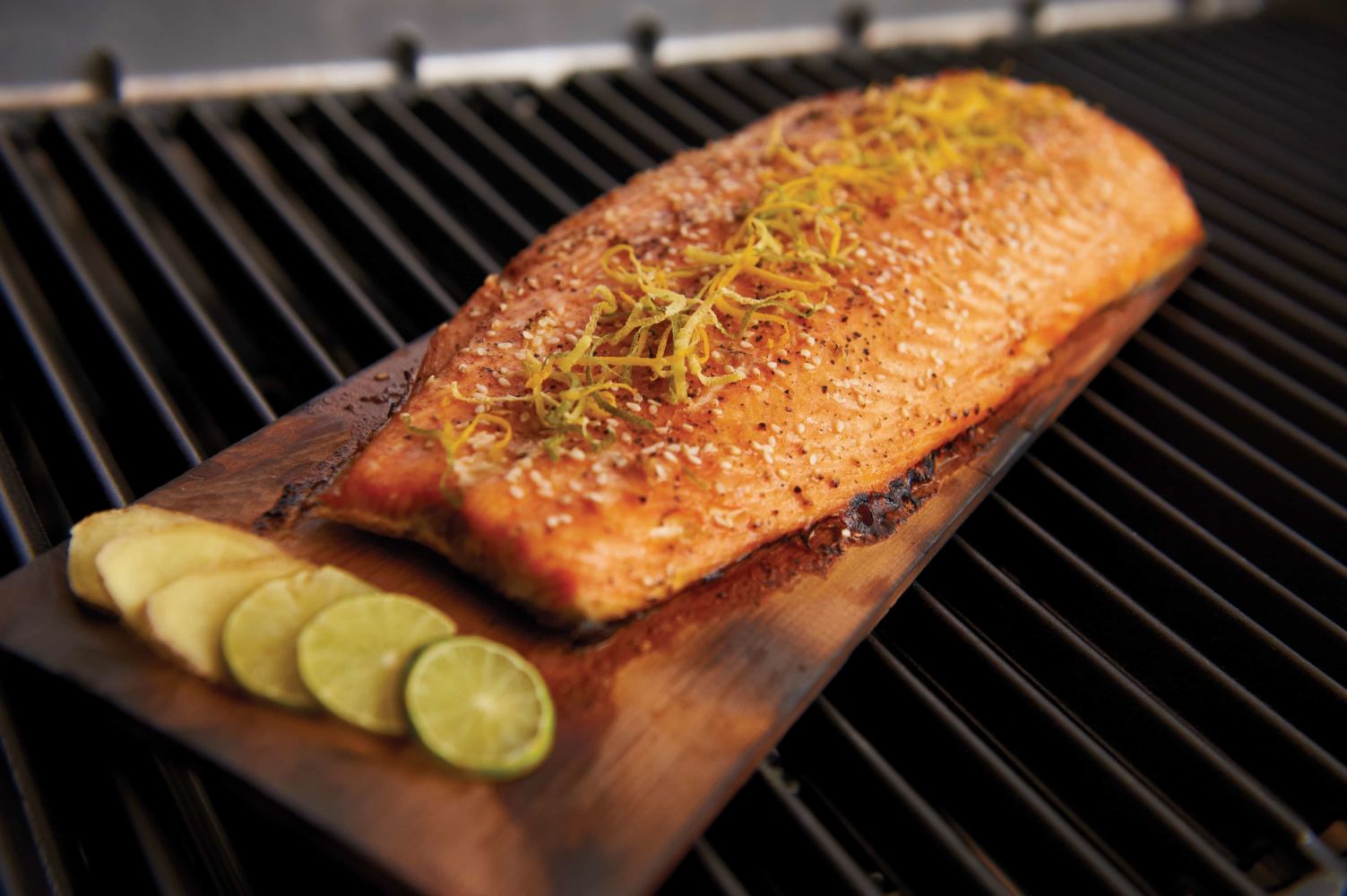 Tips for preparing the perfect salad base
Get your greens. Start with a bag of mixed greens, especially when making a quick salad for just two people. Wash the greens and spin them dry if you like, then lay them on a towel to air-dry for a little while.
Always cut the greens. Make sure the greens are torn into bite-sized bits. Everyone hates those oversized wedges of lettuce left in restaurant salads! Remember, always cut them up to get them in your mouth!
Use a big bowl. No matter how you serve your salad, it's best to toss it in a really big bowl — much bigger than the greens' volume.
Add more veggies. Add any other vegetables you like (make sure they are dry too). Herbs are extra-good. This is where you toss in any little extra for a simple salad. We advise not over-complicating the side salads or weighing them with lots of heavy vegetables. But sometimes, you can add a little carrot or cucumber, finely shredded and blotted dry. Moreover, salmon tastes wonderful with sweet potatoes, a truly powerful combination!
Don't be afraid of mixing ingredients. Salmon tastes amazing with other sources of proteins, such as chickpeas and fresh or Parmesan cheese.
Create the perfect salad dressing. In salad dressing, sweetness should always be a deliberate part of the equation. Sometimes you deliberately leave it out, balancing the dressing with something funky and strong. We think just oil and vinegar lack something unless you work with terrific oil and aged balsamic. A half teaspoon of honey or maple syrup won't sweeten the dressing noticeably; it will just make it taste more rounded and full.
Add any other mix-ins. You can add some nuts, cheese, or other dressy things. If you don't use any other garnishes, we recommend adding just a touch more pepper.
Creating the perfect dressing to complement your salmon salad
As we mentioned above, you could simply dress your salad with olive oil, vinegar, and a twist of lemon. However, we encourage you to let your creativity flow because there are many combinations that can make a grilled salmon salad the most delicious dish on the table.
Always test the dressing before tossing it on the salad, but the possibilities are endless: pesto, basil mayonnaise, mustard vinaigrette, or even Greek yogurt.
Top 3 recommendations for grilled salmon salads
If you're looking for delicious and nutritious ways to incorporate salmon into your diet, consider trying these top three salmon salad recipes.
Grilled salmon salad with avocado and cucumber salsa served over greens with a tangy cilantro lime dressing. You can make this recipe in 20 minutes. We promise a delicious, healthy low-carb meal.
This grilled salmon salad with creamy cilantro lime dressing is perfect for summer barbecues and outdoor gatherings. This entree salad is healthy and easy to make, and it's bursting with delicious summertime flavour!
Who doesn't love pasta salad during summer? Enhance your pasta salad with the tasty and softness of salmon, delicious corn and grilled zucchini that will transport your taste buds to the Mediterranean coast.
Why incorporate salmon into my diet?
Salmon is highly nutritious, rich in omega-3 fatty acids, protein, and essential nutrients. It promotes heart health, supports brain function, and has anti-inflammatory properties. It's versatile and delicious.
It's rich in Omega-3 fatty acids and is a great source of high-quality protein essential for building and repairing tissues and supporting various bodily functions. is packed with essential nutrients such as vitamin B12, vitamin D, selenium, and potassium.
Visit our showroom in Almancil or check our products online. See you soon!