Have you ever tried grilling bread? Grilled bread is a quick, easy-to-cook and delicious side for summer dinners outdoors. In this sense, you can serve it with your juiciest steaks with a whole fish or salad. Keep reading about the best tricks to grill bread to perfection, and finally, get our deliciously flavoured grilled garlic bread recipe!
How to grill bread?
First, you need to memorize the grill temperature and the timing! Once you've done this, you will always be able to have the most amazing results!
Preheat your gas grill to medium-high: that's 375 to 450 degrees.
Cook the bread on the grates for 1 to 2 minutes per side. And that's all you need to grill bread!
As you may notice, it's easy and can be done in just a few minutes! This method allows you to taste bread differently, impregnated with the flavours of meat or vegetables you have previously cooked on the grill grates.
Without a doubt, eating toasted bread on the grill is a staple of any barbecue!
What is the best bread to grill
Hearty, crusty pieces of bread respond particularly well to grilling, becoming more flavorful and even crustier. Along the same lines, artisan sourdough loaves, hearty ryes, and cheese-or-nut-laden bread taste splendid after a bit of time on the grill. Moreover, here is a list of our favourite slices of bread to grill:
Sourdough. Sourdough is incredibly versatile. Moreover, once grilled, you'll get crusty, savoury results!
Sliced white bread. There's a reason the iconic grilled cheese sandwich is made with thinly sliced soft white bread. It's accessible, simple, and easy to make at home.
Brioche. Airy, buttery brioche makes for an extra-decadent grilled toast!
English muffins. These tender, craggy morning loaves of bread make excellent grilled bread to serve along with cheese or sauces.
Multigrain. Thick slices of hearty, nutty multigrain bread boost fibre and flavour in your toasts!
Baguette. Slice the baguette horizontally down the middle, then griddle cut side out for the best crispy, golden-brown exterior.
Ciabatta. Like a baguette, a ciabatta's crusty exterior and bubbly interior make it a great candidate for an outside-in grilled bread.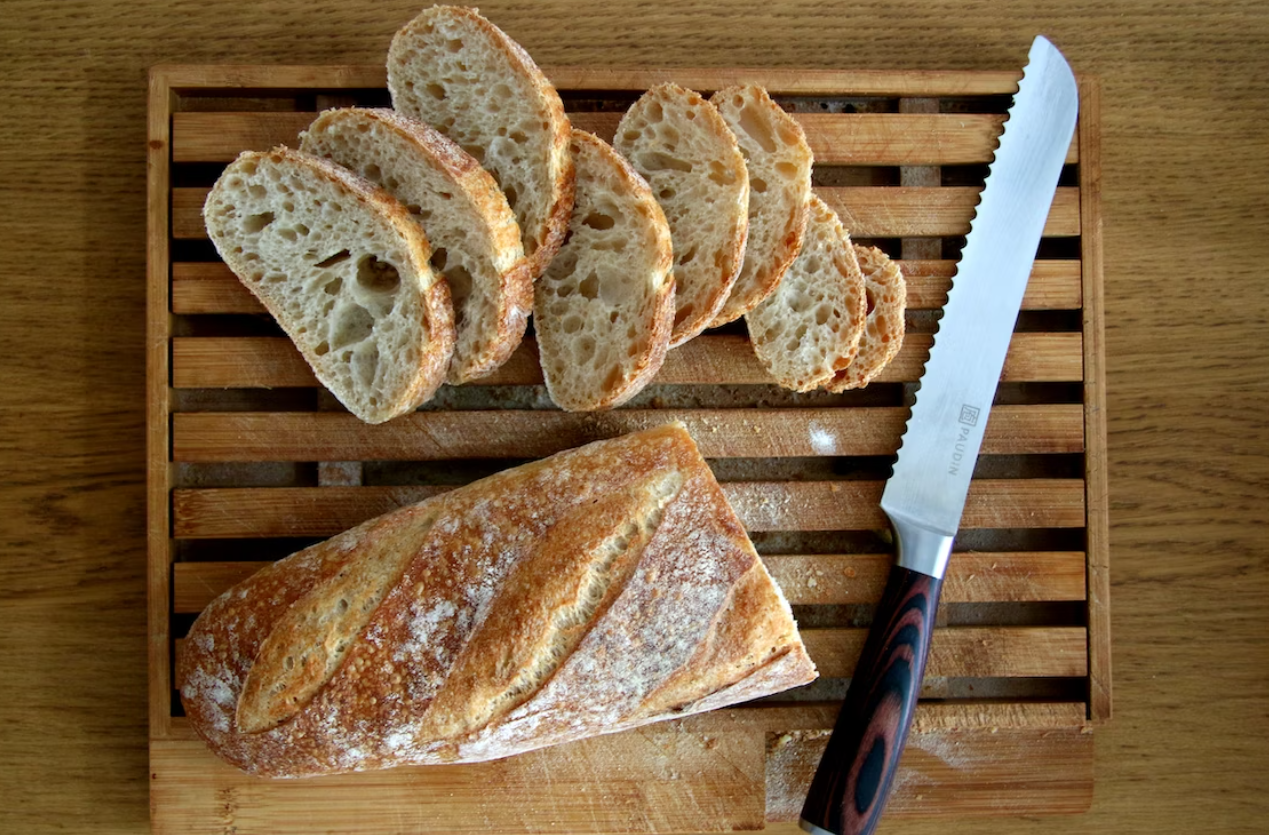 Tasty grilled garlic bread recipe
To grill bread, you need, ideally, a medium-hot grill. If you're working with a hotter grill, just put the bread on the sides.
What you need:
8 slices of your favourite choice of bread
2 tablespoons of olive oil
1 garlic clove, peeled and sliced in half
Salt
Fresh herbs (optional)
Butter (optional)
Directions:
Preheat the grill to medium-high heat (375 to 450 degrees).
If you haven't cut the bread, cut it into about 1/2-inch-thick slices.
Brush each side of the bread lightly with olive oil. 
Place the slices on the grill and cook covered until grill marks form and the bread slices are lightly toasted. Grill for 1 to 2 minutes per side until crispy and just starting to char on the edges. Note that large grilling tongs are especially good for turning over bread slices.
Remove from the heat and rub each slice with the cut side of the garlic and a bit of butter or additional olive oil.
Add a sprinkle of kosher salt and top with chopped herbs!
Looking for grilled bread variations?
The best part of grilling bread is adding all kinds of things to bring more flavour to the bread. Here are some ideas!
Add some fresh or dried herbs.
Place some mouth-watering grilled sardines on top!
Serve with freshly grated ginger.
Add a squeeze of lemon juice to make your grilled fish dishes a completely different and delicious experience.
Sprinkle with cayenne and get that spicy flavour.
Smear with pesto if you're feeling fancy. The heat from the grill will help it soak a bit.
And the obvious choice: create some melted cheese sandwiches!
Go ahead and experiment! All you risk is losing a piece of bread, and you have all the incredible flavours in the world to win.
Visit our showroom in Almancil, Algarve or contact us with any BBQ-related questions!