Summer is the time of the year to enjoy the juiciness of a ripe tomato. In this post, we are giving the nod to Spain with this Spanish Grilled Tomato Bread Recipe! Often served as "tapas", this bruschetta is an easy way to share simple summer foods. Honestly, we are so in love with this dish's simplicity and flavour that we feel like sharing it as one of our favourite side dishes and recipes for the Summer season.
🍅 Spanish Grilled Tomato Bread recipe is a typical dish from the Catalonian and Valencian regions. However, tomato dishes are traditional all over the country, being Gazpacho, Escalivada and the grilled tomato bread the best known.
This dish is called "pa amb tomàquet" in Catalan and "pan con tomate" (literally "bread with tomato") and is known locally. It can be eaten by itself but is often topped with cheese or ham and is eaten for breakfast or as an appetizer.
🍅 There are two ways to serve "pa amb tomàquet". The first is to provide people with garlic cloves, halved tomatoes, a cruet of oil and a bowl of salt, and let them do the work. On the other hand, the second is for the cook to do the rubbing and drizzling.
Moreover, in 2018, Food & Wine named this recipe one of the 40 best. And you might be wondering, "why a piece of toast with rubbed tomato is one of the best dishes in the world?". It seems that the simple act of cutting a tomato and rubbing it on bread creates a magical bite.
In this regard, "pa amb tomàquet", a speciality of Barcelona, offers irrefutable proof that the best dishes are often the simplest. Learn the recipe below!
Spanish-Style Grilled Bread With Tomato Recipe
What you need:
8 tomatoes, halved lengthwise
1 loaf bread, rustic-style. We recommend using artisan bread, sourdough bread, French baguette or ciabatta. It's even better when you use a day-old bread.
Extra-virgin olive oil
2 cloves garlic, minced, or to taste (Using garlic is not mandatory, but it adds an extra flavor to the toast)
1 teaspoon salt and ground black pepper to taste
Grilling accessories you might need for this recipe:
Directions:
Heat your grill.
Slice the loaf into pieces about 3/4-inch thick. (Pro Tip: Remember that cutting the bread a little thicker than is typical makes for a stronger base to support a little extra tomato pulp).
Grill the bread for just a couple of minutes until toasted.
Peel the garlic cloves and slice a bit off the ends and rub the cut ends over each slice of bread.
Using the tomato half, rub the cut side of the tomato generously onto each slice.
Drizzle the extra-virgin olive oil over the slices of bread.
Season with salt and pepper (optional) and serve!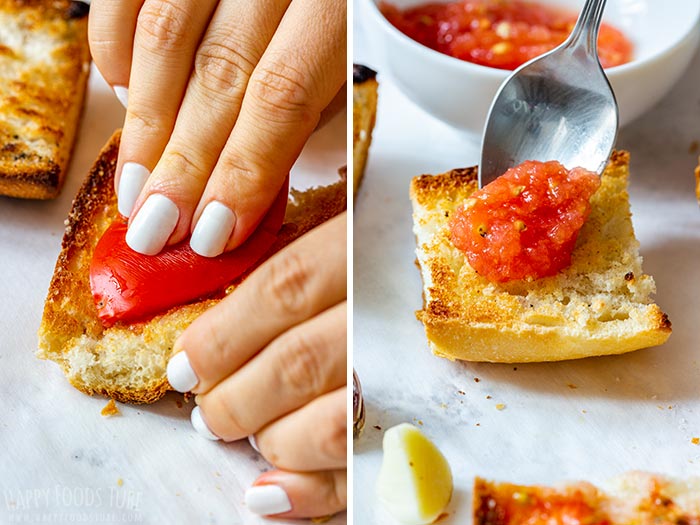 If you want to make the dish a little more substantial, add Spanish Iberian ham, cheese or a sauce.
Also, if you are thinking of reducing the amount of butter you eat daily, this can be the way to go.
Spaniards enjoy this grilled bread with tomato recipe with coffee or orange juice in the morning, but you can make it as a side with soup or as the perfect companion for your grilled meats as well.
Did you like our Grilled Bread With Tomato Recipe or pan con tomato recipe? Let us know in the comments if you fell in love with the combination too!