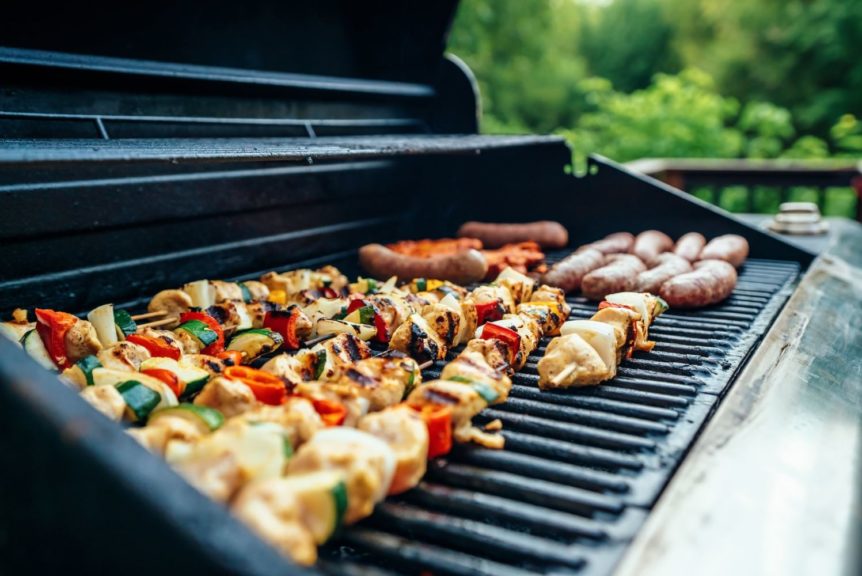 There's a (mis)conception that grilling season is just for meat-eaters and that vegans and vegetarians have to survive on just burger buns with ketchup and lettuce. This post is packed with tips and tricks for grilling vegetables, along with recommended grilling tools and lots of fresh ideas for plant-based grilling. Keep reading!
We love the Summer season, but we all know vacay-time brings lots of excess in our daily routines and, of course, that includes what we eat. So, in case you are trying to eat healthier this Fall and Winter, we want to show you the many ways to incorporate vegetables into your daily diet. We must say, grilled vegetables are our absolute favourite😍.
They're tender and so flavourful and smoky from the grill! Moreover, you can use any vegetables you like best for a super colourful side dish that's packed with nutrients.
Whether you want to learn how to grill just any type of veggie without it sticking to the grill or how to take your grilled vegetables to the next level, this post has you covered.
Should I grill meat or vegetables first?
When grilling vegetables to accompany steak, chicken, or pork, you must cook the meat first while the fire is hottest. By the time the meat is done, the heat has subsided a bit, and the vegetables can cook at more moderate temperatures while the meat rests.
Someone doesn't like veggies? Like roasted vegetables, grilling vegetables highlights their natural sugars to become sweetly smoky and caramelised. If you have a non-veggie liker, try serving them grilled veggies. They're bound to become converted.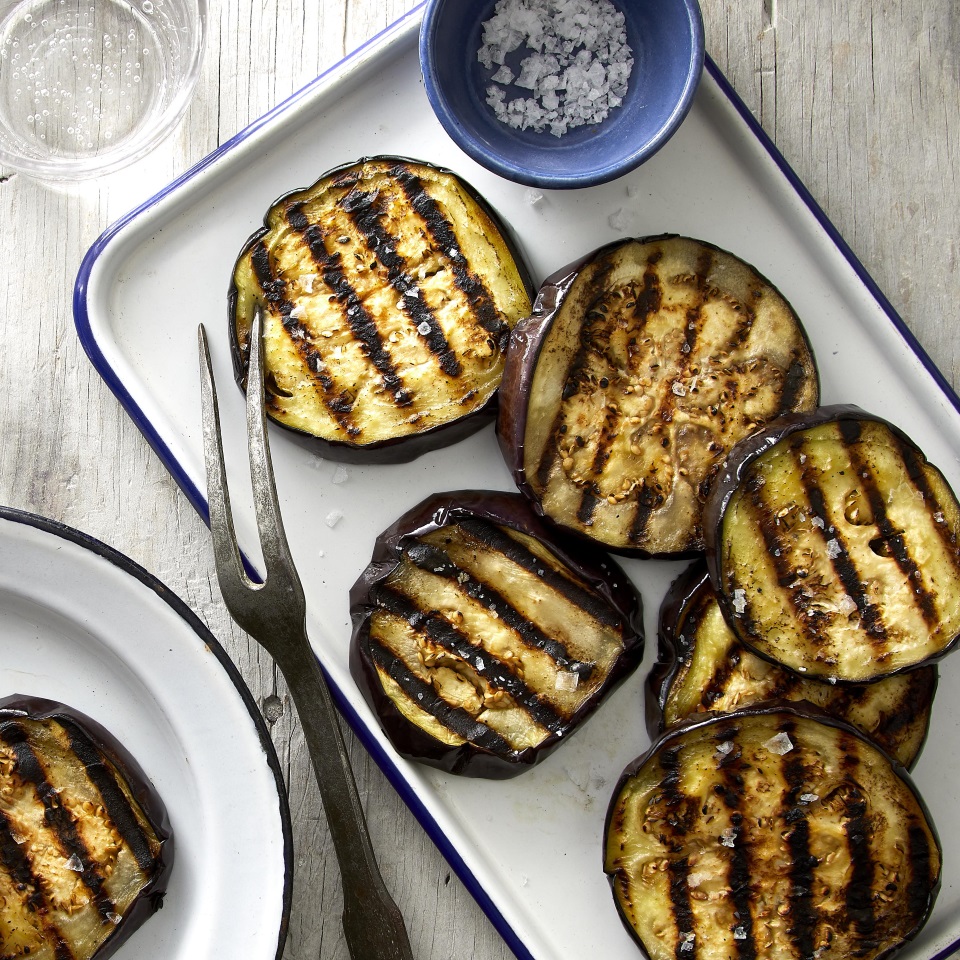 What veggies are good to BBQ?
The main question is, which vegetables aren't suitable for grilling! Everything can be grilled, but there are a few favourites we have out there:
Bell Peppers
Aubergines
Zucchini
Onion
Squash
Asparagus
Corn
Tomatoes
Cauliflower
Broccoli
Most vegetables are great to toss on the grill. You'll only want to stay away from delicate leafy vegetables such as kale. Aside from the veggies we mentioned above, other great vegetables to grill include potatoes, brussels sprouts, and sweet potatoes. Here are some recipes for you:
1️⃣ Delicious grilled zucchini recipe to cook this summer
2️⃣ Perfect Grilled Aubergine Recipe
3️⃣ Mouth-watering grilled asparagus recipe for this Summer season
Should I oil the veggies, or the grates?
❌ One of the biggest mistakes you can make when cooking vegetables is oiling them instead of the grates. If making this mistake, the oil will burn quickly and make your vegetables taste rancid. However, if you don't use any oil, your veggies will stick to the grates. What a dilemma!
✅ Avoid both problems by oiling your grill grates. First, get the grill good and hot. Scrape off any crusty bits from the grates with a grill brush. Then, dip a dedicated rag (don't use your best kitchen towel for this) in neutral oil, and get it good and wet.
Using your longest tongs, brush the grates with the oiled rag. There will be smoke and possibly a few minor flare-ups. Don't be alarmed; this is normal. Repeat two or three times, and you're ready to cook. Do this every time you grill, and your grates will be well-seasoned, like a quality cast-iron pan.
How do you grill vegetables without burning them?
To prevent burning, sear vegetables over high heat, then move them to a cooler part of the grill to finish cooking. You can also precook them and give them a few minutes on the grill to get some colour on the outside.
How hot should grill be for vegetables?
You don't want it as hot as it can get for grilling vegetables—more in the medium range. That means roughly 400 to 425 degrees Fahrenheit is usually the sweet spot. Check our post about the cooking times of food on the grill for perfect results!
How to Cook Grilled Vegetables Perfectly?
1. How to prepare your veggies for the grill
Marinate for 30 minutes. Don't marinate for longer than that because over-marinating will make the vegetables mushy. Your marinade should be full of intense, bold flavours. Think fresh citrus juices, minced garlic or onion, soy sauce, fresh herbs and spices.
This is an excellent opportunity to let you know that marinating your veggies is not mandatory. You can think as if you were cooking meat and sprinkle just a bit of salt and pepper.
In this sense, larger vegetables can go right on the grill grates when it's go time. But if you're prepping smaller items like cherry tomatoes, slide them onto skewers after marinating to ensure they cook evenly without slipping through the cracks.
2. Use a skewer or a grill basket for small pieces
Cherry tomatoes, zucchini rounds, and mushrooms are sumptuous on the grill, but they're a little unwieldy. To keep smaller vegetable pieces from falling through the grate, pierce them on a skewer as we mentioned above or use a grill basket. This tool will prevent the vegetables from falling through while they still get plenty of smokey flavours.
3. Slice the vegetables the same thickness
This way, they will cook at the same rate. You can use a handheld mandoline to make the zucchini, eggplants, and onions slices perfectly coordinate.
❌ Slicing the veggies too thin will make them too tender and disintegrate on the grill.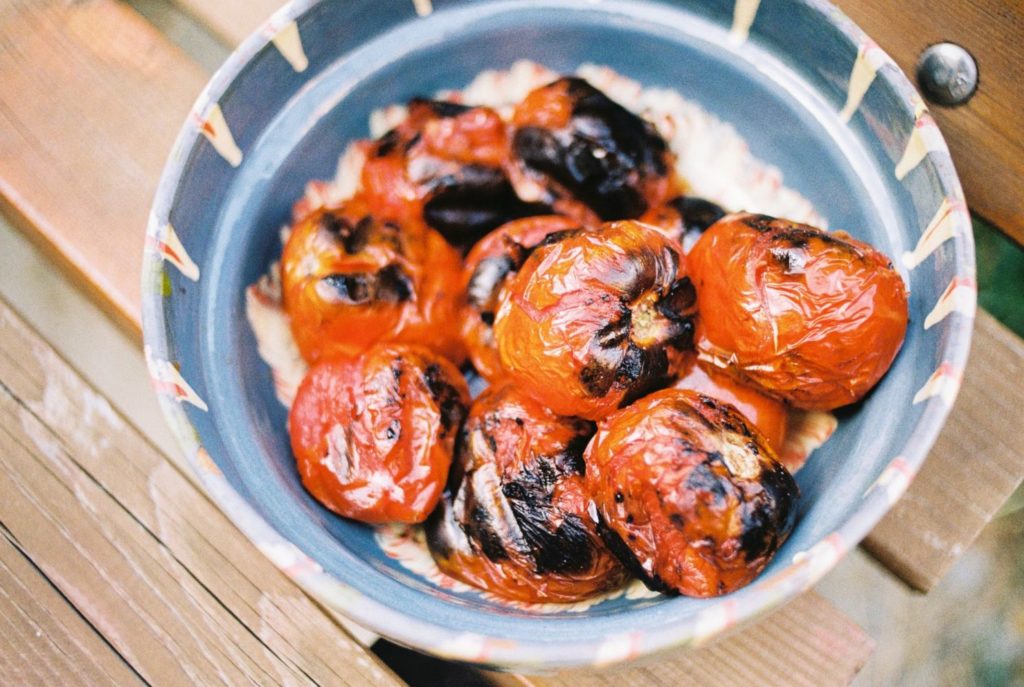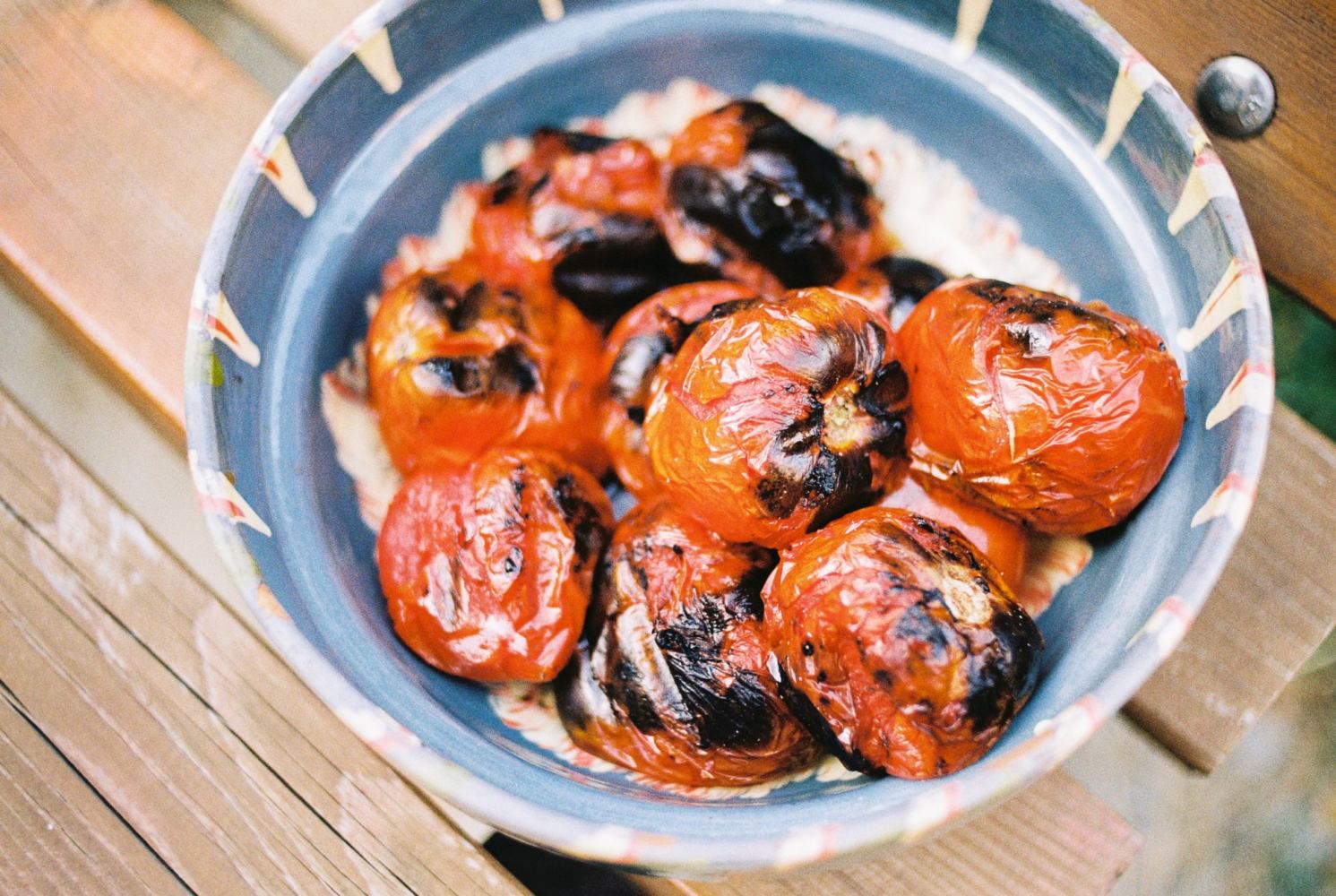 4. Close the lid.
Closing the lid of your grill creates the same environment like an oven, baking the vegetables as they lightly char. Check their progress every 2-3 minutes.
5. Know proper cook time and prevent burning
Some vegetables take a minute or two to cook, while others take longer. Denser vegetables, such as potatoes, will take the longest to cook. Keeping them over too-high heat for too long will char them outside while keeping them raw on the inside.
To prevent burning, sear vegetables over high heat, then move them to a cooler part of the grill to finish cooking. You can also precook them and give them a few minutes on the grill to get some colour on the outside.
Vegetables cook quickly and are so delicious with just the hint of smoke from the grill. Plus, you don't have to panic about whether they're over-or underdone in the middle as you do with a steak, chicken, or burger. In most cases, you can tell if vegetables are ready just by looking at them.
6. Season simply.
Sprinkle the vegetables somewhat generously with kosher salt and freshly ground black pepper. They will absorb the salt as they cook, enhancing their inherent sweetness. Feel free to add dried herbs.
🔥 BBQs Algarve grilling tip: Finish your vegetables with a sprinkling of parsley. If you don't have parsley on hand, other great options include green onions, thyme, basil or dill.
Recommended tools for grilling vegetables
A heavy-duty grill brush. Grills don't require much to keep clean, but you might want to get a heavy-duty grill brush to scrape down all the char and grease that sticks to the cooking grates.
Stainless steel tongs. Tongs are just essential. They help flip all kinds of foods, from carrots to onions to aubergines. For more advice about the basic equipment, take a look at this post.
A wide stainless steel spatula. It is also helpful for flipping lots of food. We recommend you use it in conjunction with the tongs to flip delicate items.
Skewers. Thin or thicker metal skewers are great for veggies. If using wooden skewers, make sure to soak them for 30 minutes to prevent them from burning on the grill.
Grill basket. As we mentioned above, this is something to consider if you're grilling veggies that might fall through the grates or if you'd like to minimise the amount of oil in your cooking or the amount of time you spend flipping veggies.
---
Whether you're vegan or not, we hope this post inspired you to enjoy grilling vegetables. Take advantage of the fall season for the best prices and discounts on top-quality barbecues and gas grills. Be sure to visit our shop and showroom in Almancil, Algarve.
Grilling vegetables is an easy way to add fantastic flavour to humble plants. We hope you use all these tips for cooking delicious grilled vegetables!😍