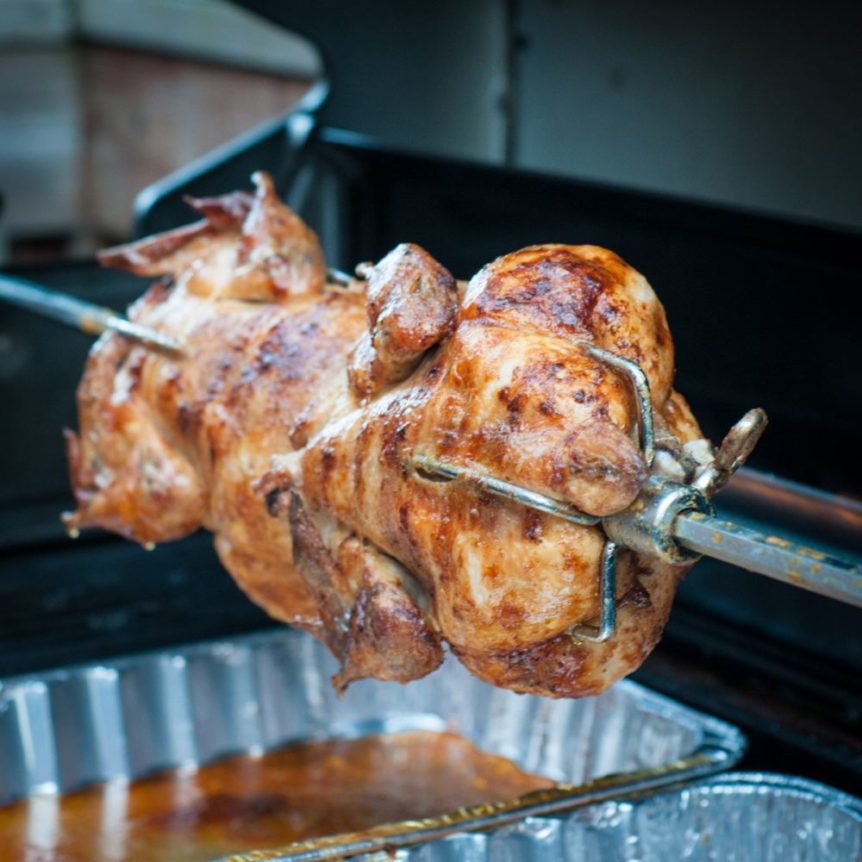 The best season of the year is getting closer in the Algarve. With summertime comes the need for some easy summer grilled ideas. May we recommend one of our favourites? Grilled chicken. Cooking grilled chicken to perfection is an art. One minute too long, and the heat can take the bird from tender and juicy to bland and blah. Luckily, a few things make grilling chicken easier and more successful: reliable essential tools for perfect grilled chicken.
Having the right accessories that are durable, lightweight, and fit nicely in your hand is essential for efficient and satisfying cooking. In our showroom in Algarve, we have the best grilling tools from top-quality brands, so simple to use that everyone can focus on grilling and enjoying the moment.
It's time to heat your grill and enjoy amazing recipes like roasted chicken with potatoes, chicken skewers with vegetables, or the delicious Portuguese Piri Piri chicken.
As we mentioned, every pitmaster has a clever set of tools to help. Whether the recipe or the cooking method you choose for grilling, these are some of the most essential grilling accessories to deliver perfectly grilled chicken to your family and friends!
Tongs
A good set of tongs truly feels like an extension of your arm. They'll need to be strong and the proper length for turning over the grilled chicken, and ideally stainless steel to resist high temperatures. Between the ergonomic design, the versatility, and grip, this set is our favourite. Their easy-lock stainless steel tongs are always ready for action. Their comfortable grip reduces the chance that the tines bend or let whatever you're jabbing them into slide off. We assure you they will work for any of your grilling needs. Let this summer 2022 be the one where you truly master your grilled poultry skills!
Rotisserie kit
Does the idea of rotisserie chicken make your mouth water? If so, you are certainly not alone. Rotisserie grilling is an incredible way of enjoying flavourful and aromatic recipes. It allows you to cook foods that might otherwise be a challenge on your grill grates. It works by roasting meat on a spit or long rod over indirect heat. If you are ready to enjoy the benefits of rotisserie cooking and your grill didn't come with the attachment, we recommend this easy and reliable rotisserie kit, which includes: pair of spikes, rod, handle, counterweight, motor (240 Volt), and brackets. It's easy to use, well built and does a great job of cooking evenly. You really can't ask for a better kit!
Chicken roaster
What is the best way to roast a chicken vertically? A chicken roaster, of course. This method of roasting chicken is very simple but creates amazing results. Chicken roasting ensures that your chicken gets golden brown and crisp all around while the meat on the inside stays perfectly juicy. If you're ready to start roasting your chicken, we recommend the Broil King Stainless Roaster; this 100% sturdy stainless steel roaster ensures your chicken cooks evenly from the inside out, creating that perfectly golden exterior (it's heaven). A drip tray to capture drippings from the chicken guarantees juice doesn't leak off the sides of the roaster into the grill. Take a seat to relax while you ready yourself for some of the best chicken you've ever tasted.
Wing rack or a multi-rack
Make your cookouts a knockout success. The multi-rack keeps your poultry elevated, ensuring you'll always get that smoke without having to babysit your chicken, kebab, or ribs! The same principle applies to the wing rack. Cook some veggies underneath to catch all those lovely juices. We recommend this stainless multi-rack kit, which includes 6 skewers and can hold up to 6 racks of ribs. This rack also allows more space in the grill for a chicken breast or other cuts. Avoid burning and the hassle of turning the chicken. Instead, load the rack, sit back and relax! Keep reading to know the last accessory from our list of essential tools for grilled chicken.
Metal skewers
The best skewers make cooking, assembling, and flipping easy. They're a great addition to any grill! There are stainless steel and wooden options, but metal is usually better because it's sturdier, reusable, and more durable when it comes to skewers. Bearing that in mind, made of stainless steel, we recommend the Broil King Dual Prong SS Skewer Set, ideal for loading up on juicy chicken and delicious veggies. The design ensures a solid grip and full control as you rotate your feast. We assure you everyone will love them. They're basically summer on a stick!
---
The idea of grilling may produce memories of a summertime backyard, a big group of friends, and that first smell of grilled goods. The truth, though, is that the grilling season never ends! Now that you know the 5 essential tools you need for the perfect grilled chicken it's time to roll up your sleeves and get to grilling!
The best-grilled chicken is prepared, of course, with the best grill. Check out our fine selection of cooking grills. You can also come to visit our showroom in Almancil and get to browse for your favourite one.