Chicken breasts are affordable and allow you to cook exquisite and versatile dishes on the grill. However, their uneven shape presents an eternal problem for cooks. Most of the times, the narrow side of chicken breasts gets overdone while the thick side finishes cooking. To end this problem we are teaching you how to properly butterfly chicken breasts.
There are a few techniques that every cook should master in order to make delicious recipes on the grill. For example, learning how to smoke meat is critical and learning the art of planking is also helpful.
Moreover, there are many recipes that rely on one skill to get them just right: butterflying a chicken breast. It might seem tricky, but it's actually easier than you think and today, we'll break it down for you!
🍗 Butterflying a chicken breast gives it a uniform thickness, which is ideal for quick cooking. You can also use this technique for other meats, such as lamb, turkey or pork.
What is butterflying chicken?
Butterflying means splitting the chicken breast horizontally and opening it like a book.
This technique allows you to easily pound the meat to an even thickness so that all the chicken pieces are cooked at the same time on the grill.
Alternatively, you can also stuff the butterflied chicken breasts with something delicious and close it back up for cooking. This is the way that many chicken recipes are cooked such as cordon bleu and chicken Kiev.
When should you butterfly chicken?
When a piece of boneless meat or poultry is of uneven thickness, like a chicken breast or a leg of lamb, it won't cook evenly.
The thinner parts get overcooked by the time the thicker parts are done.
The benefits of this cut are twofold: the meat or poultry will cook more evenly and quicker. So the purpose of butterflying a boneless chicken breast is to create a cut that's thin and even.
How to butterfly chicken breasts
To learn how to properly butterfly chicken, follow these simple tips from the BBC:
Step one
Place the chicken breast on a wooden board or any other board that is not slippery and, place your whole palm on it. 
With your hand flat on top of it, use a sharp knife to slice into one side of the breast, starting at the thicker end and ending at the thin point.
Be careful not to cut all the way through to the other side.
Step two
Open out the breast so that it resembles a butterfly or an open book.
Pat or press the new surface to flatten and make the cutlet evenly thick.
Step three (optional)
Cover with cling film and press to flatten and pummel with a rolling pin or a meat tenderizer to pound the chicken breast even thinner.
You can now marinate or cook straight away.
Once butterfly chicken breast, especially a large one can be enough for 2 people, so you can just half it once it's grilled.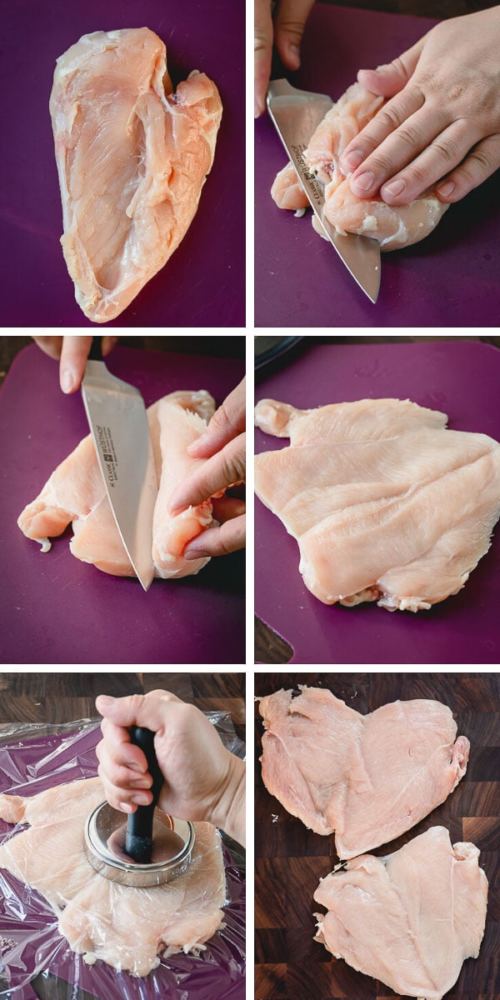 Grilled butterflied chicken breasts with cilantro-lime butter
Now you know how to butterfly chicken breast, learn this savoury recipe.
What you need
2 large (8 oz.) skinless, boneless chicken breast halves, rinsed and patted dry, tenderloins removed, butterflied.
2 Tbs. unsalted butter softened.
1-1/2 tsp. finely chopped fresh cilantro; plus 2 large sprigs for garnish.
1/2 tsp. finely grated lime zest.
2 Tbs. fresh lime juice.
1/4 tsp. Green Tabasco or another jalapeño hot sauce.
1 Tbs. extra-virgin olive oil
Salt
Instructions
1️⃣ In a small bowl, mash the butter, chopped cilantro, lime zest, Tabasco, and the salt with a wooden spoon or rubber spatula to form a smooth batter.
2️⃣ Scrape onto a piece of plastic and roll and twist the plastic to shape the butter into a short log. Refrigerate until firm enough to slice (this should take around 20 to 25 minutes).
3️⃣ Meanwhile, put the butterflied chicken on a plate. Season with salt and drizzle with the lime juice and olive oil. Let the chicken sit for 15 minutes.
4️⃣ Heat your gas grill to high. Lay the chicken breasts on the hot grill and cook, covered, until they have their perfect grill marks, 1-1/2 minutes.
5️⃣ With tongs, rotate the chicken 90 degrees (to get a crosshatch of grill marks), and continue grilling until grill marks form, 1-1/2 more minutes. Flip the breasts and cook the second side in the same way but for a little less time, grilling for 1 minute in one direction and 1 minute in another, until cooked through.
6️⃣ Immediately transfer the chicken to serving plates, thinly slice the chilled butter, and arrange the butter slices all over the top of the chicken. Garnish with the cilantro sprigs and serve immediately.
You could also try cooking the Portuguese Piri Piri chicken with your butterflied chicken breasts. This is one of the most delicious chicken recipes that is bursting with incredible flavours. It's super easy to make and one of our readers' favourites.
Don't make these mistakes when cooking chicken
We know there are so many tricks and techniques to put into practice when grilling chicken! Rotisserie is one of them. But more than learning the pitmaster secrets, follow these simple tips to avoid mistakes when cooking chicken.
Don't leave the chicken out too long
Many cooks put the chicken out on the counter to start preparing it but then they promptly forget about it. It's so important to treat chicken as an item with a time stamp. Please note that at room temperature, meat can begin to develop harmful bacteria, which if consumed may result in food poisoning.
Always remember to place the chicken in the fridge immediately after you've finished shopping. Only take it out when you are ready to cook. If the chicken is frozen, thaw it in the fridge up to two days before cooking.
Don't rinse chicken before you cook
Raw chicken doesn't need to be rinsed in any way. Contrary to what most people think, rinsing the chicken can cause bacteria on the chicken to splash to surrounding surfaces, rather than eliminating them from the chicken. Don't do it, never.
Marinate your chicken correctly
Leaving chicken on the counter to marinate can take your dinner from delicious to dangerous. Take notice that the bacteria may grow better when it's warm. Always marinate your chicken in a plastic bag or another closed container in the refrigerator.
In the same way, never reuse marinade after it's come into contact with raw meat.
Don't reuse tools that have touched raw chicken
Avoid using utensils, wooden boards and anything else after they've been exposed to raw chicken or any raw meat in general. Wash these items after they come into contact with raw meat. In this sense, also remember not to shop other ingredients, such as zucchini or another veggie on the same surface where you've butterflied your chicken.
Change your cleaning sponge constantly
Have you ever thought about the sponge you use to clean your knives, boards and other tools? Remember to wash your dishtowels regularly and change your sponges every other day, especially if they have had contact with raw meat. Keep reading more tips on how to have a healthy barbecue and also to properly clean your grill.
---
From BBQ's Algarve, we are working hard to deliver the best barbecues in the market to all our clients in the Algarve. If you are ready to enhance your grilling experience and create your own outdoor kitchen space, contact us and we will help you build the outdoor space of your dreams with a barbecue that will last for years.
Liked these tips? Let us know in the comments below. Also subscribe for more grilling techniques, recipes and discounts.👇🏻👇🏻