If you look at it, everything's better with a sidekick, i.e. Batman has Robin, Frodo has Sam, and gas grills have side burners! Gas grills get all the add-ons and attention as we enjoy incredible feasts. But even the most exquisite main dishes are only as unique if they have a side dish.
Here's where the side burner comes in, an essential and underrated tool for outdoor cooking in the world of gas grills. A side burner can easily create a complete outdoor kitchen with plenty of cooking options. Cooking with just a single grilling grate is a thing of the past!
Why are side burners a must-have for serious grillers? This blog post will help you find how side burners can improve grilling efficiency.
Back to basics: What's a side burner?
A side burner is a separate cooking surface similar to the burners used on stovetops. These sidekicks operate on propane or natural gas and are on the side of a gas grill.
Using the side burners, you can cook anything you ordinarily cook in your indoor kitchen with the benefit of cooking outside. Not only will you be able to cook any recipe outdoors, but you'll also keep the smoke out of your home.
Benefits of having side burners when grilling
Side burners are game-changers thanks to their ease of use, convenience and excellent temperature regulation. Let's take a look at the main benefits of having a side burner for gas grills:
Maximise your time alfresco
Imagine having all burners in one place. No need to interrupt your outdoor fun to check the stove! Do you feel like rushing to the kitchen to check a sauce and leave the grill unattended?
It can become quite exhausting after the first few trips. A side burner, on the other hand, allows you to stay right where you're supposed to be.
Being an excellent host and chef is easier when you have all the burners in view and hand!
Temperature control on check
Immediate expansion of your menu sounds lovely. What if you want to simultaneously cook some vegetables at a completely different temperature from your Portuguese churrasco? Here's where the side burner comes in.
The side burner allows you to have a cooking surface with independent temperature control. Therefore, you can use the side burner to prepare side dishes and sauces, allowing you to cook everything you would on the stovetop. All you get is perfection and the desired temperature in every dish!
All separately for the best
If there are a couple of vegetarians or more in your immediate circle, side burners are ideal for them when throwing a barbecue party. For more than reasonable reasons, vegetarians prefer that their food does not share the same cooking surface as meat. The side burner provides an effective solution.
Leave the extra worries behind and enjoy that a side burner allows you to accommodate all the dietary preferences of your feast guests!
Searing, simmering, and frying: the benefits of side burners for grilling
As mentioned, side burners provide regulated direct heat for more gentle cooking techniques than the grill. That means the side burner is ideal for searing, simmering and frying. Let's take a closer look:
Simmering sauces
Simmering means cooking food that does not reach the boiling point. A rapid boil has a parade of explosive bubbles rising from the bottom of the pot, while simmering creates smaller bubbles and is more delicate on the food as it cooks.
Simmering is ideal for sauces as it slows the cooking process and gives more time for the flavours to meld together. With a side burner, you can simmer, grill like a connoisseur and be your sauce maker at the same time.
Searing
A side burner is a cooking tool with impeccable speed to reach high temperatures quickly. Searing at hand allows you to cook the surface of food, usually meat and fish, at high temperatures until a hard crust is formed.
With a side burner, searing the right way to get juicy, crispy, and flavour-loaded food is possible!
Frying
Fried food is delicious, but the process of cooking it is not so much. The unpleasant smell of frying fumes is spread around the house while the kitchen is full of splatter. A side burner does an admirable job of solving these problems.
You can forget about bad smells by cooking outdoors with the side burner! You can fry and keep food warm on the same surface. Crispy, golden brown food whenever you feel like it.
Tips for using side burners effectively when grilling
Here are some safety tips to help you get the most out of your side burner:
Remember that the side burner should only be used outdoors.
Avoid using the side burner in windy weather as they are vulnerable gusts can blow them out.
Never leave the side burner unattended.
If the side burner is turned off, make sure the control knob also is. Always wait 5 minutes before relighting the burner to allow the accumulated gas to dissipate.
Turn off the gas supply at its tank when the side burner is unused.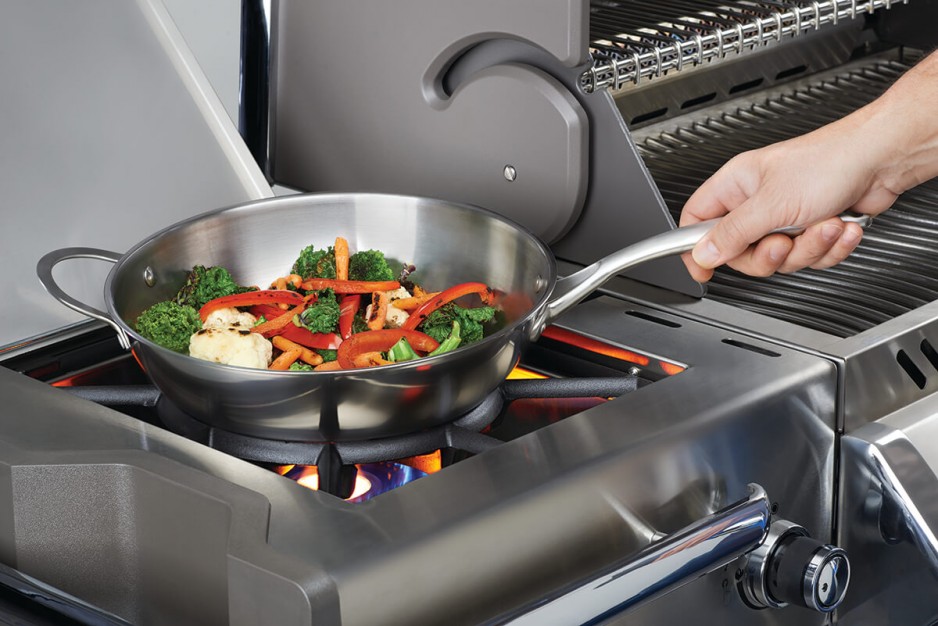 How to choose the perfect side burners to match your grilling needs
With the variety of side burners, it can be overwhelming to decide on one. To select the best possible side burner, we recommend you consider the following factors:
Size
When planning an outdoor kitchen, consider the accessories and space. You should contemplate the number of cooking surfaces. We stock a vast assortment of side burners for your gas grill, from single to double burners. Take a look at our selection of side burners.
Infrared burners or traditional gas burners
Infrared burners heat food directly. i.e. they cook food faster than traditional grills. They achieve high radiant heating with lower fuel consumption.
On the one hand, traditional gas side burners allow better temperature control and the possibility of grilling at low temperatures.
For these reasons, infrared side burners will benefit you more if you are into searing and traditional side burners will help you better to simmer. With both, you can achieve the opposite it's a matter of preference.
Get yourself a side burner!
The real question is, what are you waiting for? Bring the convenience and power of gourmet cooking to your outdoor kitchen. Make your outdoor culinary experience even more enjoyable!
Don't hesitate to contact us if you need a push in the right direction. We'll be happy to help.
Happy grilling!
Visit our shop and showroom in Almancil, Algarve or contact us with any BBQ-related questions!