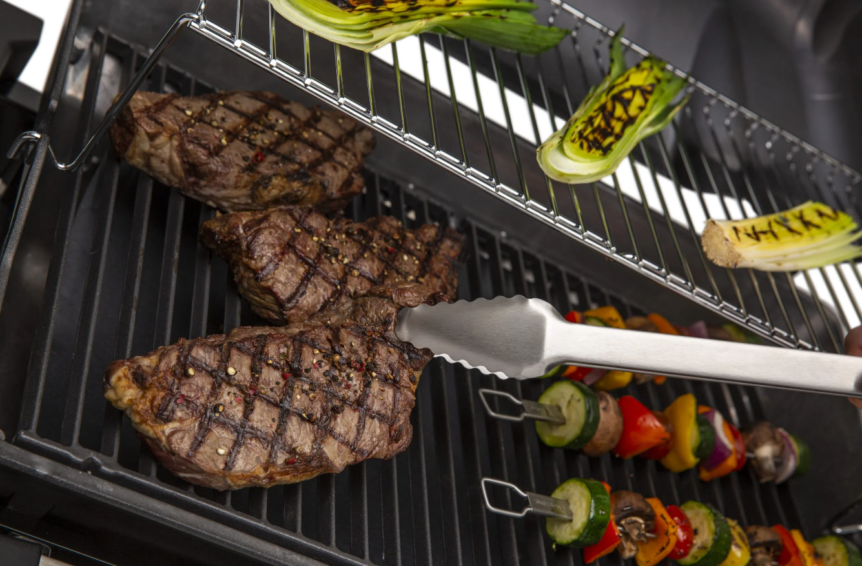 Robust chunks of top meat are stacked on metal skewers and roasted by flame embers. Mmm, yes! Portuguese churrasco is a must-try for any meat eater, and today, you'll learn everything about the story of churrasco, the delicious meat we love so much!
If a meal is like a window into a culture, then an authentic Portuguese churrasco is like a big bay window. Although churrasco is more associated with Brazilian cuisine, Portuguese culture has embraced it. As we like to say in Algarve: anytime is the right time for churrasco!
 Get ready to drool as we disclose the story of churrasco.
Origin and story of Brazilian barbecue
It started in the 16th century when cattle ranching first appeared in Brazil, in the southern Rio Grande do Sul region. Cowboys, called Gauchos, herded these cattle and created a new way of cooking.
After the men returned from a successful herding expedition, the community would celebrate by making a large meal of barbecued meats they named churrasco.
While the men would butcher, skewer, and season large cuts of meat, the women and children would prepare side dishes from their gardens' bounty.
Traditionally, Brazilian only flavoured meat with coarse salt. They cut and put the meat on skewers, grilled it, and then let it sit for about 30 minutes to absorb the salt. Then placed over the fire and slow-roasted over wood embers until the top layers were crisp and caramelised.
Once cooked, the meat was carved off with a utensil and served with various local greens, beans and rice. Sounds delicious, right?
The churrasco: Is it Portuguese or Brazilian?
Although Portugal is more famous for piri-piri chicken and bacalhau, the Portuguese have been grilling all proteins over charcoal for centuries.
Churrascos' origins are attributed to Brazil and part of South America, but it's also part of Portuguese culture. In Portuguese traditions, churrasco is a way to catch up and celebrate with loved ones.
For the Portuguese, the most important thing is to respect the essence of the churrasco-style grill, showing the flavour of the meat as it is.
Portuguese churrasco may be closely related to Brazilian barbecue, but it is indistinctly European in character and soul. We invite you to try it! The Portuguese touch is exceptional.
The churrasco tradition in the Portuguese style
Churrasco is nothing but what English speakers call barbecue. A complete Portuguese churrasco experience usually means gathering with your loved ones and enjoying mouthwatering slow-cooked meat presented table-side on metal skewers.
And if you feel like being spoiled, you can go to a Churrascaria, where Portuguese churrasco is prepared and served in a restaurant-style way. You will usually find chicken, frango in Portuguese, prime ribs, fish and a whole host of other meats on the menu.
Apart from the traditional churrascarias, there is another type called Rodízio-style churrascarias. This style is based on cutting the meat directly from the skewers at the table and in an all-you-can-eat fashion.
Experiencing an authentic Portuguese churrasco should be on everyone's bucket list!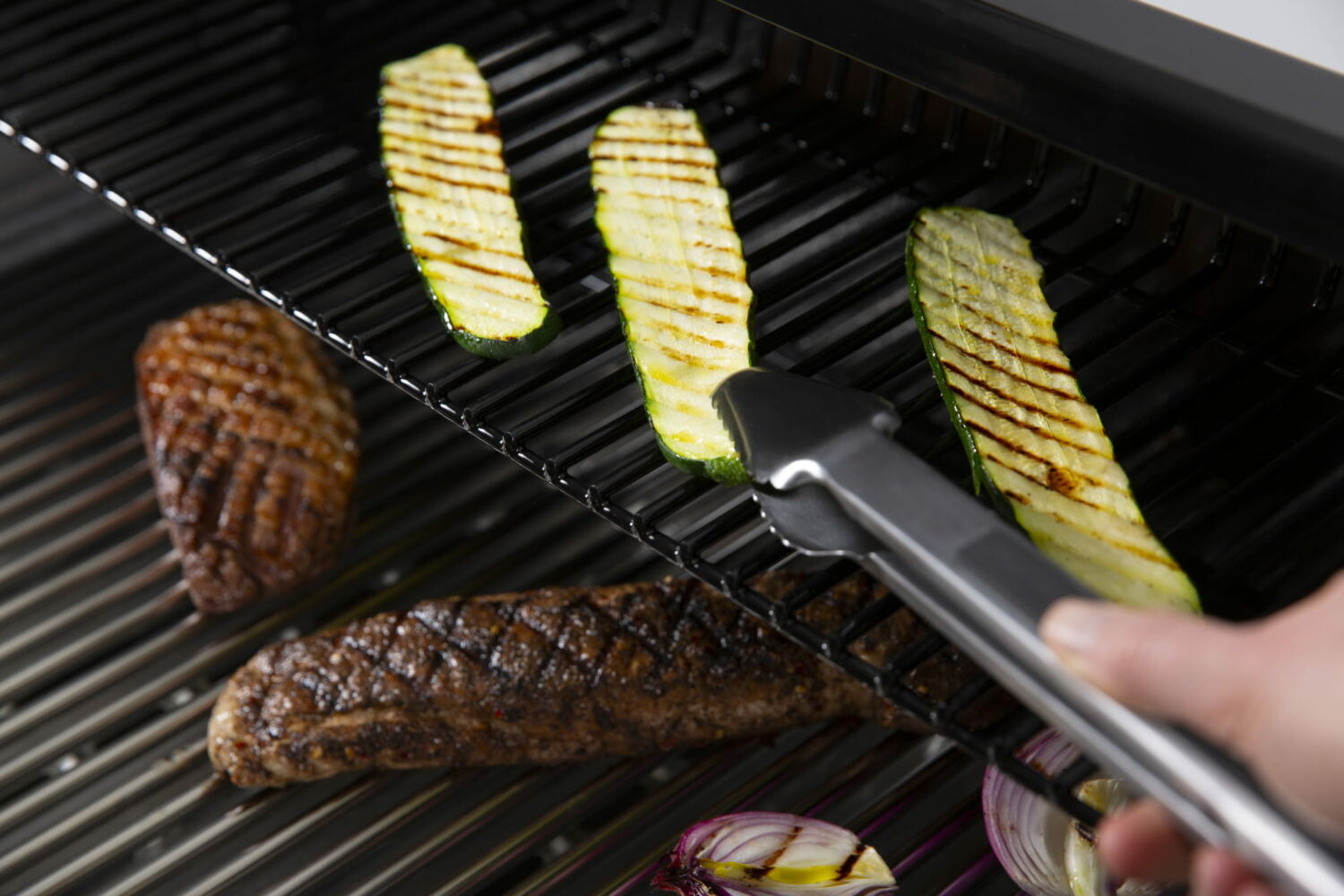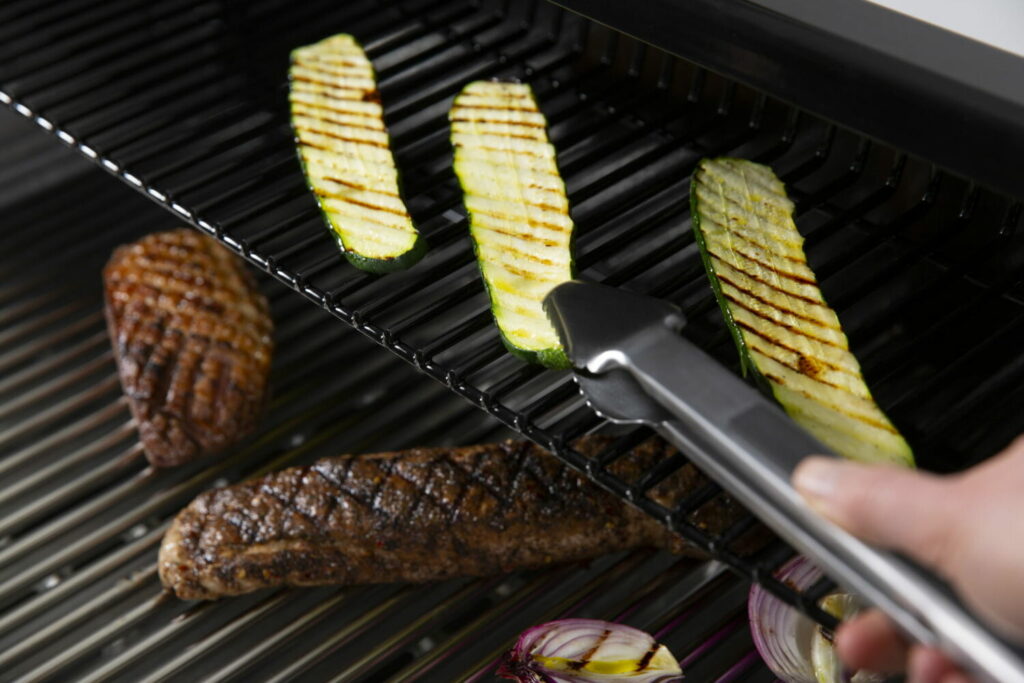 What can I serve with churrasco?
When we think about the story of churrasco, it is not just about the meat. Did you know there are loads of other tasty ingredients you can skewer and barbecue to complement your meal? Grilled vegetables, for example, are a super colourful side dish packed with nutrients.
A Portuguese churrasco dish is often served with onions, sweet potatoes, garlic bread, and mixed salads. And if you feel bold, you can try our delicious grilled lettuce. 
Is there room for vegetarians in a Portuguese churrasco? Of course, there is! While the selection is not as robust as the meat options, vegans will still be able to find something to enjoy, like tender and juicy grilled asparagus, vegan proteins or even try our grilled watermelon recipe!
Finally, don't forget the wine! Churrasco is a perfect opportunity to open up your favourite bottle of red.
The cuts of churrasco meat 
Plenty of people don't know, but one of the essential things when it comes to barbecuing on skewers is the cut of the meat. The following cuts are the must-eats of any Brazilian barbecue experience:
Picanha: is the iconic meat of Brazilian barbecue. Picanha is top sirloin, an excellent combination of meat and fat. It is a thin oval meat cut with a lot of flavour, juices and texture. 
Fraldinha: is much leaner than Picanha. Fraldinha is a thin, flat shape and well-marbled piece of meat. This intense marbling is why the meat is traditionally cut against the grain before grilling.
Fillet mignon: delicate and lean-cut meat. The fillet is also frequently accentuated with different flavours, appearing with a Parmesan crust or wrapped in bacon.
Chuleta: also called ribeye, comes from the rib section of the cattle. It has a remarkable marbling with a good amount of intramuscular fat.
If you've been part of a Portuguese barbecue and have fallen in love with the experience and the flavours, you'll want to save this post for later and share it with your friends. 
So if you're ready for a great churrasco, don't forget to invite your Portuguese friend to try it! Visit our showroom in Almancil or check our products online. See you soon!