Summer brings longer days, warmer temperatures, and the perfect opportunity to enjoy the great outdoors. Whether you have a spacious backyard, a cozy balcony, a terrace, or a patio, you can transform your outdoor space into a sanctuary for relaxation, entertainment, and memorable gatherings. In this blog post, we'll explore how to prepare your outdoors for summer fun and highlight the importance of having a BBQ or outdoor kitchen.
Over the past few years, we have learned to value many things, including the open spaces we have longed for so much during the pandemic. If you are one of the lucky ones with an outdoor space at home, meaning a terrace, balcony, patio or garden, you will have enjoyed them immensely. If this is not the case, or you don't know where to start, keep reading and learn many tips to get the most out of your outdoor area and enjoy it the most during Summertime!
Outdoor living: Preparing your outdoors for summer fun
As the seasons change, it's time to shift our focus from the interior of our homes to the beauty and potential of the great outdoors. Here are some essential tips for preparing your outdoors for a summer full of fun and entertainment:
Clean and declutter. Start by giving your outdoor space a thorough cleaning. Clear away debris, remove weeds, and tidy up neglected areas. This will provide a fresh canvas for your outdoor makeover.
Assess and enhance. Critically examine your outdoor furniture, lighting, and decor. Repair or replace worn-out items and add new pieces to improve your space's overall ambience and comfort. Opt for weather-resistant materials that can resist the elements and require minimal maintenance.
Create shaded areas. With the sun shining brightly during the summer, providing shaded areas for relaxation and protection from the heat is crucial. Install umbrellas, pergolas, or retractable awnings to create comfortable and inviting spaces that can be enjoyed throughout the day.
#BBQProTip Preparing this outdoor space does not have to require a significant investment, but it does require that you spend a little time. Before starting the transformations, the first step is to decide your budget and establish an order of priorities.
Creating the perfect outdoor gathering space
Now that your outdoor space is clean and refreshed, it's time to convert it into a haven for entertaining and spending quality time with your loved ones. Here are some ideas for creating the perfect outdoor gathering space:
Outdoor dining area. Set up a stylish and functional dining area to enjoy alfresco meals with your family and friends. Invest in a durable, spacious dining table, comfortable chairs, and vibrant tableware to create a welcoming atmosphere.
Cozy lounge area. Create a comfy lounge area where guests can relax and de-stress. Comfortable seating, plush pillows, and a coffee table or fire pit can help create an inviting space for conversations, laughter, and relaxation.
Entertainment zone. Incorporate entertainment options like outdoor speakers, a projector for movie nights, or a gaming area to keep your guests entertained. Remember to consider the acoustics and ensure that the entertainment elements are weather-resistant.
Get a gas grill or a built-in outdoor kitchen!
No outdoor gathering space would be complete without a BBQ or outdoor kitchen. Here's why having one is essential for maximizing your outdoor living experience:
Culinary delights. A BBQ or outdoor kitchen allows you to expand your culinary horizons beyond the confines of your indoor kitchen. From sizzling steaks to grilled vegetables and mouthwatering burgers, outdoor cooking adds a unique and delicious flavour to your meals.
Social hub. A BBQ or outdoor kitchen becomes the focal point of any gathering. It creates a natural meeting place where friends and family can chat and enjoy the aromas of prepared food. It fosters a relaxed and friendly atmosphere, enhancing the outdoor living experience.
Convenience and efficiency. An outdoor kitchen eliminates the need to constantly go back and forth between your indoor kitchen and the outdoor gathering area. Everything you need is at your fingertips, making meal preparation and serving.
Get the most out of your outdoor space
The first step to turning your outdoor area into a comfy place that invites you to spend long hours is to install a floor that transmits peace and tranquillity. A floor transformation will completely change your space regardless of its size. There are many possibilities for outdoor flooring. We propose two:
Artificial grass. It is flooring that will bring you colour, freshness and the most incredible comfort compared to other types of flooring. It will give you the feeling of freshness and peace of natural grass but with advantages such as significant water savings and low artificial grass maintenance.
Wood. Outdoor wooden floors provide a lot of warmth but require more maintenance. There are also synthetic options on the market that require less maintenance.
Combining artificial grass and wood with other materials and ornamental objects such as stones, natural plants, or pots will be spectacular.
Create different environments
The main advantage of having an outdoor area in our home is that we can expand the interior uses of the house outdoors. The benefit you want to give it will depend on your priorities, needs or tastes. If the space is small, you can even use folding furniture that you can remove when not in use. In this way, you can give it more than one function.
You can also play with different types of pavement, pergolas, umbrellas, etc., to create other areas or uses. You can get creative to embrace outdoor living!
Establish your priorities and choose what suits you best. Not only will you not want to leave the house, but you will not know how to kick out your family and friends! Your house will be the preferred meeting place!
Outdoor kitchen or barbecue?
Who has not dreamed of having an outdoor kitchen with a barbecue at home? Neither is it necessary to have an ample space nor a complete kitchen with all the details. There is a large number of barbecue models on the market. If the size of your terrace or garden is not very large, you can opt for a portable barbecue, and if you have a choice, there are prefabricated models made of different materials, or you can build it on-site.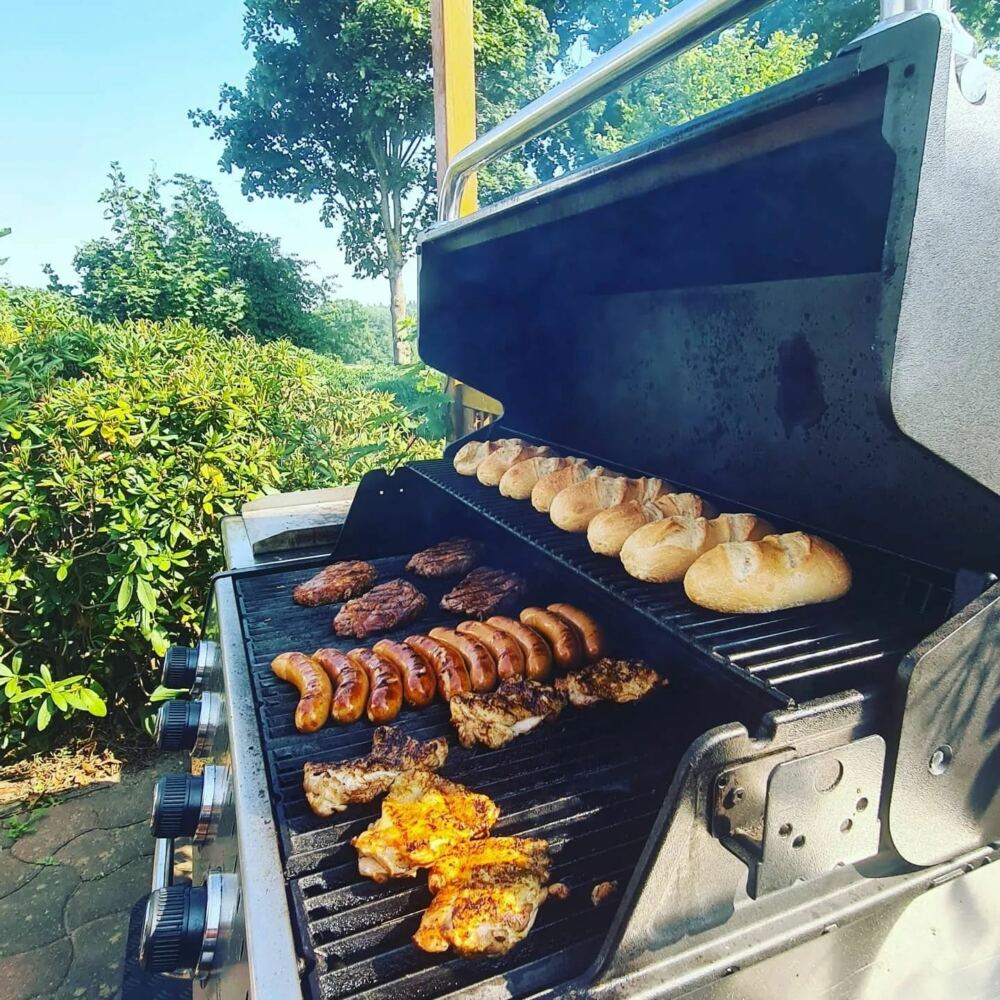 Choose the one that best suits your space and enjoy unforgettable evenings! If you can add a small sink, you will avoid having to move dishes and glasses to clean inside your home. It will make a huge difference!
Have a place to cool off
With the arrival of heat and sweltering days, having a place to cool off in your home, no matter how small, is a luxury. And it doesn't have to involve a large outlay or need a spacious space. There is a wide variety of options on the market, a small raft, a jacuzzi, a swimming pool… It will depend on your choices, but you will not regret it. It will be the meeting point of your home, a place to unwind and cool off without leaving home. You couldn't ask for more.
What to do if your outdoor space is too small?
There is a large number of small details that will make a difference in the smallest spaces, making them unique. Something that never fails and makes a big difference is pots and natural plants. This will bring more freshness and colour.
When choosing plants, make sure they are for outdoors and that they will resist the climate of your area. You can also make a vertical garden on one of the walls and hang plants on it. You will get a feeling of greater space.
Put some cushions on the floor as a chill-out or a custom bench. You will save space compared to other seating options.
In the smallest places, folding furniture is one of the best options. You can take it out or store it when you don't need it, being able to give your space more than one use.
Bet on natural or recycled materials
One of the latest trends is to opt for recycled or natural materials to decorate your terrace or garden.
---
Discover the joy of outdoor living this summer by transforming your home's exterior. Create a welcoming space for BBQ gatherings and entertaining with an outdoor kitchen. Embrace the warm weather and make lasting memories outdoors.
Transform your outdoor space into a sanctuary for relaxation, entertainment, and unforgettable moments this summer. Embrace outdoor living and make the most of every sunny day! Visit our showroom in Almancil or check our products online. See you soon!