We're on a mission to share everything you need to make your backyard a place to dine and unwind, from installing luxury outdoor kitchens to finding essential grilling tools. All you're missing now is a pizza oven to perfect pair with your outdoor accessories. Are you looking for expert advice to find the best pizza ovens in 2022? Find out everything you should know in our 2022 pizza oven buyer's guide.
We're sure a pizza oven it's a worthy and tasty investment. A welcoming treat for your friends and family, hosting outdoors will only get better with each slice. Moreover, a pizza oven isn't reserved for pizzas: Use them to roast veggies, grill skewers, slow cook BBQ ribs, or even bake a cake!
Whether you're planning an intimate dinner for two or setting up pizza stations for family fun, here is our expert advice on how to buy the best pizzas ovens in 2022.
What to look for in a pizza oven?
A pizza oven is not an essential item, but it sure is fun to use. It can also do something your home oven cannot: Reach the blistering-hot temperatures required to bake up the perfect pie.
Before embarking on buying a pizza oven, there are a few things you should consider. First, start by setting your budget. Know that more money does not always mean a better pizza. Also, consider the space you have available. Some will be gas-fuelled, others need wood, or it may be a multi-fuel.
What kind of cooking experience do you want?
Wood-fired ovens ARE NOT the only way to cook a pizza. Choosing between wood or gas-fired choices may depend on your lifestyle and needs.
Wood-fired pizza oven
A wood oven imparts delicious flavours and unique cooked textures to your food. Moreover, wood-burning ovens allow you to have the whole traditional cooking experience where family and friends join in the fun.
When cooking with wood, you'll add more wood to increase the oven's temperature and stop adding wood when you want the temperature to decrease.
Gas-fired pizza oven
❌ Cooking with wood isn't always feasible or an efficient choice, and that we understand wholeheartedly. In some areas or neighbourhoods, burning might be prohibited, or indoor options may exclude wood-fired ovens, so that a gas oven would be a good choice.
Most people think that gas ovens heat quicker than wood ones, but that's not true. Wood burns hotter. What they mean is that it's simpler to light a fire when using gas. Also, you can maintain your heat by using gas rather than adding extra pieces of wood.
Gas may be a great option if you want to maintain longer cooking times at catering events or big parties. This type of pizza oven is very advantageous when feeding crowds.
Where will you put your pizza oven?
The location of your oven is an essential factor for several reasons. One is whether or not you'd like it indoors or outdoors. Other is how your oven will look compared to your home or garden's current aesthetics. Finding the best pizza oven in 2022 means it needs to meet your needs and fit in the place where you'll like it!
Indoor ovens
When looking for an indoor pizza oven, there are many concerns. You need to follow specific indoor pizza oven guidelines, like ensuring the oven is certified for your local residential regulations.
Also, make sure your home pizza oven dimensions are such that they'll fit inside your home; otherwise, you'll have a rather sad-looking orphan pizza oven sitting at your front door.
Outdoor ovens
The majority of pizza ovens are suited towards cooking outdoors! They're an exceptional addition to patios and other outdoor areas and often serve as entertainment centrepieces. We adore them, and our clients do too!
Again, when considering an outdoor oven, think about where you will put your oven. Will it be under a cover? Are you purchasing a heavy brick oven? Can a forklift or engine hoist get into your garden?
Portable ovens
Occasionally, you might need to take the show on the road or need a lightweight oven that can be easily moved. Portable pizza ovens are often made of stainless steel to make them lighter.
#ProTip If you have a small garden and don't plan to cook pizza that often, a portable pizza oven would suit your needs.
One portable steel oven that is big and comes on wheels is the Alfa 4 Pizze. You might like this oven if you want a more modern look, and we will talk more about this pizza oven below.
Freestanding pizza ovens
If you think you'll be making pizza regularly and have the garden to accommodate one, a larger pizza oven might be the best option for you. These large ovens don't have to be built-in (this is where costs start to mount up).
You can buy freestanding, large pizza ovens and move them around but have a great capacity to cook more than one pizza at a time. These usually have protective covers, so you can leave them out all summer, although you'll probably have to shell out for the cover separately.
Hybrid pizza ovens
Hybrid pizza ovens double up as a barbecue, or in some cases, vice versa. Generally speaking, we found gadgets designed for making pizzas alone produce the best cooking results for the task.
In this sense, did you know you can use the indirect grilling method to grill a pizza? We explained it months ago on Instagram!
Barbecue pizza accessories
On the subject of barbecues, one affordable way to make pizzas at home in your garden is to buy a barbecue accessory, such as a pizza stone that sits on top of your gas or charcoal barbecue. They, too, can reach impressive temperatures to achieve the desired stone-baked essence and finish.
The best pizza ovens to buy in 2022
Buying the best pizza oven will give you an endless amount of delicious pizzas. Here are our top picks of the best pizza ovens to buy in 2022.
For restaurants and professional results
ALFA PIZZA PRO Forno Quattro Pro Top Wood
This is our compact, light and easy to use a professional wood-fired oven, perfectly designed to be placed on a food truck, inside a professional kitchen, in a fast-food restaurant or for catering use.
This oven cooks 4 small pizzas or 3 large pizzas at a time and up to 70 pizzas per hour.
It reaches 450°C / 840°F in just 30 minutes and is the perfect device for adding new business at a low cost.
Wood consumption: 4,5 kg/h – 9 lbs/h
Dimensions WxDxH: 115x89x71 cm – 49x32x28 in
Weight: 195 kg – 430 Ibs
Heating time
20' to reach 200°C (400°F)
30' to reach 450°C (850°F)
ALFA PIZZA PRO Forno Achille Gas (LPG)
Achille is the perfect pizza oven to be placed in front of the customers or the kitchen. The unique design makes it the main attraction of your restaurant.
The refractory floor is 8 cm thick and comprises a unique mixture of alumina that retains the heat for a long time.
This gas-powered professional pizza oven can be installed with or without a base. Achille cooks 2 pizzas at a time in less than 90 seconds, reaching working temperature in only 25 minutes.
LPG consumption: 1,35 kg/h – 2,9 lbs/h
Methane consumption: 1,80 m3/h
Dimensions WxDxH: 125x81x160 cm – 49x32x63 in
Weight: 220 kg – 484 Ibs
Heating time
15' to reach 200°C (400°F)
25' to reach 450°C (850°F)
The best options for your outdoor area
Ciao is a wood-fired oven with a refractory floor, light and easy to handle. You can move it anywhere thanks to its big wheels.
It quickly reaches operating temperature, and its door includes a window to allow you to inspect cooking as it goes along.
This wood-burning oven is the way to go to bake pizzas, bread, roasts, meat, fish and vegetables, casseroles, puddings, well, anything that you can do in a standard oven with the definite plus of the healthiness and genuineness that only wood cooking can offer.
Number of pizzas: 2
Batch of bread: 2 kg (4,4 lbs)
Fuel: Wood
Number of people: 8 to 18
Maximum temperature: 500°C (1000°F)
4 Pizze is a wood-fired garden oven designed for the family. Unique design with integrated side shelves and peel stand. The 4 Pizze wood-burning oven is enough to bake 4 pizzas in 90 seconds and 4 kg of bread per batch. A perfect match for your garden, you can also place it on a balcony or terrace. It comes with the refractory oven floor used for Alfa commercial models.
Number of pizzas: 4
Batch of bread: 4 kg (8,8 lbs)
Fuel: Wood
Number of people: 10 to 20
Maximum temperature: 500°C (1000°F)
Find them all in our store! 👇🏻👇🏻
How do you maintain a pizza oven?
You should scrape out any debris and brush your oven clean daily. This prevents any more extensive build-up and any more serious problems.
In this sense, cleaning a pizza oven may seem common sense, but it does differ from cleaning a standard kitchen oven. There are things you can't do and chemicals you can't use. If you don't follow the correct advice when cleaning, you could damage your oven or potentially injure yourself when cooking in it after.
Let's dive into ALFA Forni's advice on how to clean and properly maintain a pizza oven:
Maintenance
For proper maintenance of the oven, make sure before you turn it on that the chimney flue is free from any objects and that ash from previous cooking has been removed.
You can use the oven all year round; in the winter, heat the oven with a smaller fire to avoid thermal shock due to the humidity.
Prevent corrosion by coating the oven metal parts with Vaseline.
Thermometer – clean with warm water and soap with a soft plastic scouring pad.
Stainless steel surfaces – wash with a soft cloth and a solution of soap and water. Make sure to rub following the grain of the stainless steel. Never use detergents containing acid, white spirit or xylene. Rinse well after cleaning the oven.
Cleaning
Clean the oven floor (when the oven is cold) with a brush and gently wipe the oven floor with a damp cloth.
Use a damp cloth to clean the external sheet.
Apply a light coat of vaseline to make the metal shine.
Remove and clean the chimney flue once a year; ash may block the passage of smoke.
If traces of rust begin to appear, clean with a polishing brush and apply a thin coat of vaseline.
Do not use chemical products to clean the oven.
Do not clean the product when it is in use.
If the oven is exposed in a sea side, in order to prevent corrosion and fouling, ALFA Forni recommends to frequently clean the oven with fresh water.
Storing the oven
During periods of inactivity, we advise to clean the oven carrefully, grease the metal parts and cover it with the cover Alfa available on request.
On the first use, inspect for potential signs of malfunction.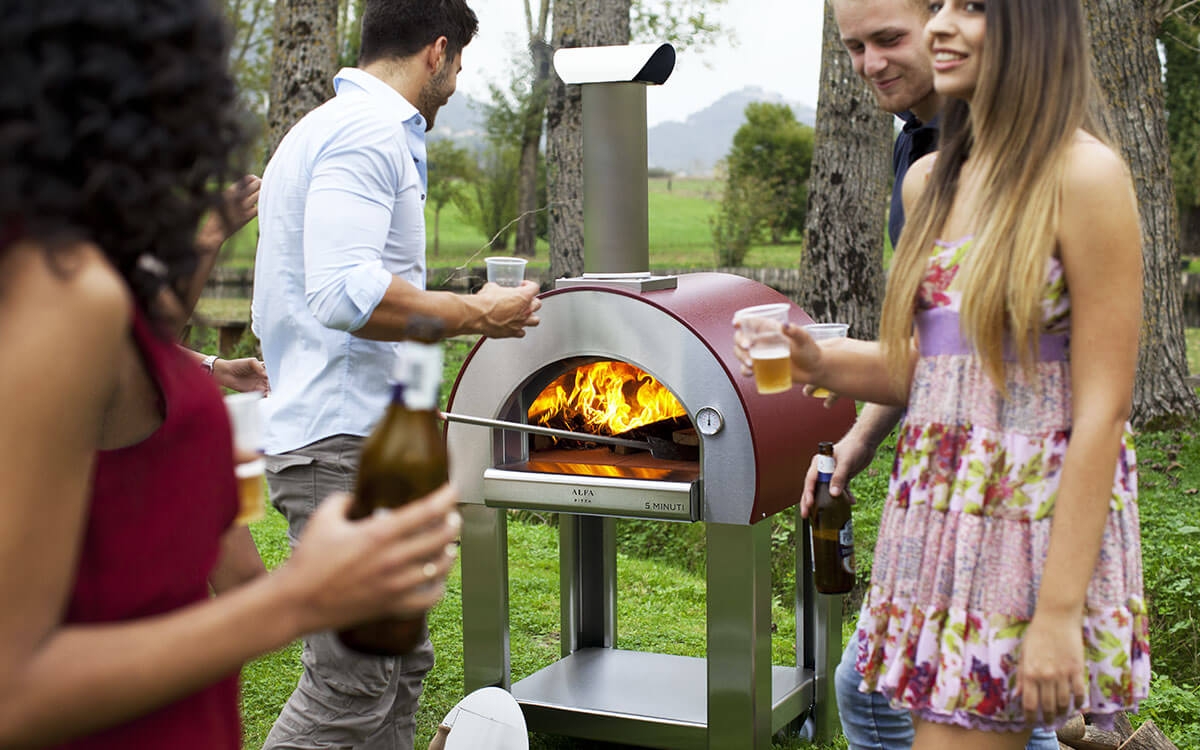 Time for a grilled margherita pizza!
For people that appreciate creating meaningful dinner experiences, a pizza oven is worth it. The memories made grilling with friends and family far outweigh the upfront cost of purchasing an outdoor pizza oven. Cooking with a wood-fired oven helps you slow down to enjoy the process. It is also a healthy way to prepare your food as the higher heat allows you to cook quicker, locking in essential nutrients.
Not only will you bake amazing authentic pizzas, but you'll enjoy cooking full meals for holidays, celebrations, and any other day of the week!
Check our shop and all the pizza ovens available with free assembly in Algarve! Be sure to visit our shop and showroom in Almancil, Algarve.
This article was written with the help of reliable information and sources such as alfaforni.com, gardengiftshop.co.uk, and www.nytimes.com/wirecutter.