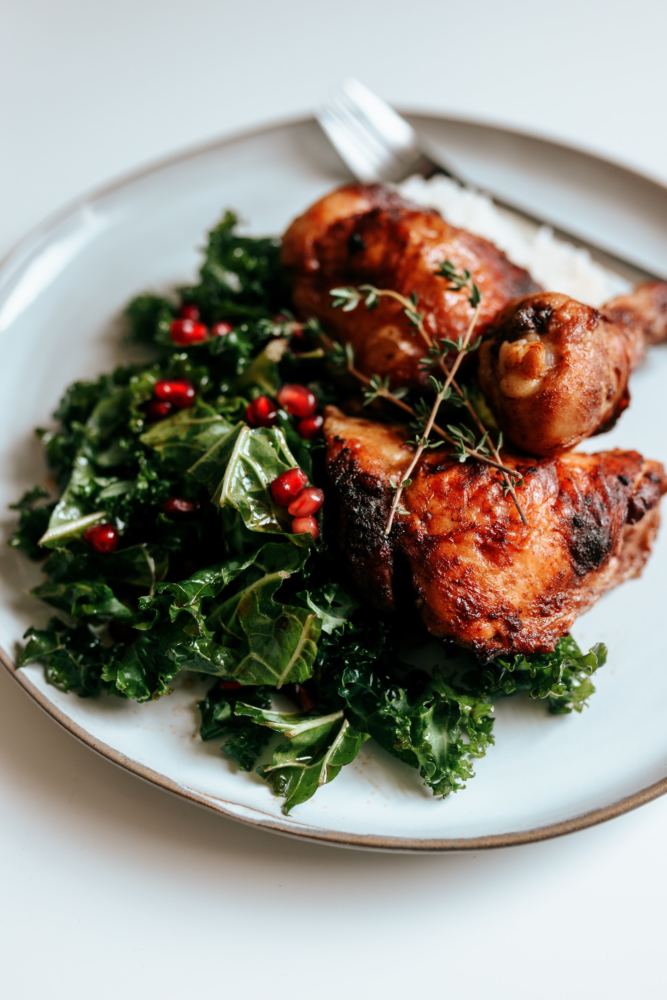 Named after the cylindrical clay oven in which it's traditionally cooked, Tandoori Chicken is hugely popular among Indian food lovers worldwide. Originally cooked in a tandoor, the meat takes only approximately 15 minutes of grilling to achieve that yummy golden exterior and succulent, juicy meat on the inside.
How does it work? A tandoor oven uses very high heat first; people place charcoal in the bottom of the tandoor to burn for several hours. Then, the meat is placed on long skewers and cooked inside till roasted. Now you're probably wondering how to make Tandoori chicken without having a tandoor? No problem! You can cook it on your grill.
Tender and juicy pieces of chicken meat marinated in Indian spices and yoghurt are a guaranteed crowd-pleaser. That's what Grilled Tandoori Chicken it's all about! The preparation starts by removing the skin, then halving the chicken, and marinating it twice. The mixture of flavours tenderises the meat, which is then ready to be cooked on the grill.
This Tandoori Chicken recipe is easy-peasy, very straightforward, but the cooking technique is fundamental! Once you follow these instructions, you will realise how simple and delicious Grilled Tandoori Chicken is!
Grilled Tandoori Chicken Recipe
What you need:
4 whole chicken leg quarters (drumsticks and thighs), skinless, bone-in.
First Marinade
1 ½ Tbs. lime juice
1 tsp. red chilli powder
Salt (to your taste)
Second marinade
½ cup plain yoghurt.
1 Tbs. garlic paste (5 cloves garlic).
2 Tbsp. fresh ginger, peeled, and chopped.
1 tsp. garam masala powder.
1 tsp- paprika.
2 Tbsp. ground cumin.
1 tsp- cayenne.
1 tsp-salt.
1/3 cup olive oil (for basting).
Furthermore, remember that the right Grilling accessories are essential for efficient and satisfying cooking.
Directions:
Make sure the chicken has no dripping water. If needed, wipe dry with kitchen paper. Next, make deep gashes to the chicken (to the bone).
Prepare the first marinade by combining all of the ingredients in a mixing bowl and rub it into the chicken, then place the bowl in the fridge and marinate for an hour.
Next, comes the second marinade. Whisk all marinade ingredients together until well combined and again rub it into the chicken. Then leave it to marinate for at least 3 hours or up to 24 hours in the fridge. The longer, the better.
Heat the grill to medium-high. Take the chicken out of the marinade and shake off the excess. You want the chicken coated, but not gloppy.
Place the chicken on the grill and baste it with a little oil. Then cook for about 5 to 8 minutes per side. The chicken should be cooked through and browned and charred in places on the outside.
Finally, your Grilled Tandoori chicken is ready! This recipe results in a delicious dish that you can rarely eat just one piece of!.
🍗 Another chicken recipe from our blog is this Grilled butterflied chicken breasts with cilantro-lime butter. You could also cook the Portuguese Piri Piri chicken with butterflied chicken breasts.
Why is the Marinade step so important?
As we mentioned in other posts, cooking grilled chicken to perfection is an art. Cooking successful Tandoori Chicken is about the method! So make sure you do it properly.
Furthermore, the marinade step helps tenderise the meat naturally and remain succulent after grilling. The longer it's marinated, the meat turns softer and just melts in the mouth.
🔥#ProTip We recommend refrigerating for at least 12 hours. A lengthy time of marinating and the acid from the lime juice cut down on cooking time considerably. However, you could get away with just marinating the chicken for about 3 hours. You'll get better results if you allow the Tandoori chicken time to immerse in the flavorful mix of spices. You will taste the difference!
How to serve it
Traditionally, Tandoori Chicken is served with onion rings, lime wedges, and Indian flatbread, such as naan. Instead of naan, you can also do it with rice. In summer, the sweetness of grilled corn makes a nice balance to the layered flavour profile that comes from the variety of spices in the recipe. Another option is eggplant, a favourite vegetable in India, sliced and grilled. 
Notes
Although chicken leg quarters (drumsticks and thighs) are best for this recipe, breasts are okay too if left in the marinade overnight or longer.
You will need to adjust the grilling time depending on the size of the chicken pieces.
For vegetarians feel free to use the same marinade on tofu! We guarantee super tasty results.
Cooking accessories are always a good idea when grilling, you could also skewer the chicken in this recipe! For that, we recommend this Skewer Set.
This outrageously delicious and easy grilled Tandoori chicken recipe belongs in your feast rotation! Do you make Tandoori chicken differently? We would love to read your version. Please share it with us!
If you live in Portugal, be sure to visit our shop and showroom in Almancil, Algarve.