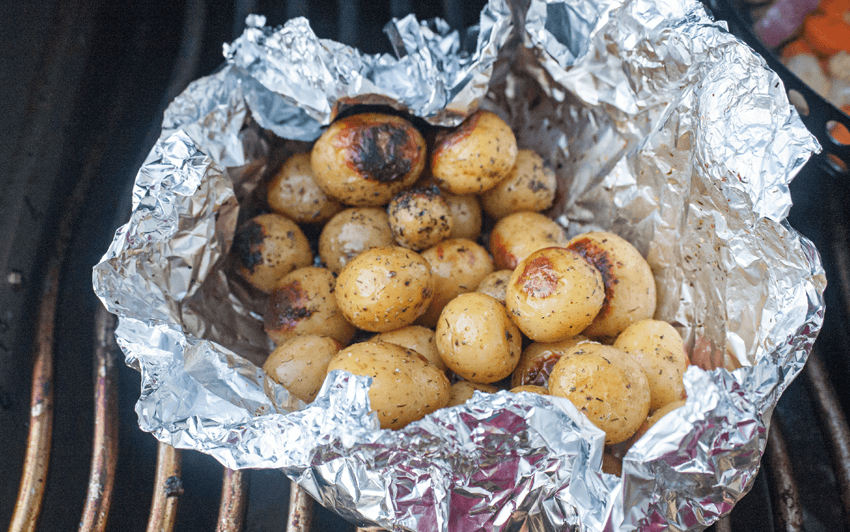 Potatoes are one of the most common garnishes in a good barbecue. But what kind of potatoes are the best for grilling? And how to do it? Keep reading to learn how to grill potatoes (and sweet potatoes) on the grill and serve it deliciously at your next BBQ party.
The best potatoes for grilling
The first step to roast potatoes on the barbecue is choosing the type of potato we will use. The ideal potato varieties for grilling are red skin and yellow flesh, which, being somewhat more floury, roast better.
The size will determine the cooking time of the potato. As a guide, a small potato, smaller than an egg, for example, will need about half an hour to roast, while larger potatoes may take up to 50 minutes to be done.
In any case, a kitchen trick to know when it is ready is to press on the central part of the potato with a fork or tongs.
Tips and tricks for grilling potatoes or sweet potatoes
To roast potatoes on the grill, you have to wash them well to remove any remaining dirt or impurity from the skin since they will be roasted without peeling them first.
Then, you should dry them and wrap them tightly in aluminium foil. This works as a conductor of heat while protecting the skin to not burning on the outside. Once covered in aluminium, we have two options for roasting the potatoes. One is to put them on the grill. The other is to bury them in the embers. In both cases, the cooking times still depend on the size of the potato.
This way of roasting potatoes on the grill is also applicable to sweet potatoes. In case you are wondering, although the sweet potato is called "a potato", it does not belong to the same botanical family as potatoes. However, due to its sweetness, the sweet potato is an ideal garnish for pork and beef because of the contrast of flavours it offers. We love this combination so much!
Grilled sweet potatoes recipe
What you need:
The number of potatoes or sweet potatoes you want (we strongly recommend you do both).
Coarse salt and pepper.
Aluminium foil.
Instructions:
Preheat your grill over medium-low heat.
Tightly wrap your potatoes or sweet potatoes in tin foil.
Place the potatoes on the grill, close the lid and cook for 40 minutes. Check doneness (Just squeeze with barbecue tongs). Depending on the size of your sweet potatoes, they may need another 20-30 minutes.
Continue cooking until fully cooked.
🔥 Advice from BBQ's Algarve: This is only one way to grill potatoes. You can also cut them into wedges or slide them and grill directly into direct or indirect heat. Moreover, you could also grill on a topper or a grill basket with other vegetables.
How to season grilled potatoes or sweet potatoes?
Once the potatoes or sweet potatoes are ready, you can season them with butter or a mash of garlic and parsley. Specifically for sweet potatoes, a touch of ginger is ideal for refreshing its sweetness. And as for potatoes, pesto or sour cream are a good accompaniment.
On the other hand, serve them with typical barbecue sauces, such as chimichurri, mayonnaise, and barbecue sauce.
Are sweet potatoes better than potatoes?
Nutritious, digestive, antioxidant and very tasty, sweet potatoes are here to stay. Researchers affirm that they are native to the Yucatan Peninsula (Mexico) and the Orinoco River of Venezuela, although later studies establish its origin in Central America. It was in the 15th century, thanks to Christopher Columbus when they arrived in Europe.
Sweet potatoes contain a wide variety of vitamins and minerals such as potassium, phosphorus or calcium, being also an important source of vitamins A, B and C. Rich in fibre and antioxidants. It is also a spectacular source of energy due to its richness in carbohydrates. This superfood is recognised as effective in the fight against malnutrition due to its nutritional properties.
Moreover, it supports the health of the digestive system by containing phytosterol, which has a protective effect and can prevent and treat duodenal and gastric ulcers.
Sweet potatoes are often touted as being healthier than white potatoes. Both types can be highly nutritious. While regular and sweet potatoes are comparable in their calorie, protein, and carb content, white potatoes provide more potassium, whereas sweet potatoes are incredibly high in vitamin A.
We recommend you to grill both or choose your favourite! What we know for sure is that both of them are super delicious, easy to cook and ideal to serve with different types of meat.
---
Check our store for discounts and free assembly in Algarve! Be sure to visit our shop and showroom in Almancil, Algarve.
Discover more tips and tricks for a perfect barbecue and recipes on our blog!