Every BBQ needs a salad. Do you agree? We're fans of fresh salads over here and we believe no BBQ is complete without a deliciously-dressed salad packed with all sorts of fresh ingredients. It's the perfect side dish for a barbecue, ideal for hot Summer days in Portugal. It's healthy and there's a huge variety to comply with everyone's tastes.
You may already have a signature salad that is your 'go-to' for barbecues, but if you are stuck for ideas, or just want to try something a little bit different, we've got five tasty and easy-to-make salads that will have everybody asking you for the recipe at the end of the day.
Best salads for BBQ
There are SO MANY types of salads! Green salads, pasta salads, legumes, or grains salad; mixed salads incorporating meat, poultry, or seafood; and even fruit salads! We've got you if you're looking for BBQ salads for summer entertaining. Take a look at our top 5 salads for a BBQ party!
Healthy green salad
Stay simple and make a fresh salad for a barbecue side dish! But first, some things you should have in mind: the star of a green salad is the lettuce, but salad lovers also may want to use arugula, with its small leaves and intense, mustard-like taste; some radicchio, which resembles red cabbage but provides a slightly bitter flavour, some spinach or even kale!
A well-made green salad features two or three kinds of salad greens, along with halved cherry tomatoes and onions. The addition of cucumbers, carrots or bell pepper gives extra crunch. The dressing should be a light olive oil and vinegar combination to showcase the greens.
Pesto pasta salad
We LOVE pasta salads! One iconic member of the pasta salad family is macaroni salad, a picnic staple. But a tasty alternative to the usual picnic salad pasta with fresh tomatoes, corn and other vegetables could be a delicious combination of your favourite green leaves, bow tie pasta, fresh peas, grilled asparagus and pesto dressing that will take the flavour to the next level.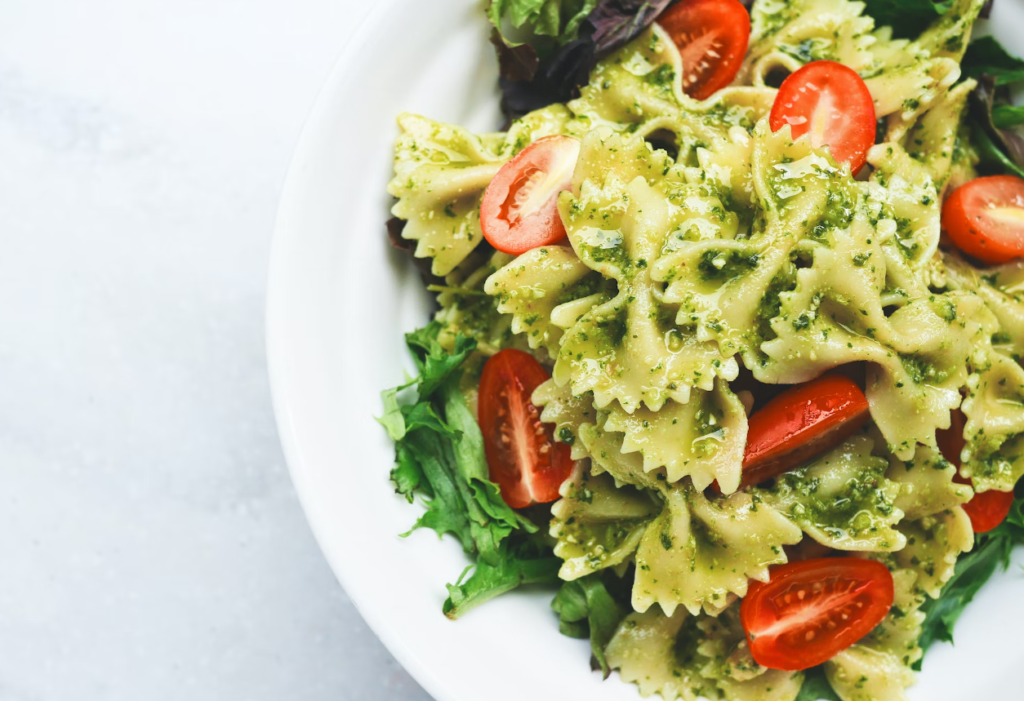 Grilled aubergines and spinach salad
We could eat grilled aubergines all day long! To try out this salad and impress everyone at your BBQ party, grill your aubergines in a griddle pan or on the barbecue. Add some fresh spinach leaves and spray with extra virgin olive oil, pepper and fresh herbs.
Watermelon and feta cheese
Do you want to try one of the most refreshing combos? Just chop a ripe fresh watermelon and spread feta cheese. Throw in some mint and red onions, toss it all with a very simple vinaigrette (just olive oil + red wine vinegar), and you've got yourself a perfect summer salad for your BBQ reunion. This salad is refreshing on a hot Summer day and has the perfect balance of sweet/salty from the watermelon and feta combination. Moreover, you can quickly assemble it. Works as a light meal on its own or as a side dish. It goes nicely with grilled fish or chicken. Want to explore grilled fruits more? Check out our grilled watermelon Summer recipe.
Cowboy caviar
Let's make the viral cowboy caviar! A fresh, simple dip that can be thrown together in under 15 minutes! This is the recipe everyone raves about in 2022. We believe it's fun, fresh, colourful, and endlessly adaptable. It makes a great dip, salad, side dish, or topping for grilled meats.
The base of this recipe contains black beans, black-eyed peas, tomatoes, bell pepper, red onion, jalapeño, corn, avocado and cilantro. The dressing consists of olive oil, lime juice, honey, salt and pepper. With a few cans of beans and corn, a pile of crunchy fresh veggies, and a sweet-and-spicy dressing, it might just be the perfect summer appetizer/salad/side dish.
These summer salads don't take a long time to prepare. They are great side dishes to bring to parties and taste refreshing for a hot summer day.
Visit our showroom in Almancil, or check our products online! We have the best BBQs in Portugal!