Prawns are lovely when grilled. Moreover, they take no more than 5 minutes to cook. We recommend selecting large, raw prawns for grilling, as these will stand up to the heat and can be skewered and turned easily during cooking. Ready for your grilled prawns? Follow the steps below and ENJOY!
This affordable crustacean is the fastest-cooking protein you can throw on the grill. It's also fast enough for a weeknight and can do double duty as an appetizer or a main.
Spicy grilled prawns recipe
What you need:
900 g prawns, peeled and deveined
60 ml extra-virgin olive oil
60 ml lime juice
4 garlic cloves, crushed
3 tbsp. honey
2 tbsp. soy sauce
1 tbsp. Chilli garlic sauce or Sriracha
Freshly chopped coriander, for garnish
Lime wedges for serving
Directions:
Whisk together olive oil, honey, lime juice, garlic soy sauce, and chilli sauce in a medium bowl—Reserve 60ml marinade for brushing onto prawns while grilling.
Prepare the grill for direct heat: Heat half of the burners of a gas grill to high or prepare a chimney's worth of lump charcoal for a charcoal grill. Make sure that the grill grates are clean and debris-free. Preheat the gas grill for at least 10 minutes.
In a large bowl, toss prawns with the remaining marinade.
Thread prawns onto skewers.
Grill prawns until pink and opaque, about 3 minutes per side, brushing with reserved marinade before and after each flip.
Garnish with coriander and serve hot with lime wedges.
#ProTip If using wooden skewers, soak them in water while preparing the shrimp.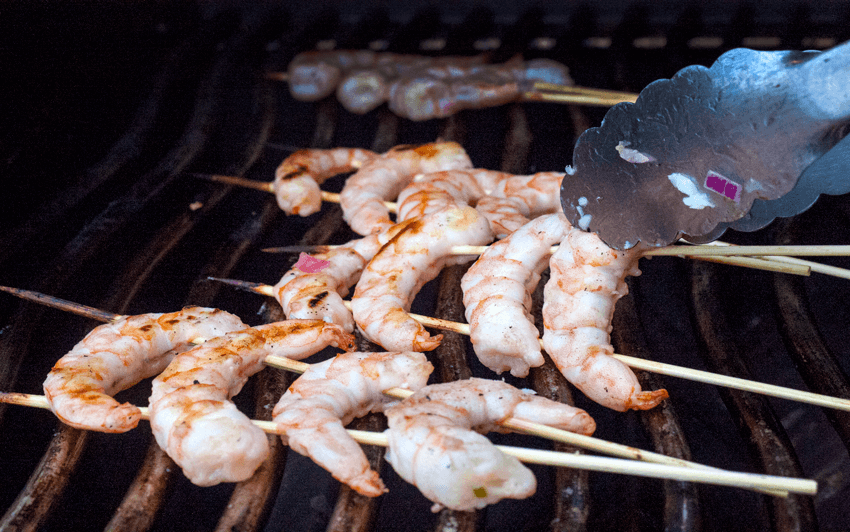 Serving suggestion for grilled prawns
Steamed basmati or jasmine rice is one of our favourite choices. As you eat, the rice soaks up the spicy sauce. On the other hand, crusty bread is also a great option to mop up the sauce. A simple side salad is a nice addition to add some freshness.
How can I tell when the prawns are ready?
Watch for a colour change: your prawns will turn from grey and translucent to pink and opaque. Also, keep an eye on their tails—when they're done, they'll curl slightly. Overcooked prawns will have tightly curled tails, so take care to extract them from the grill before they're tightly coiled.
Do you grill prawns with the shell on?
You can grill the prawns with their shells or without their shells. If you are using smaller shrimp or prawns that have shells removed, it helps to skewer them on a wooden skewer before grilling. This ensures they cook evenly and are easier to handle and serve! Keeping the shells on the prawns provides better flavour.
Visit our showroom in Almancil or make sure to check our products online. See you soon!